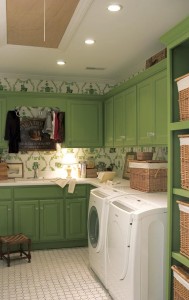 I'm one of the most disorganized people in the world. I run at such a high speed, my home is in constant chaos. So this January, I'm resolving to change my ways. I'm going to take three key steps to get my year off to a well-organized start. Want to join me?  
Step 1: Tame Your Entry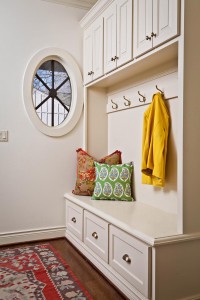 The area around the entry door you use the most often is one of the hardest spots in your home to keep organized, isn't it? As we cross the threshold, we immediately dump everything on the first surface we see. In my home, this is my kitchen table, which has the misfortune of being a few steps from our back door, the one everyone comes in (except party guests and folks who don't know us very well). This poor table is where we pile up our coats, mail, keys and cell phones. Without an organizational plan, it can look like a war zone in a matter of hours.
I wish my entry looked my cousin Anne's, pictured above. When Anne built her home, she knew she needed a spot for her busy family to stash their stuff when they flew in and out the door. She built in attractive cubbies for each family member that are big enough to hold everything from tennis rackets, school books and coats to briefcases, purses and gym bags. Do you have space to add some cubbies by your back entry door? Maybe some wall mounted shelves or a line of baskets on the floor?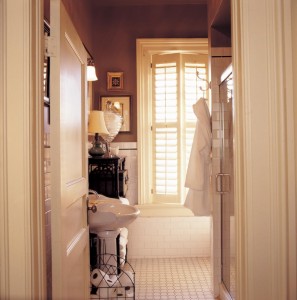 Chances are you are like me and don't have room to set up a coming-in-and-going-out station by your entry. But you can still use some of the ideas to organize your space. I started by hanging some heavy-grade decorative hooks by my back door to catch coats, the dog leash, briefcases – things we can't seem to hang up or put away to save our lives.  I stole this idea from my bathroom, pictured above. For years, I nagged everyone to hang their wet towels on the towel rods, to no avail. The soggy towels always ended up piled on the floor. Then I got smart and replaced the rods with hooks, and now the towels magically end up where they belong.
Another trick I'm trying this year is to convert one of the drawers in the kitchen cabinet nearest the door into a catchall space to hold stuff like our cell phones, sunglasses and keys. If Dan embraces this system, it will revolutionize his mornings. He will no longer have to start his day with the phrase, "Have you seen my keys?"
The drawer next to it will hold our mail – things like bills and invitations we need to attend to. (It will NOT hold the stacks of magazines Dan thinks he's going to get around to reading. That tower of shame will be placed on our back steps, taunting him every night as he heads up to bed.)  With all the important mail corralled into one small drawer, I hope I will no longer be accused of losing the bills. Doesn't this sound like the perfect plan? I'll let you know in a few months if Dan and I are ready to kill one another!
Step 2: Make Your Work Areas Work Well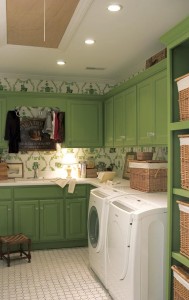 Next, focus your organizational energy on making the work rooms in your home streamlined and stylish. What's your laundry room looking like these days? Piles of clothes waiting to be ironed? Stacks of socks hoping to find their mate? Crunchy crumbles of laundry detergent and bits of drier dust scattered about? Let me assure you, your laundry area can't be worse than mine. My laundry is in my scary, dark, icky basement, which resembles a dungeon in the Tower of London. Renovating this cell of a room would cost more than my home is worth, so it's not going to change any time soon. Maybe that's why I love my friends' lovely laundry rooms so much.
Check out the fun, fun, fun space created by my friend Lisa in the photo above. Her playful wall paper and peppy green paint make this space exciting. Can you brighten the walls of your laundry room with some paint or paper? Lisa also used baskets to organize her laundry room essentials. Do you have a spot for a bookcase or shelves you can fill with cute baskets or boxes to hold things like laundry to be dropped off at the cleaner's or soap and supplies?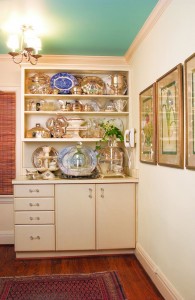 Every time I walk into my friend Cynthia's laundry room, I am green with envy. This space was pretty lackluster until she used her ample creative energy to remake it. Instead of going to the expense of remodeling, she just painted her outdated cabinets a warm white. (I love the blue ceiling!) Then, she filled the open shelves with her enviable collection of dishes, displaying them so beautifully the scene could be from a decorating magazine.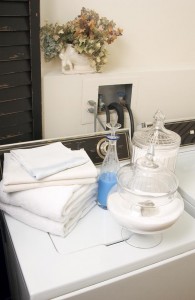 Since her washer and dryer were not so lovely to look at, she hid then behind a standing wooden screen. Ingenious! To make the mundane magnificent, she put her laundry detergent into delicate decanters. Do you have any old decanters you can use in your laundry room? Serving pieces you can use to hold laundry supplies? Bring them out and make your daily grind a bit more beautiful.
Step Three: Get Creative with Storage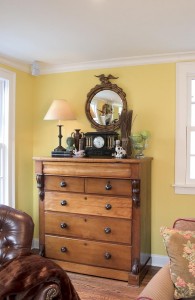 When you live in an old home like I do, you get really good at creating storage space. Through the years, I've become a master at selecting furnishings and accents that are not only beautiful, they can also store my stuff. What do you need to store in your home? What places do you already have where you might be able to stash your things away?  Sometimes every organizational tool you need is right under your nose – you just have to see your furnishings and accents with new eyes. For example, pick pieces for your living areas that have lots of drawers and closed cabinets, like the beautiful chest of drawers in my friend Lisa's living room, in the photo above. You can pack these drawers full of games, photo albums – anything.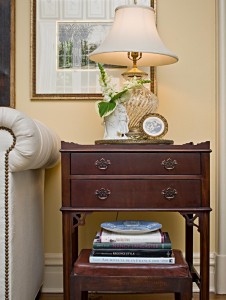 Since I have a serious dish addiction and I like to entertain a lot, I have lots of supplies to stash away. So every single drawer in every single piece of furniture in my living room is packed full of things like linens, trays and candles. Are you using your cabinets, drawers, baskets and boxes efficiently? If they are empty, fill them up with the items you don't want to keep out but don't use every day.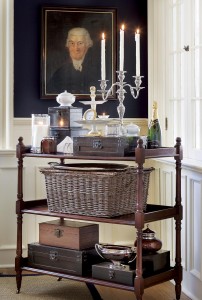 Beautiful baskets and boxes also make great hidden storage units. The basket and wooden boxes in the photo above add lots of texture and contrast to the display, and they offer a spot to hold table linens and serving utensils.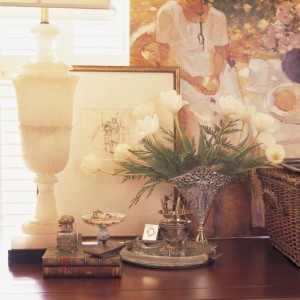 You can also store your stuff in plain view when you use gorgeous storage containers, like silver, glass and china serving pieces. When I decorated the little office on the sun porch off my bedroom, I used some of my pretty treasures to hold my stuff. Forget the office superstore — go shopping in your china cabinet. Convert a vase into a pen holder, use a tray for your inbox, stash paper clips in porcelain jars.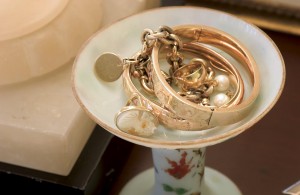 Pretty jewelry is like artwork. So why keep it hidden away in a jewelry box when you're not wearing it? I put my rings and bracelets in this precious porcelain server on my desk for some eye candy. What else can you store out in public view, turning it into a conversation piece? Maybe your grandmother's china? A few pieces of a favorite collection? Some old photos?
Next Week … I'll be talking with one of my favorite designers, Holly Blalock from CR Laine, about the hot decorating trends for 2013.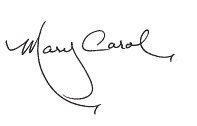 P.S. The big Nell Hill's Custom Order Upholstered Furnishings Sale starts on Jan. 15. This is the perfect time to get one of our truly unique sofas, chairs or ottomans — custom designed for your home and style — for 20% off! The sales lasts until Feb. 15.