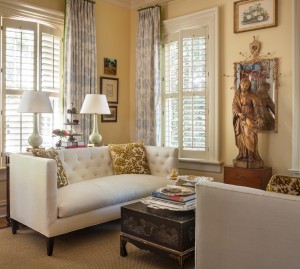 I'm a junky for change and all the positive energy that comes with new beginnings, so I love to make New Year's resolutions, especially when they revolve around improving my home décor. Since I am surrounded by a crew of amazingly talented folks at both Nell Hill's stores, I asked a few members of our team to share some New Year's decorating resolutions you might want to adopt to make your home even more lovely in 2013 (thankfully, none of them involve dieting!!). 
Mary Carol: Do Something Wonderful with Your Windows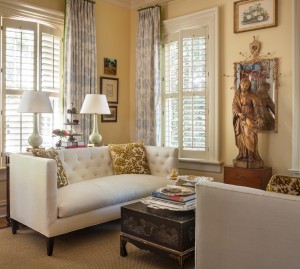 For years, I was convinced that shutters were the only kind of window treatments that would work in my living room.  I was afraid that since my old home is no longer plumb, drapes would hang unevenly and look funny. But my aching love of beautiful textiles made me reconsider. I wanted to add more of the drop-dead-gorgeous fabrics we sell at Nell Hill's Briarcliff to my home. So, I revisited the idea of drapes, thinking they could be my ticket to fabric paradise. I am so glad I did, because I was completely wrong – my windows look lovely framed by simple fabric panels.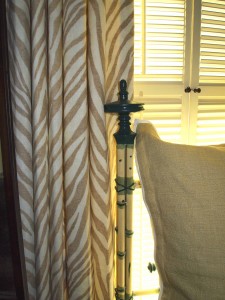 Pandora's box was opened, and I started dressing as many windows in my home as possible with beautiful fabric treatments.  Next on my hit list: updating the tired drapes in my bedroom. I prefer subtle colors in my bedroom, perhaps because I am around lots of brilliant color at the stores all day and by bedtime, my over-charged brain needs a chance to chill out. The camel and cream zebra  print I used for my drapes is the perfect blend of edgy and serene.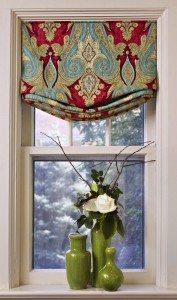 Check out these cute-as-a-button Roman shades I had made for my kitchen windows!
Chery: Re-envision Your Decor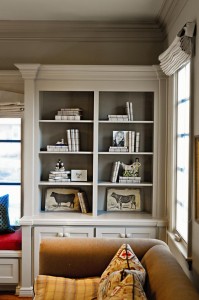 My home always seems so bare right after I take down the holiday decorations. But I've found that this is the perfect time to look at my décor with fresh, new eyes and make some much-needed changes. That's exactly what Chery suggests as her New Year's decorating resolution. First, she says, take a critical look at everything in your home. Start with the displays in your bookcases and on your side tables. How can you edit them so the design is clean? As you pinpoint items you are not using or no longer love, donate them to a charitable organization so they can bring joy to someone else.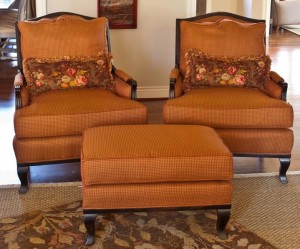 Once you've done a good, thorough cleaning out, Chery suggests taking a second look at your furniture placement. Does the flow of each room work? Are all the furnishings to scale? If not, try moving pieces from room to room, using them in new places and in new ways. Often, when Chery helps Nell Hill's clients redecorate their homes, she will move chairs or bookcases from one room to another, dramatically remaking the appearance of the home without spending a nickel. To find out more about our in-home design services, give us a call!
Diane:  Hang Some Beautiful Art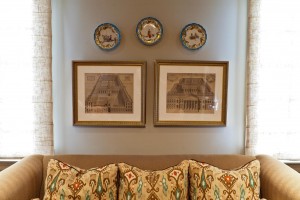 Take a look at the walls of your home. Are they filled with artwork that makes your heart sing? If not, here is Diane's New Year's decorating resolution for you: Fill those big, yawning spaces. She explains that you can pick out amazing furniture, sensational window and floor coverings, and perfect accents, but until you hang some artwork, your space will not feel finished. I couldn't agree more.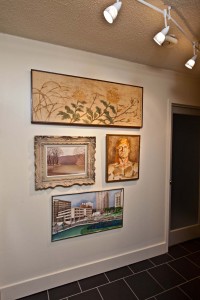 Far too often, Nell Hill's customers tell us they don't hang art in their homes because they are afraid they won't buy the "right" artwork or hang it "correctly." Toss that one out the window, because in my book, the only "right" artwork is the kind that makes your heart skip a beat. And the only "correct" way to hang it is the way that pleases you. Can it get any better than that?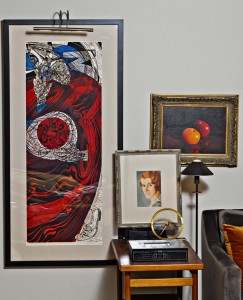 Diane suggests that when you shop for artwork, first focus on the emotional impact the piece has on you. When you find a piece that makes you all goosey, don't even think about whether it will match your décor. It doesn't have to use the same colors as your sofa or wall. It just has to make you happy. That's the rule of thumb I follow in my home, too. I toss together every color, medium, style and size. None of it matches. And I think that makes my displays that much more powerful.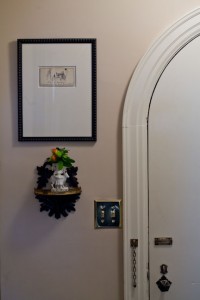 Diane also points out that you don't have to spend a lot to get great art. They could be inexpensive framed prints like we sell at Nell Hill's, originals by beginning local artists, family heirlooms or vintage pieces from an antique store.
Bruce: Add Theatrical Lighting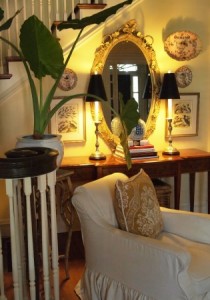 "All the world's a stage, so you need to light it well," says Bruce, our resident actor and singer. Bruce uses three creative techniques to create dramatic lighting in a home. The first is "framing," where you place a pair of matched lamps on either side of a killer display. Try it on your buffet or mantel this year. You'll be surprised by how the lamps spotlight the tableau.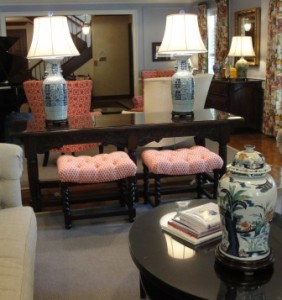 Bruce's second category is "illuminating," using lovely lamps to provide the light you need to perform a task, like reading. His favorites are the pharmacy lamps we sell at Nell Hill's.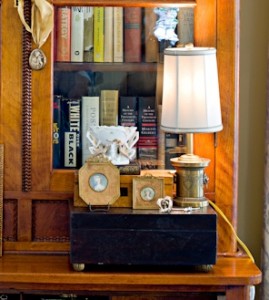 I love Bruce's last category: "highlighting," where you use a small accent lamp to call attention to something very special to you. To pull off this fun technique, pick out a few sentimental objects, like snapshots of loved ones, a treasure from vacation or a family heirloom. Then, place it on a side table under the downward light of an accent lamp. Every time you walk by this special, sacred space, you'll smile.
Macy: Freshen Up Your Accent Pillows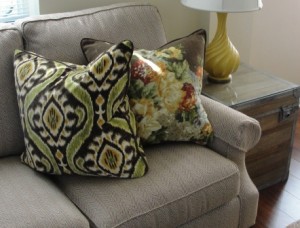 At Nell Hill's Briarcliff, Macy is our Pillow Princess. She designs custom pillows that will make you swoon. Her secret? Fearlessly mixing textiles and filling the pillows with high-quality down form inserts. Her New Year's decorating resolution suggestion is to replace all your old poly forms with down pillow forms.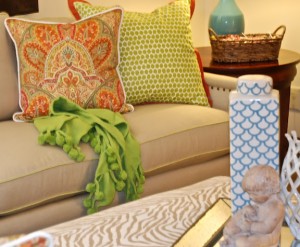 When you do, you will be amazed by how sink-into-soft your pillows look. Instead of the stiff, uninviting appearance you get with poly form pillows, those stuffed with down inserts are plump and full and indulgent. Unlike poly forms, down forms don't lose their shape. Just plump them and they are perfect again. We have a huge stock of down pillow forms made of duck and goose feathers and down, the only kind we use in our pillows at Nell Hill's. Come on in and pick some up!
Next Week … January is an ideal time to get your home organized. I'll share some tips for doing so with style.