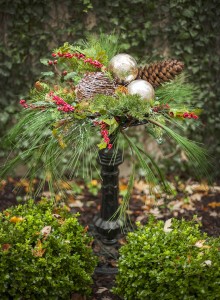 For my husband, the best day of the year is the day all the holiday decorations come down. It's not that he's a Scrooge, it's just that when you're married to a retailer, your Christmas season begins in July, so who can blame the guy for being tired of tinsel and trim by the end of December? But for me, boxing up the holiday décor is bittersweet because my home feels a bit bare when all the finery's gone. So in the next few weeks, I'm going to blog about ways you can brighten your home this winter.
Let's start on the outside, because no matter what time of year it is, you want your home's exterior to be lovely to look at – think of all the people who pass by it every single day. It's easy to keep your outdoor spaces from looking like a sad, frozen wasteland with these five fast tricks.  
1. Tweak Your Holiday Displays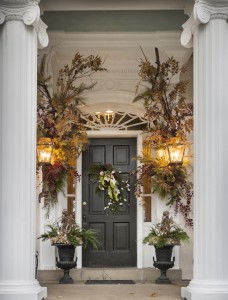 After the holidays are over, I don't want to create all-new winter displays for my home's exterior. So through the years, I've developed a great way to get the outdoor tribute to winter I want in a snap. I start by building exterior holiday displays filled with winter greens and accents that are generic enough to stay up until the crocuses push through the snow. On January 1, when I'm ready to transition from my holiday show to a more general winter look, I just remove the overly holiday themed décor from my existing displays. I'm done in minutes, and back inside with a hot cup of tea.
Can you leave any of your holiday displays in place, then just take out holiday icons, like Santas, reindeers or tree balls? Fill in the empty space with a garden statue or a cluster of silver or natural orbs.
2. Fill an Urn with Winter Greens
Don't leave your garden urns sad and lonely all winter long. Fill them with winter greens until it's time for the spring planting. The photo above is of one of the set of urns that flanks my front door year round. I love this shimmering display from my Holiday Open House so much that I'm going to leave it up through February to give my front porch a bit of shine.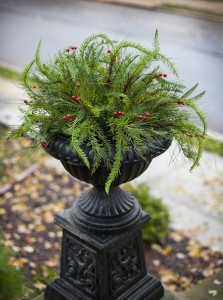 Here's a super simple yet lovely display you can use to give your home a welcomed pop of color during the winter. We filled a black iron urn with a no-frills bouquet of faux greenery and berries. It took just minutes to create, yet will give my home lots of punch during the long Kansas winter. If you wanted, you could easily punch up a display like this by inserting a garden statue, as we did on my front porch.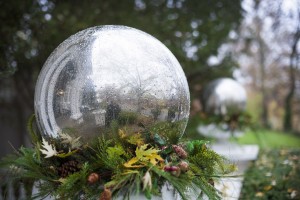 The front porch of my historic home is dotted with a phalanx of concrete planters. I love them because they are so unique, and I consider it a fun challenge to come up with things to put in them during the various seasons. In the summer, I go the easy route, planting them with Kimberly queen ferns, which do not die, no matter how much I mistreat them. In the winter, I like to fill them with displays that look festive enough for the holidays, yet generic enough that I can leave them up until it's fern planting season once again.  I'm nuts about orbs right now, so I plunked these big fat silver gazing balls down on premade winter wreaths that had a wild, woodsy feel. They look sensational dotted with fall leaves and dusted with winter snow and ice. In fact, these orbs are so timeless, you could leave them up all year long if you wanted to.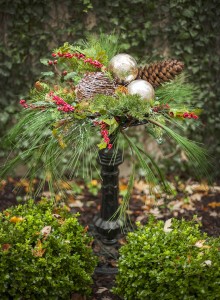 We created this fun arrangement in the birdbath in my courtyard for my Holiday Open House, and I'm going to keep it as-is all winter. I really like the mix of orbs in this arrangement, paring the earthy wicker materials with the tarnished silver balls. Lovely! And, the addition of the humongous pinecone is perfect. Do you have a birdbath or fountain you can fill with greens this winter? Try this super simple treatment that takes seconds to do: Top the birdbath with an old faux pine wreath and insert a statue or gazing ball.
3. Lighten up with a Lantern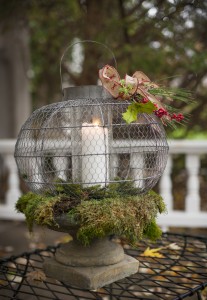 My front patio is exposed to the elements, but I still want it to look inviting during the harsh winter months. So I pulled together a few winter friendly centerpieces featuring weather resistant lanterns. I adore this cute little wire lantern, one of our hottest sellers at Nell Hill's. I used a few of these chubby guys in my summer decorating, but they are just as perfect for winter, I think. All it took to cute them up for January and February was to tuck in a few winter greens. We placed the pillar candle on a bed of faux pine branches and tied up a tiny bouquet of pine, holy and berries with a wintry bow. This photo features a real pillar candle, but I'd recommend filling winter lanterns with battery operated candles that utilize timers or remote controls, since it's no fun to go out in the deep freeze to light a candle, which will almost certainly blow out in the winter gale. We have a ton of them at Nell Hill's, so stop by and stock up!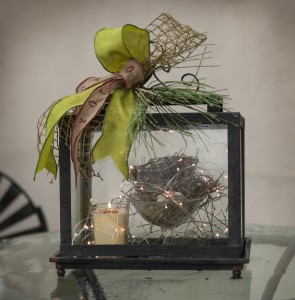 I'm captivated by this simple lantern because it looks like a display box. Maybe that's why I filled it with some of my favorite things. I found this nest on the ground in my courtyard, forgotten by south-going birds. You can't tell from the photo, but the birds used a wrapper from an ice cream sandwich as nesting material. How cool is that? More proof that the best stuff for your home is often right outside your door. I put the nest in a sherbet cup to give it the proper honor, then tucked in a votive candle to add a ray of light. I finished off this whimsical still life by threading in a string of tiny lights.
Have you seen these light strings yet? If not, get ready because you are going to love them as much as I do! They are 20 feet long, so you can do a lot with them. And, the tiny lights are simply magical. Just what you need to brighten that dark January landscape!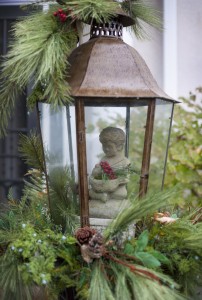 Here's a different take on the lantern-as-display-case idea. I put a small garden statue inside this big lantern, then dressed it up inside and out with faux winter greens. You know how I like to have fun with these statues, so I'm sure you weren't surprised to see the garden girl holding a few winter greens of her own. A lovely display like this would look superb in a sheltered entry or screened porch.
4. Dress up Your Door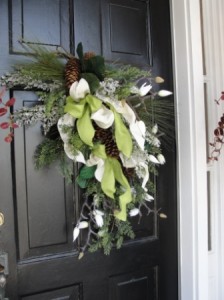 The focal point of your home's exterior, your front door is one of the most important places to decorate for the winter months.  I kept up the swag of winter greens and florals I had on my door for my Holiday Open House. Can you modify your holiday door display, too? If not, dress it in winter greens and a pretty winter ribbon. If you need ideas for winter front door decor, come on in to Nell Hill's – we have a million of them!
5. Deck Out Your Patio or Porch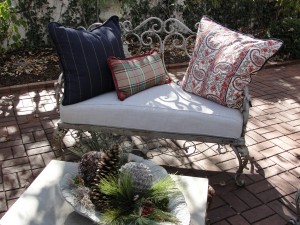 Depending upon where you live, you might be able to leave your patio furniture cushions out during the winter. If you can, do! The textiles will add color and warmth to the bare vista of your January garden. I used a mix of punchy plaid fabrics for the pillows that soften up the iron furniture in my courtyard. They are not weather resistant so I can't leave them out in the snow and icy rain, but when the sun is shining, they are a welcomed sight out there in the frozen garden.
Next Week … It's time once again for the Nell Hill's decorating New Year's resolutions. I've asked a few talented members of the Nell Hill's team to share ways you can make your home more beautiful in 2013. Come hear what they have to say!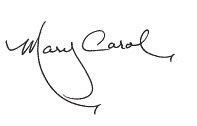 P.S. Nell Hill's will be closed for Christmas, but the day after, get ready to shop for bargains! All our Christmas tree ornaments will be 50% off!