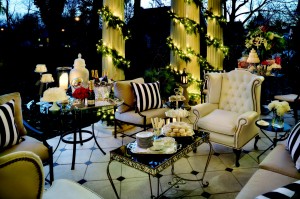 On New Year's Eve, the stroke of midnight will find me … in bed, fast asleep. (Sorry to be so boring, but after working a gazillion hours during the holiday season, by the time we close the doors of Nell Hill's on New Year's Eve, I'm ready to crash!) But if I had the energy to celebrate late into the night, I would want to be at a grand and glorious outdoor fete like my friend David's. Come peek in on his stunning winter soiree and be inspired to bring in the New Year in style at your home. 
Create an Outdoor Setting Worthy of a Celebration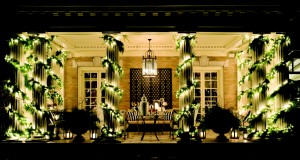 Don't you want to just disappear into this magical fairytale like setting? That's the reaction I had when I saw David's home dressed for a decadent midnight champagne and dessert celebration. Those of us who live in colder climates shy away from hosting events outdoors this time of year. But if you're in a part of the country that is more moderate, take the party outdoors on New Year's! Illuminate your outdoor room with yards of twinkling lights, like David did when he wrapped the carved colonnades of his portico with miles of fresh pine garland dotted with tiny white lights. For romantic outdoor lighting, I also like to suspend votive cups from the branches of my shrubs and line my walkways with lanterns.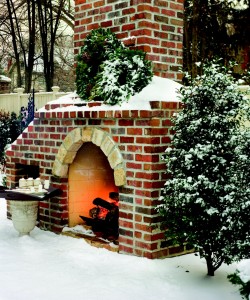 Even if it's too cold and snowy in your part of the country to stay outdoors too long, don't ignore the great potential of your outdoor rooms. If you have an outdoor hearth, set it with a blazing fire and toss cuddly blankets on your outdoor furnishings so guests can snuggle by the fire. Can it get more romantic than that? You can also use your outdoor room for a bar service, eliminating the need to ice the drinks.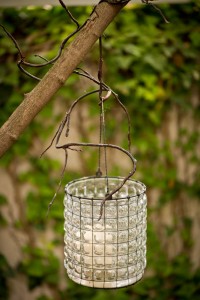 But if the thought of trekking out into the cold in completely abhorrent, treat your outdoor space as a decorative element. Hang glass votives in your trees and bushes, then fill them with battery operated candles, so guests can look out on a magical vista of sparkling lights. Or, line your walkway with candle-filled lanterns. I really love the battery operated candles we sell at Nell Hill's that work on timers or have remote controls because you can turn them on at dusk every night without having to go out in the cold.
Fine Finishes Outside? Why Not!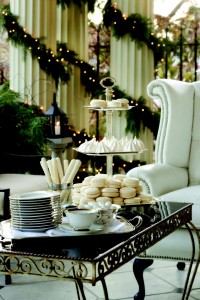 Shake things up a bit by using fine indoor furnishings and trims outside. It's so unexpected to find such luxury on the patio that it feels positively indulgent. David does this masterfully on his portico. His outdoor furnishings feature a mix of materials, all of which can handle the stinging Midwest weather and still look like a million bucks. The winged back chairs, which look simply smashing in this setting, are covered in white vinyl so they can handle rain, birds, leaves – you name it. Just a wipe with a rag and they are sparkling new. David's outdoor color scheme of black and white is one of my all time favorites, and I've reinvented this time and again on my own porch.
Decadent Displays of Fabulous Food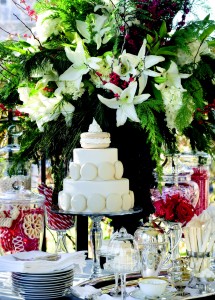 On January 1, the diet begins. So on December 31, indulge! Even if you don't taste a morsel from this glorious display, you'll feel like you spoiled yourself.  Those of you who know me know that I do not cook. Ever. So when I entertain, I purchase ready-made foods that are visually stunning, like this dreamy layer cake. Then, I pull out my best serving pieces to present the prepared food in the most dramatic way possible.  My mantra is presentation over preparation, and it's served me well.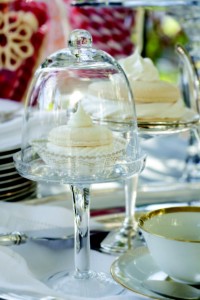 Everything looks more regal when placed on a riser and covered with a glass cloche. Even this simple moon pie looks fit for a queen when presented in such a fashion, doesn't it?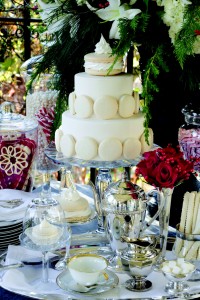 A mistake people often make when setting up a food service is to cover the tabletop with a sea of flat platters and bowls, al la church pot luck. The secret is to employ a mixture of serving pieces that give you a variety of heights. Why does this display on David's serving table work so well? He started with a gorgeous backdrop – a breathtaking floral display in a classic Nell Hill's black iron garden urn. It's tall and dramatic and arresting. Next, he used a mix of tall risers and jars to hold the cake and candies that repeat the red and white color palette. The foreground is reserved for just a few low-to-the-table necessities, like the dessert plates and silver coffee service.
Create a Drinks Service Worthy of a Toast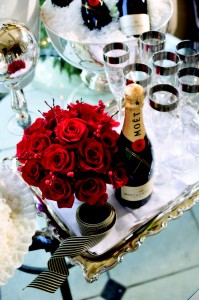 When the clock strikes midnight, you want to have plenty of iced bubbly to pour into your guests' glasses. Instead of hiding pretty bottles of champagne or prosecco in the fridge, incorporate them into your party décor. Fill a silver punch bowl with ice to display the drinks. Or, find another interesting container to be your ice bucket, like a wooden dough bowl, a blue and white cachepots or even a rustic bird bath.
Instead of just lining up your champagne flutes on the tabletop, ground them on an elegant silver tray. Beautiful trays are another one of my ace-in-the-hole serving pieces because anything you put on top of them is instantly elevated from ho hum to magnificent.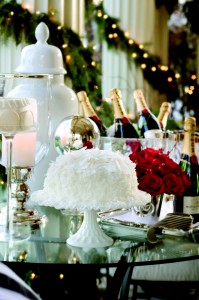 Isn't David's drinks station glorious? The simple white temple jar gives the display dramatic vertical height. Shining silver accents, like a candlestick and gazing ball, add a bit of sparkle. And the party's color palette of red and white is repeated in the little bouquet of red roses and the fluffy snow ball of a cake that looks so yummy on the glass riser.
Here's to a Fabulous 2013!
No matter how you celebrate the end of 2012, whether you're at a grand party with legions of guests, an intimate gathering with your closest friends, or, like Dan and me, curled up under a pile of quilts getting some well-earned post-holiday sleep, I hope the evening finds you happy and well. I wish I could personally thank each one of you, my dear friends and loyal customers, for all you have done to enrich my life in the past year! I can't wait to go through 2013 together, having a blast as we celebrate our style and make our homes lovely!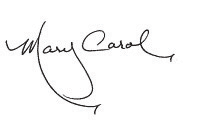 P.S. We are packing the Nell Hill's 2013 calendar full of fun and interesting events, like a special February visit (complete with elegant dining under an event tent) by one of the most gifted designers I've ever worked with, Holly Blalock with CR Laine; open houses at my historic home; and sales, sales, sales! Stay tuned ….