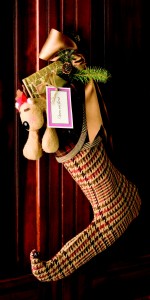 I get a kick out of helping my mom decorate her home for Christmas, because when we open up the musty boxes of 1950s ornaments, I get to relive my childhood, one felted, flocked or sequin-covered ornament at a time. Pay tribute to holidays past this season by sprinkling in some iconic décor from your childhood or eras gone by. Here are some tips to get your started.
A Little Kitsch Anyone?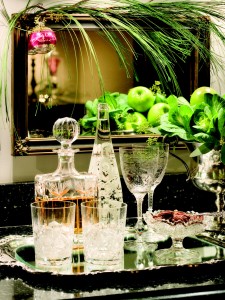 If you're a Baby Boomer like me, the recent resurgence of the midcentury look is a flat out celebration of your childhood. If you are lucky enough to have a few of your family's favorite holiday ornaments left, pull them out and feature them front and center in your holiday displays. In the photo above, one cheery little Christmas tree ornament suspended from a spray of evergreens instantly gives this sparkling holiday bar the feel of the '40s and '50s.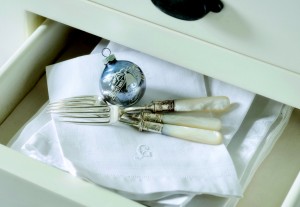 Sometimes the best displays are those that are the least obvious. This tiny Christmas tree ball, tucked into an open drawer in the linen cabinet, awaits the careful observer.  Where else can you tuck in a kitschy ornament? In amongst the dishes in your china cabinet? Hooked on a bedroom doorknob? Suspended from the garland on your mantel?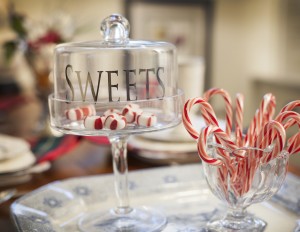 Peppermint is the iconic candy of my childhood and a fun addition to your vintage holiday scene. Hit an upscale candy shop to find peppermints that are as pretty as a picture, then display them in lovely glass containers. For the price of a few bags of candy, you have a sensational holiday display that will warm the heart of your inner child.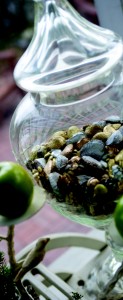 When I was a kid, I remember moms painting nuts in metallic colors of silver, gold and bronze, then displaying them in dishes. Try this creative trick yourself – all you need is a bag of mixed nuts and silver, gold and bronze spray paint.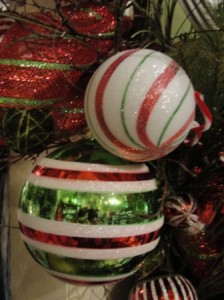 Here are some bright, shiny tree ornaments we're selling right now at Nell Hill's Atchison. Red and green and covered with glitter, they could have been stolen straight from the tree I had growing up.
Do you love Santa? So do I: Even though I was almost always naughty, he still spoiled me rotten! We have lots and lots of interesting vintage Santas at Nell Hill's Atchison this season, and they are ready to give your holiday treatment some kitschy charm.
Give Honor to a Bygone Era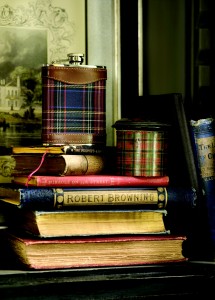 When I want to create intriguing displays that have a lot of layers, I reach for a stack of old books. Not only do books serve as great risers, giving interesting accents increased stature, they can also add a storyline to the tableau. For a holiday display, weave in antique books that celebrate the season. Do you have any old holiday books you read over and over again as a child? Use them in your decorating. Or, hunt for some at an antique store.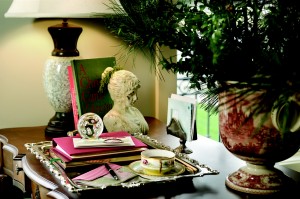 When the Nell Hill's team decorated this designer show home a few years back, we wanted to create a very subtle holiday display in a very traditional living room. Instead of piling up the writing desk with a huge and complex design, we featured a simple bouquet of pine picks in a red transferware bowl. The bowl's raspberry hue is repeated on the cover of A Christmas Carol, leaning casually against the reading lamp. The display gives a dignified cheer for Christmas.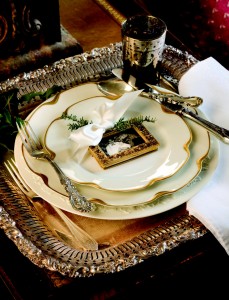 When paying tribute to days gone by in your holiday décor, why not celebrate your own family? Every year Dan and I host our family for Christmas dinner. One of my favorite things to do is to make copies of vintage photos of our family members, insert them into adorable petite frames, and rest one on top of each place setting. You could also work them into your centerpiece or the display on your buffet. If you want a good laugh, frame photos taken during those awkward stages of life, like junior high, with those unfortunate choices in eyewear and hairstyles.
What's Old Is New Again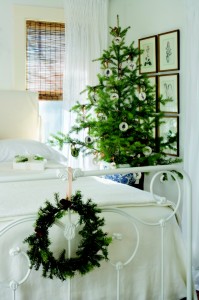 I really like to decorate with antiques and reproductions. So I included a line of Christmas tree ornaments in the Mary Carol Home Collection that depicted old line drawings of Christmas trees. The beautiful tabletop tree in the photo above is decorated with these vintage-look ornaments.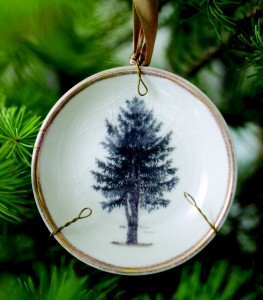 Do you have any favorite holiday images you can resurrect or recreate to decorate your tree? How about stringing a popcorn and cranberry garland for your tree?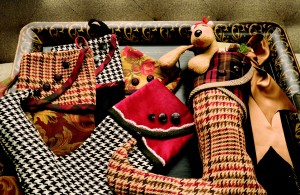 Pick whimsical Christmas stockings to make your holiday display magical. These fun stockings, made out of updated menswear fabrics, have an almost Victorian feel to them, yet they are still playful and new. Don't just hang stockings from your mantel – use them to adorn a few unexpected spots in your home. Put one in a fanciful display on your front door, hang one from the doorknob of your guest room or affix them to the window sashes in your kitchen.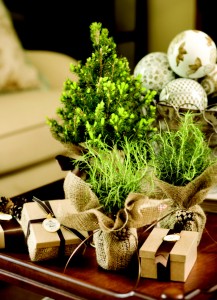 I really like to decorate with burlap during the holidays because this age old fabric is a wonderful counterbalance to all the glitz and glam. Aren't these little trees wrapped in burlap bags a great addition to a soft and subtle Christmas display? Place a line of them on your kitchen windowsill or along your mantel for a more minimalist, organic look.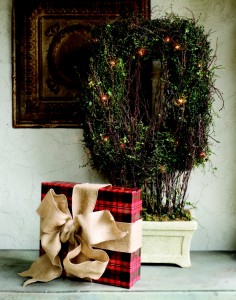 You'll see burlap ribbon used again and again in my seasonal displays, whether it's hanging a wreath from my door or tying up pretty packages.
Next Week … Want to celebrate New Year Eve in style? Here's a dazzling party idea!