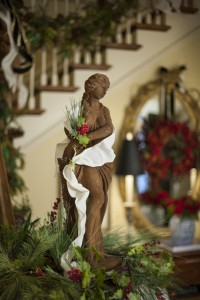 I'm a huge fan of using items from my garden, like crumbling statuary or weatherworn planters, in my interior decorating, especially during the holiday season when their rustic beauty provides a provocative contrast to all that glitz and glam. Here are a few garden staples you might want to bring inside, too, to make your holiday displays a bit fresher and more intriguing. 
Garden Statues Lend Intrigue to Displays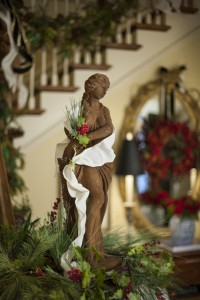 Since the Nell Hill's look is all about mixing together the refined and the rustic, the precious and the everyday, weathered garden statues are one of our go-to tools when creating designs. I loved them woven into formal displays because they offer an element of surprise and balance. During the holiday season, I often use the neul post of my banister as a stage for an attention-getting display. This year, I placed a garden figurine on this prime spot, surrounding her in a swirl of pine garland. Since I'm anything but stuffy when it comes to decorating, I like to have a bit of fun with these regal statues. So I twisted a toga-like ribbon around my garden beauty and made a little bouquet out of an evergreen pick for her to hold. In the past, I've placed evergreen wreaths around statues' heads and dangled ornaments from their hands.
Topiaries Offer a Fresh Take on the Holidays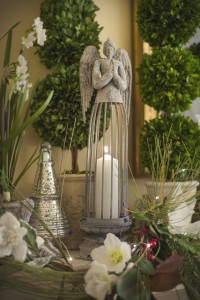 I have had a lifelong love affair with topiaries because these intricately sculpted plants seem to defy nature. How can they survive all this pruning and shaping and still look so amazing? (The fact is, in my home, they do not survive, since I'm such a brown thumb. If I want my topiaries to stay green, I have to use fakes!)  When we envisioned the mantel display for my Holiday Open House, I wanted to create a botanical look that was as fresh as the garden. So we included several faux three-balled topiaries in the display to give it some height and splashes of green. The angel candle holders, with their weathered gray patina and exposed wire skirts, look like trellises to me, making them the perfect addition to our greenhouse look.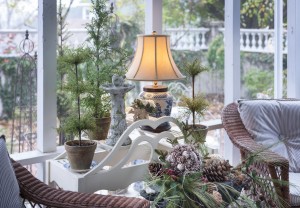 In contrast, the topiaries we used for the holiday display on the side table on my screened porch are a bit wild and unkempt. I think they are just the right pick for this almost-outside spot, poised against the backdrop of my garden. Notice how we grouped three similar yet dissimilar topiaries together in this display? For continuity, the topiaries mimic the same look. For visual interest, they are each unique.
Trellises Add Dramatic Height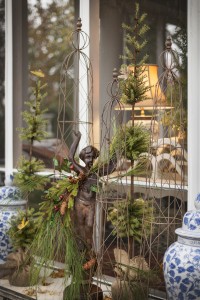 When we decorate my courtyard for my Holiday Open House ever year, I like to make a big splash on the console table that nestles up against the wall of my screened porch. I don't want anything too heavy in this in-between place because I don't want the tabletop display to block the view from the screened porch. Yet, the display needs to be tall, full and gutsy or it will get lost in the vastness of the courtyard. This year's display struck the perfect middle ground. We started with a darling garden statue to bring in some charm, then filled in with a little forest of pine topiaries. To infuse the display with drama, we added in a trio of trellises. Slight and slim, the garden trellises gave the display height without taking over. Small trellises like these are also a great addition to a mantel display because they are slim and tall.
Planters Exhibit Holiday Treasures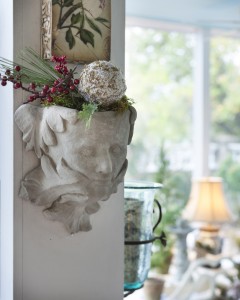 When I remake my home for each new season, I don't have the time or desire to rework every single display. So I focus my efforts on a few key spots. This intriguing wall mounted garden planter is one of my favorite places to change out seasonally. This winter, it's cradling a natural ball covered in faux frost and a delightful little bouquet of red winter berries and pine. Notice the blanket of moss? We like to ground our displays on a bit of real moss, which you can find at hobby stores, because it helps hide the ends of faux greens and gives a nice, finished look.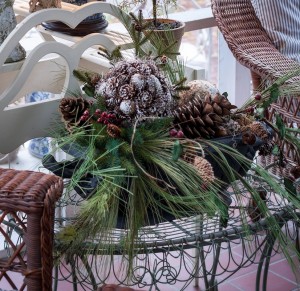 This interesting cast iron planter is the perfect container for a seasonal bouquet on the side table on my screened porch. I really like topsy-turvy grouping like this one, where a potpourri of natural elements appear to be haphazardly mixed together. If floral arranging isn't your thing, take the easy way out, like I do, and just fill your garden planters with pinecones or green apples.
Natural Treasures Make Your Displays Unique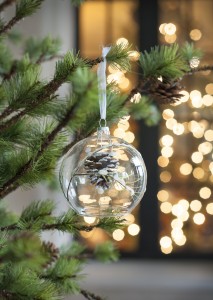 Sometimes all you need to do to celebrate the garden in your holiday décor is to add a few found treasures to your existing displays. I am captivated by these adorable Christmas tree ornaments, which suspend a beautiful pinecone inside a clear ball, rightly heralding this organic masterpiece as a thing of great beauty.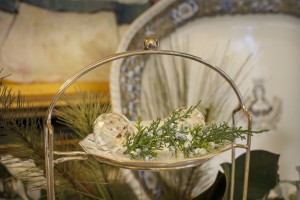 If you are in a hurry and don't have much time to decorate for the holidays, bringing the garden inside will not only give you a fresh seasonal look, it will take just seconds. Grab a pair of garden pruners and head outside, snipping bits of plants and trees to tuck into your year-round displays. This little spray of evergreen, cut from a cedar tree outside my home, adds a hint of winter charm to the standing display on my dining room buffet.
Next Week … For children, there is no more magical time than the holiday season. Indulge your inner child, and relive a lot of great holiday memories, by including some vintage pieces in your holiday décor.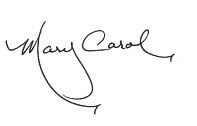 P.S. When you head up to Atchison to shop, you're in for a treat! We've combined our Garrity's store and our Nell Hill's store, and it's better than ever! I thrive on change, so when we had the opportunity to sell the beautiful old building that housed Garrity's, I jumped at the chance. Right now, we're moving all the great furniture, artwork and accents you love at Garrity's down the street to Nell Hill's. I'm thrilled, because I love to spend all the time I can in all my stores, which will be easier now that there are two.