When I decorate my home for the holidays, I like to get really creative with my dining room décor. I find it energizing to think up new ways to pay tribute to the season in this special space, where my family and friends gather for Christmas dinner. This year's display is a soft and serene celebration of Mother Nature. If you want to do it up big in one room of your home this year, here are some tips for creating a whole-room display that is as enchanting as a wintery walk in the woods. 
Pick One Dramatic Focal Point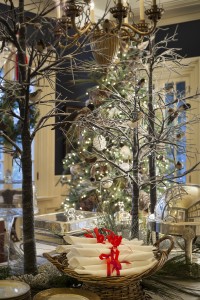 When your guests walk into the room, you want them to be dazzled by one killer display that takes their breath away. But be sure to stop there: If you have more than one big show going on, you run the risk of making the space visually overwhelming. Usually I go for shock and awe on my dining room table. I like to think of this long plank of wood as a stage just waiting for a story. This all-important display sets the scene for all the décor in my dining room, and often for my entire home, so I choose it with great care.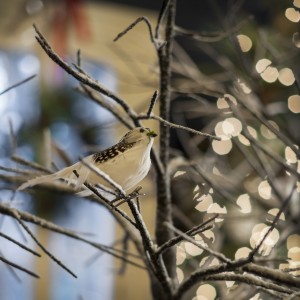 Have you ever walked through the woods after a snow, drinking in the peaceful solitude and enjoying the stillness of the natural beauty around you? That's the feeling I wanted to evoke in my dining room this year. When I saw these snow covered trees at market, I knew I had found my heart-stealing focal point for my dining room table. The trees are so simple and unassuming, yet powerful. I loved that they offered lots of height – a necessity if you want to create a display that packs a lot of visual punch – yet they were so light and airy they wouldn't block the view of the entire room or impede cross-table conversation during dinner.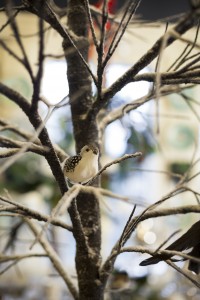 I am crazy about birds, so I perched a few of these little cuties on the branches of the trees. We're carrying several kinds of petite bird figurines at Nell Hill's this season, some that wire on, some that clip on. They are perfect to tuck into displays. But, be sure to use just a few – you don't want your holiday décor to look like a scene from Alfred Hitchcock's The Birds!
Add Gifts from Nature to Your Display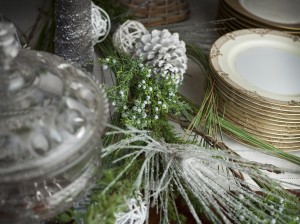 I wanted my dining room display to be filled with objects you could gather while on a walk in the woods. So, I wove pine garland, pinecones and snips from my cedar trees in amongst the serving pieces and plates set out for the dinner buffet. Try doing the same thing in your display – find natural items that represent your area of the country and use them as the base of your decor. It's a decorating approach I especially recommend for young couples starting out or anyone who wants to stretch their decorating budget as far as it can go. What is outside your window that would look great in your holiday celebration?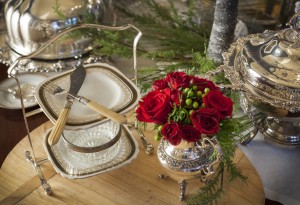 This little floral arrangement filled with brilliant red roses really pops on this soft tablescape. When you build your display, consider adding an attention arresting touch like this to surprise your guests.
Create a Strong Supporting Cast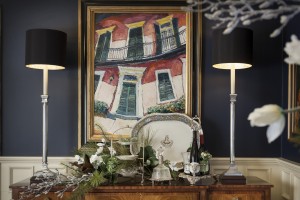 While my dining table may be the star of the show, the smaller displays on the other tabletops in the room are just as important in creating the overall wow factor in this room. I have a few favorite things I keep on my buffet all year long, including these swoon-worthy buffet lamps, china serving platter and silver servers. So, this year, I just added a few seasonal greens. To create this beautiful floral grouping, we layered together greens that complemented those on my table, including pine boughs, magnolia leaves and magnolia buds. Simple, but stunning.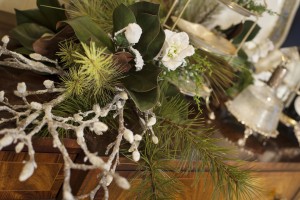 To create a woodsy look in your holiday décor, establish a palette of greens and browns with natural items like fallen branches, faux pine boughs and pinecones (My favorites are the big, fat sugar pinecones – love these guys!).  You can also weave in a few greens that look like they are dusted with snow or ice. I really like how they lend a bit of shimmer, especially if I'm using candles on my table.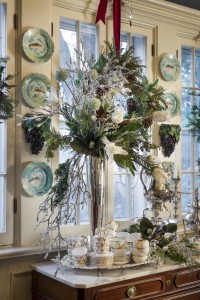 I like to set up a drinks station on the antique marble topped table that stands under the bank of windows in my dining room. Since the tray filled with coffee cups takes up about half the surface area of the table, I needed to add some height to make the overall display interesting to look at. This mercury glass vase knocks it out of the park, mirroring the silver serving pieces I've used throughout the room. Notice the floral display in the vase includes the same greens that we used on the buffet? Repetition is key.
Indulge in More than One Tree
If one Christmas tree is great, than having more than one is even greater, right? I'm a fan of having several smaller Christmas trees in your home because it feels like a wonderful indulgence. A few years ago I added a Christmas tree to my dining room décor, positioning it in the corner you see as you walk in the front door. I loved it so much, I've put one up in the same spot nearly every year since.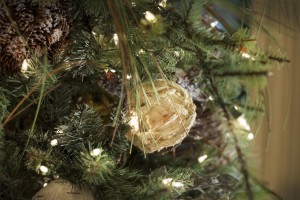 To give my dining room tree a wild, natural look, I dressed it in a wide array of globes made from organic materials, like pinecones, reeds and wicker. Since I use fake Christmas trees, I often work in a variety of evergreen picks to make the tree look more natural. Notice the clusters of pinecones? They are picks tucked into the branches of the tree.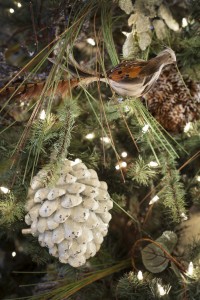 So small you would almost miss him, this little bird adds charm to my organic-themed tree. Since so many of the ornaments on my tree are brown, tan and green, I decided to pop in a few white pinecones to add some much-needed highlights.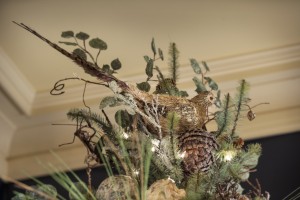 Instead of an angel or star at the top of my wild, woodsy tree, I perched a pheasant, resting just below a plume of frost-kissed picks, to give the tree top a bit of flourish. Trees that celebrate nature are some of the easiest to create because they welcome anything and everything found around your home. Take a walk where you live and gather things of beauty that capture your eye, whether a fallen bird's nest, pinecones or a cluster of acorns. Then, tuck them into the branches of your tree for a truly singular look.
Next Week … This year, I brought the garden inside when I decorated my home for the holidays, giving my décor a fresh, light look that I loved at first sight.