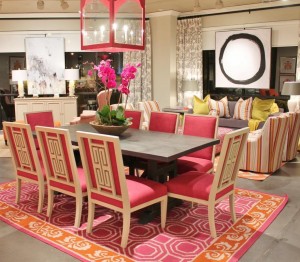 The night I got home from High Point Market, where I spent three days on a buying trip for Nell Hill's, I was so jazzed up by all the creativity I saw, I couldn't sleep. At all. Despite being bone-weary exhausted from spending all day –dawn to dusk – rushing from showroom to showroom, scouting for fabulous new pieces for Nell Hill's.
In fact, Cyreesa, one of my lifelong friends and longtime work associates at Nell Hill's, and I didn't sleep the entire time we were at High Point, the largest furnishings industry trade show in the world, because everything we saw was that good, that exciting. I finally had to pry myself away and get on that plane before I got in trouble with Dan for spending too much money. (Here's a snapshot of one of the rare minutes we even sat down … I can't believe Cyreesa is still speaking to me!)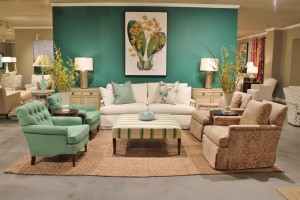 I wanted to share some of the new trends, colors and styles that bowled me over, and give you a sneak peak of the wonderful new merchandise that will begin arriving at Nell Hill's in four to six weeks: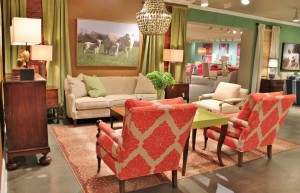 Some years at market, there is one look all the designers mimic. Not this year – the styles, palettes and designs were all over the board. We saw everything from soothing neutrals to vivid saturated colors. Vintage florals to streamlined industrial. Classic to contemporary.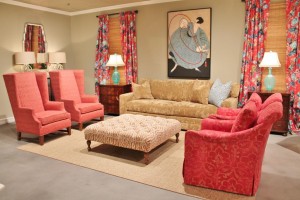 CR Laine, one of my favorite furniture makers, knocked it out of the ballpark once again with their colorful collection. CR Laine recently joined forces with Tobi Fairley, a highly touted interior designer known for her exciting work with color and pattern.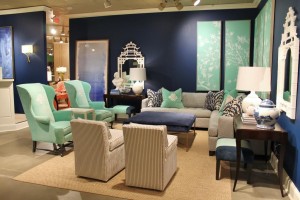 The resulting collections spotlighted at High Point showed what can happen when two creative forces collide: Brilliance!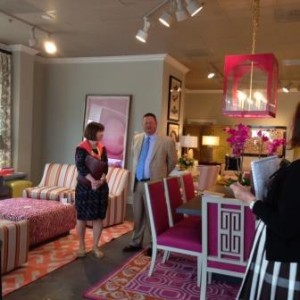 Here I am, in one of the CR Laine showrooms, drinking it all in.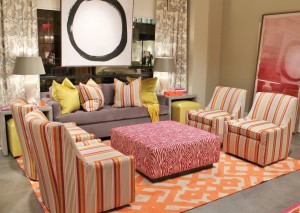 One collection, aptly named Drama Queen, dazzled us with its bold pairings of orange and magenta.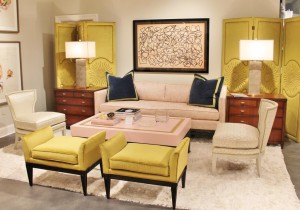 The Blushing Beauty collection showed that you don't have to shout to make a big statement in your interior spaces. Quiet colors like blush pink, light blue, lavender and chartreuse go glam through luminous fabrics and finishes in this collection. I love the slipper chair that sports a Greek key pattern carved into its legs.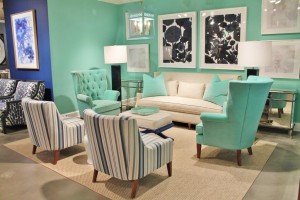 Another collection, City Sophisticate, weds my longtime heartthrob – navy and white – with unlikely colors like mint, lavender and brass. Sounds crazy, but it really works.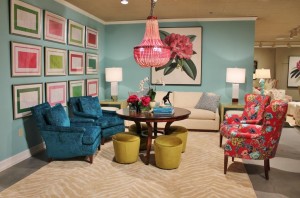 Floral fabric has been growing in popularity the past few years, and now it's showing strong in the spring collections of the big designers. But this raspberry floral chintz from CR Laine is not your grandmother's floral – it packs a powerful punch, with its rich jewel tones.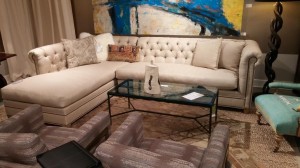 My award for most gorgeous neutrals goes to Lee Industries this year, with their lovely cream and gray upholstered furniture, a cornerstone of a well-appointed room. This year, they took a traditional Chesterfield sofa and re-envisioned it as a sectional that scores as high on style as it does on function. I ordered it upholstered in Sunbrella fabric so it can withstand anything the Munchkins, pets and husbands dish out.
Speaking of husbands, Dan and I had a pre-nup that he could never, ever own a recliner (not really!). I had never seen a recliner done in a style I thought fit in with our décor, and I was pretty sure I never would. All that changed this year at market when I saw Lee Industries' new "relaxer", a sleek leather chair with recliner-like functions: head back, feet up.
We had our Lee sales rep Larry take this smart looking chair for a test drive. In a matter of minutes he turned to mush, and I believe was seconds from starting to snore. So, pigs are flying: Nell Hill's will sell a recliner for the first time ever.
We work with lots of customers who are building new homes or remodeling, so I'm always on the lookout for fabulous light fixtures. These globes are just sensational. I can see them hanging over a kitchen island or a kitchen table. I posted these pix on FaceBook and everyone loved them – glad I ordered a bunch!
I'm a huge fan of spending time with guests over a meal in your home, so I like to stock a variety of dining tables and chairs. This snappy bench caught my eye – perfect pulled up to a dining table or, really, just about anywhere in your home.
Loved these casual dining chairs, with weathered patina.
The orders are in. Now begins the countdown until the delivery trucks start to bring all the gorgeous goods to Nell Hill's! (Six weeks and counting … )
Next Week … Come join me for a look inside my kitchen and dining nook at my new home!