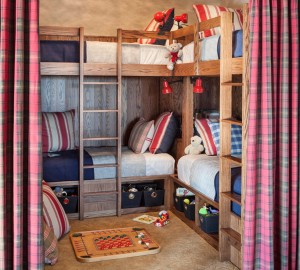 I'm an early morning girl. I get some of my best thinking done when I bounce out of bed at 5:30 a.m. But I confess that in the winter, when my drafty old house is chilly, and my bed is snuggly and warm, I'm not always super excited about throwing back the covers and starting the day. That's one of the down sides of creating a bedding ensemble that's soft, and warm, and soothing to the senses – it's really hard to pull yourself out of heaven every morning. Want a bedding ensemble that's so wonderful you hate to get up? Here are three essentials: 
1. Luxurious Layers of Quilts and Duvets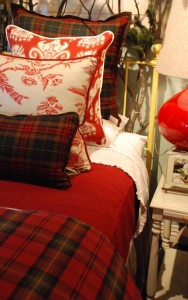 Ascend the stairs of Nell Hill's Briarcliff, and you will be treated to one gorgeous custom bedding ensemble after another, each sporting a unique blend of colors, patterns and layers. While each of our beds is distinct, one of the things all of our ensembles have in common is luxurious layers of blankets. Our favorite combination is a duvet layered with a matelasse quilt. When used together, these two gold- standard blankets give a bed maximum warmth, comfort and style.
On the bed above, we used the cheery red matelasse quilt as the bedspread, then brightened up the bottom half of the bed with this holiday red plaid duvet.  I'm crazy about plaid, so in the winter I like to zip up beds with a mix of this timeless pattern. To switch up the look of the bed above, all you'd need to do is use the plaid duvet as the bedspread and put the quilt at the bottom.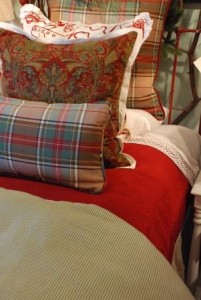 The sky is the limit when picking a combination of quilts and duvets. On the bed above, we placed a softer, more muted striped duvet at the foot of the bed, toning down a bright red matelassé quilt just a bit. We pulled the red through the pillow combinations.
If you're having a duvet custom made, try this Nell Hill's trick: Pick a winter fabric for one side and a summer fabric for the other so you can transform the look of your bed each season just by turning over your duvet. In the winter, fill the duvet with a down comforter that is the right weight and warmth for you. If you can, test the comforter before you buy it: We've had lots of our customers share that they regret getting a comforter that was heavy and hot, making it hard for them to sleep.
You can't beat matelasse coverlets for durability and easy care. When they get dirty, just toss them in the washer. The more they are laundered, the softer they become. If you're purchasing one of these quilts in a saturated color, like you see on the bed above, the first time you wash it, use cold water and add 1/4 cup of white vinegar to the wash. The vinegar will help set the color so it doesn't fade.
2. Stacks of Dreamy Pillows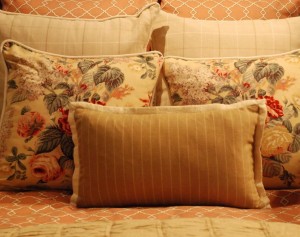 Pillows are like artwork on a bed. They give you a unique way to express your personality. For most people, picking out the pillows is their favorite part of creating a custom bed. This winter, anything goes when it comes to colors and patterns. Floral fabrics, trellis patterns, geometrics and plaid are all big right now. The secret to creating a provocative bed is to mix several colors and patterns together to create a unique tapestry of texture and tone. The pillow grouping above tosses together men's wear fabrics with florals, celebrating a warm palette of orange, tan and cream.
If you are investing in custom pillows for your bed, make them two sided, featuring different fabrics on the front and back so you can reinvent your bed over and again just by flipping your pillows over.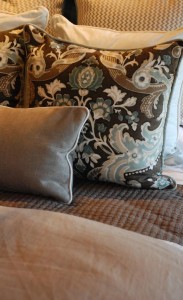 This yummy ensemble illustrates how just one set of bold pillows can ramp up the look of a bed. With bedding that mixes subtle tones of taupe and cream, this bed is as mellow as a snowy morning. But add in this set of contrasting accent pillows and the bed suddenly sings with singular style.
If your current bedding is in good shape, but feels a little boring and flat to you, try the same trick. Add in a contrasting pillow or two to freshen the presentation and give your bed a new personality. The number of pillows on your bed is a matter of personal preference, but at Nell Hill's we like three or four rows, starting with a set of euros in the back, fronted by two rows of shams or square pillows, with a smaller accent pillow, like a rectangular lumbar, in front.
3. Cuddly Throws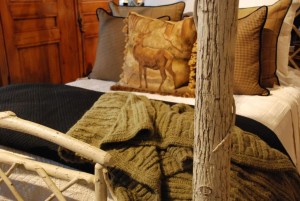 During the cold winter months, I like to add a third layer to my bed: a throw blanket. Sometimes that one extra blanket is all you need to stay toasty warm on the coldest of winter nights. And, it gives you another opportunity to bring in color and texture to your bedding ensemble.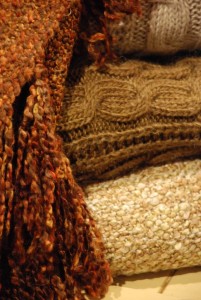 This winter, we have a fabulous selection of snuggly throw blankets at Nell Hill's. I was so enraptured by the Tartan plaids, cable knits and silky angoras I saw at market that I couldn't stop buying them. We have a wide range of colors and styles, from traditional English Tartan plaids to fun and funky contemporary patterns in today's hottest colors.
This blanket that looks like chenille is 100% polyester and can be washed in the machine. The cable knit is 100% acrylic and can be hand washed in gentle detergent.  We have a few softer looking plaids and solids that are 90% acrylic and 10% polyester, and they can all be hand washed. Our wool throws, which come in buffalo checks and a variety of plaids, are 100% virgin wool and are dry clean only.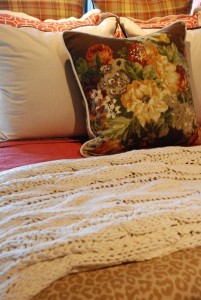 Throws not only look great casually tossed across the middle or foot of your bed, you can use them throughout your house to bring in warmth. Fold one up over the back of your sofa to bury yourself under when you watch TV. Or, toss one over the arm of your favorite reading chair to stay snug as a bug as you enjoy a book.
Next Week … It's time to decorate for the holiday! I'll share my five favorite holiday decorations of the year.