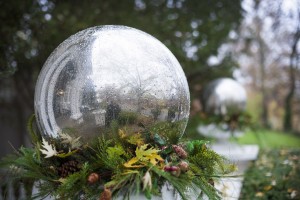 You know how a kid feels on Christmas Eve, electric with excitement to see what wonders are awaiting her in the bright packages under the tree? That's how I feel every year when I go to market to handpick the holiday decor we will showcase at Nell Hill's. I'm crazy about Christmas, so I am usually wowed by just about everything I see, from tree ornaments to seasonal dishes to lifelike greenery. But each year, I fall hard for a few dazzlers that become the bedrock of the holiday displays in my home and at both Nell Hill's stores. This year, five wonderful holiday decorating tools knocked me off my feet. Here are my top picks, plus tips on how to use them to make your home merry and bright.  
1. Cool Cones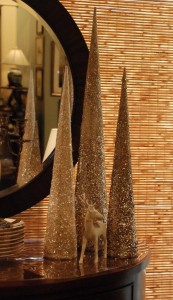 Have you ever wanted to bring the brilliance of soft lights to holiday displays on your mantel, at the center of your dining room table or on an occasional table, but you ran into a logistical challenge: You couldn't stretch a strand of lights to the spot? Maybe there wasn't an open electrical outlet nearby. Or, it would be a hazard to place a cord across a walkway. I've been in this dilemma way too many times. That's why when I saw these sleek, smooth cones, pre-lit with battery operated LED lights, I had to have them. Lots of them.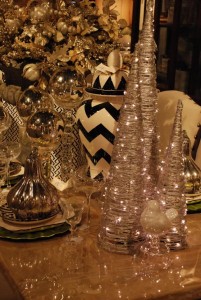 The cones come in two different styles: the glitzy silver cones, shown in the photo above, or a natural twig finish. They also come in three different heights, so you can cluster a mix of sizes and styles together to create an interesting winter scene. Best yet, they are a good deal: The small size is just $14.95, the medium size is $19.95 and the large is $29.95. That means you can create a bright, new look on your mantel, dining table or side table without breaking the bank.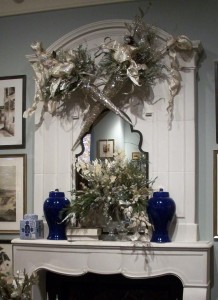 We let our creative team loose on these curious cones, and they came up with a cornucopia of ways to use them. Try this: Cluster two or three together and tuck in a deer figurine for a peaceful winter scene. Turn the cone upside down and fill it with faux holiday greens, then work it into your centerpiece. Or hang a pair above your fireplace mantel, like in the photo above.
2. Regal Reindeer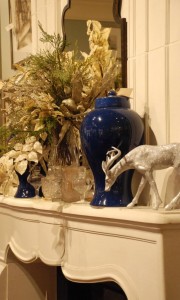 I have a weakness for deer figurines, and year after year, you'll see different kinds of deer statuettes worked into my fall and holiday décor. This year I fell for a set of small, silver deer poised as if listening to a sound in the forest. They are just the right size to fit perfectly on a mantel display or worked into a layered dining room centerpiece. They feature enough details to draw you in, yet are still clean and simple. And, covered in bling, they bring glamour to a display, making even a simple arrangement sensational.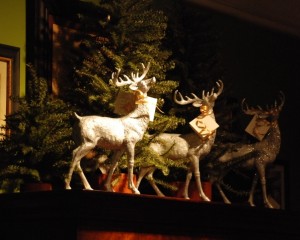 Partner them with our silver or twig cones for a winter scene on your dining table. Or include them with fresh greens and candlesticks on your mantel.
3. Simple Swags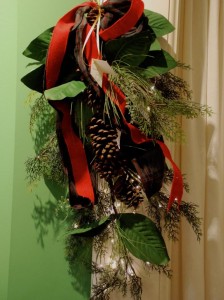 In my book, greens make the look when decorating your home for the holidays. Great greens are the bedrock of all our holiday displays at Nell Hill's. And that's the first thing I put up when I decorate my own home for the season.
If you're hanging the greens in your home this year, include an evergreen swag or two.  These sweet, simple, easy twists of faux pine branches dotted with pinecones have become our go-to tool when we need to add just a little touch of the season.  For added punch, thread a strand of battery operated LED lights on a timer through the swag, then finish off with a holiday ribbon. Hang the bright, cheery swag on your front door or from the lanterns on either side of your door. You can set the timer so the lights will come on automatically for up to five hours every night, saving you the hassle of going out in your robe and slippers in the freezing cold to unplug the lights. Since the swag is only $16.95, you can hang a few throughout your home, like from your window sashes or in front of a mirror – anyplace you would hang a wreath.
4. Luminescent LED Lights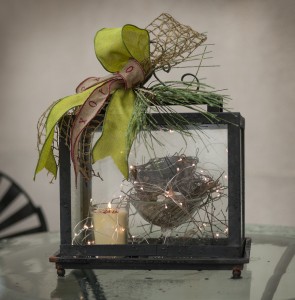 When I saw these strings of powerful little battery operated lights at market last year, I was so crazy about them I ordered more than 19,000. Dan thought I had lost my marbles (this is not the first time he's thought this, nor will it be the last). He was envisioning us having boxes of unsold lights stacked up in our warehouse. But he was wrong (this is not the first time, nor will it be the last!). We were completely sold out of the LED lights by Dec. 10. This year, they are back by popular demand! Each strand is 20 feet long and costs just $15.95.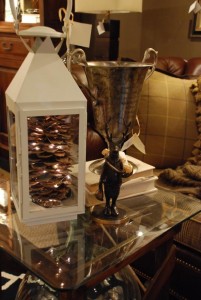 These lights have a million and one uses. Cluster a strand into a ball and insert it into a lantern, like we did in the photo above. Or, insert them inside a mercury glass ball to make it shine.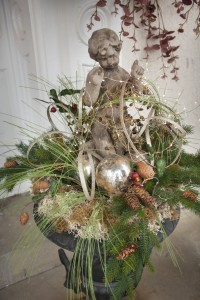 Use them to brighten up a wreath or the greenery on your mantel our by your front door without having to worry about an electrical cord.
5. Stainless Steel Balls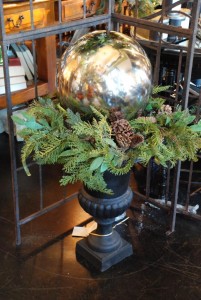 Lots of my friends and customers have shared with me that they feel lost when it comes to decorating their outdoor garden urns for the holidays. Like me, many have a pair of cast iron urns flanking their front door that can look empty and ugly once the summer flowers have been cleared out. Something has to go in this gaping hole, but what? I have the perfect solution – and it's as easy as 1-2-3, thanks to my last must-have holiday decorating tool: stainless steel balls:
Clean up your urn.
Rest a pretty holiday wreath on top of the urn, sizing it so that it isn't so small that it falls in or so large that it lops over.
Place a 16-inch stainless steel ball on top of the wreath. Done!
It doesn't get much easier than that! I'm so captivated by this look I've replicated it using urns inside my house. All you need is a smaller wreath and a smaller ball, and you get the same dramatic finished display for your dining table, buffet, entry table or kitchen island.
Next Week … It's time to trim your tree! I'll share our six secrets for making your tree its beautiful best.