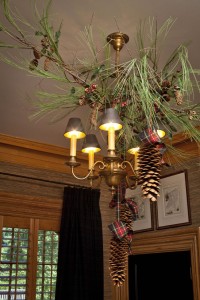 Want to achieve a big visual impact in your seasonal decorating with a minimal amount of effort? The answer is above your head: your light fixtures.  Chandeliers offer a brilliant stage for awe-inspiring displays that will take your seasonal decorating to the next level. The beauty of decorating your fixtures is that you can do as much or as little as you want and still get great results. You just have to know a few tricks of the trade:  
1. Branch Out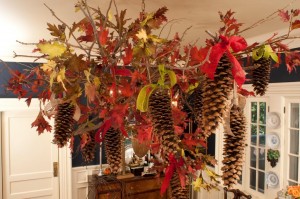 The first place I tackle when I decorate my home for fall and winter is my dining room chandelier. Through the years, I've had a blast as I've tried myriad different approaches for this dangling display. There are times I've gone a bit crazy: Once, I used my chandelier as the anchor for a huge canopy of pine braches, which extended out into the dining room, then dangled ornaments and ribbons from the boughs so it looked as if you were dining under a Christmas tree. Other times, I've simply looped a few seasonal greens around the arms of the fixture and called it good.
To give you a gauge, my dining room chandelier display in the photo above took our designer about three hours to create. But we've also created some fabulous looks on the same fixture in 15 minutes.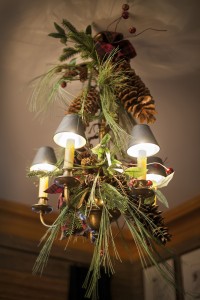 Before you begin, decide whether you want to create a display that is big and showy, or one that is super simple. Then, pull out a ladder, line up your decorating tools and start having fun.
For a ka-pow visual effect, try this favorite Nell Hill's trick: Secure some fallen branches to the fixture. I am always on the lookout for great branches to use in displays and have been known to pull my car over when I glimpse a branch with great lines, dragging it into the back of my car to use in future displays.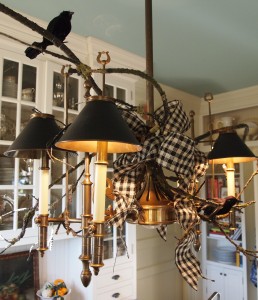 Sometimes I leave the branches long so they reach far out into the room, creating airy, organic arrangements. Other times, I trim the twigs tightly so the fixture display will be dense. At Nell Hill's we've experimented with different ways to secure branches to fixtures and have found that clear zip ties work best. They are strong enough to hold just about everything yet don't show. Perfect!
 2. Entwine Some Vine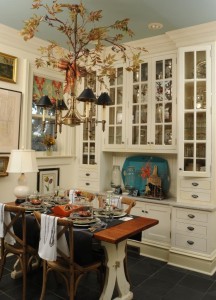 When we decorate light fixtures at Nell Hill's, we always include lifelike seasonal garland and picks. Our goal is to use the faux vines, leaves, berries and grasses to create a suspended bouquet that mimics nature, as if this wild tussle has grown there of its own accord.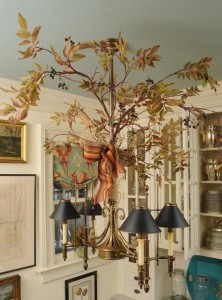 First, spend a few minutes fluffing out the garland and picks, twisting and shaping them so they look lifelike. This small investment of time will make all the difference in the finished look of your display.  Then, start to weave the vines in and out of the arms and chain of the fixture, willy-nilly, topys- turvy, so it doesn't look fussy or staged. If you are using fallen branches in your display, twist and loop the faux greens up and around the twigs and the fixture itself so they look like they just grew there on their own.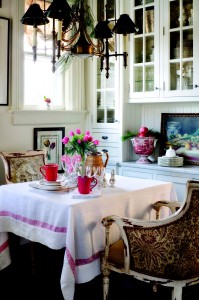 Depending upon your preference, you can make the display open and airy, with tendrils of vines looping free, jutting up and hanging down. Or, you can keep the vines and picks closer to the fixture. It's all a matter of your mood and what you think looks best in the room.
3. Dangle Some Baubles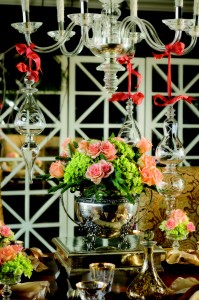 If you've ever visited Nell Hill's Atchison, you know how much I love to decorate the space above people's heads, using the ceiling as a display area, too. There is something sort of magical about being able to walk under a canopy of beautiful things, woven together in a multi-layered tapestry. You can create the same dramatic results at home by dangling treasures from your light fixture displays.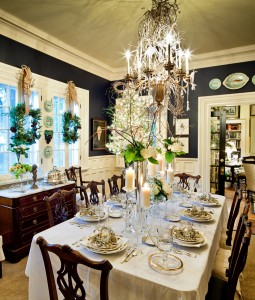 That's exactly what we did a few years ago when we created the dramatic display pictured above in my dining room for my Holiday Open House. We swirled bare honeysuckle vines around the fixture, then hung clear glass prisms from the vine using white satin ribbons.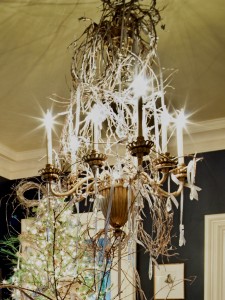 Here's a close up of this simple but magical creation. Get creative when dreaming up baubles you can hang from your own fixture. Christmas tree ornaments are a perfect pick. So are hanging glass votive cups holding battery operated tea lights or fresh flowers.
4. Finish with Finesse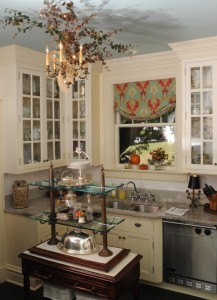 Once your branches and greens are up and secured, add a few finishing touches that will knock the display out of the ballpark. Seasonal ribbons are the fastest, easiest way to weave in a bit of color and texture.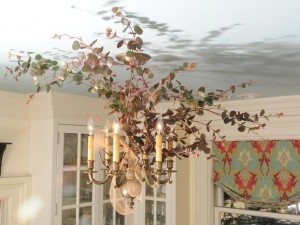 Check out this super simple but super sweet display from my Fall Open House this year. There are lots of visual delights in my little kitchen, so when I decorate this fixture, I keep the display small so the space doesn't feel overwhelming. Just a few seasonal picks featuring fall leaves and berries did the trick. But it's the finish of this display that catches your eye – a double layer of fall ribbons.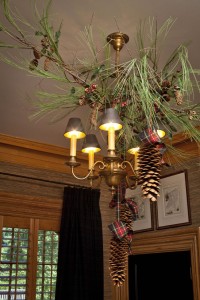 This festive holiday display on the light fixture in my study is finished with a brilliant plaid ribbon that echoes the cheery red in the berry picks.  The fat pinecone hanging from the ribbon is an exclamation point for this simple but lovely display.
Next Week … Time to cozy up your bed for winter. I'll inspire you with lots of photos of the beautiful winter bedding at Nell Hill's right now. Spoiler alert: It's the stuff of dreams!