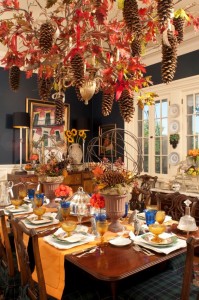 Thanksgiving is my favorite holiday. Dan starts cooking the turkey early while I set the table for 27. At dinner time, our large but intimate party of family and friends packs around the table to raise a toast, share what we are most thankful for, and dig into the best food imaginable. Our daughter calls us the Loud Family because the volume gets high as we all share stories, catch up on each other's news and roar with laughter.
If you are entertaining this Thanksgiving, I want to encourage you to make the setting for your feast as special as the people who will ring your table. Here are three steps I follow when creating a dramatic and memorable Thanksgiving table. 
Step 1: Aim to Awe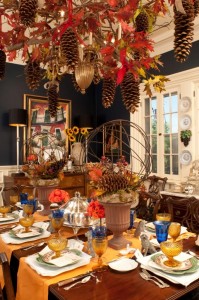 In this age of hustle-bustle, it's sometimes hard to find the time to spoil the people we love most. Thanksgiving is the perfect opportunity to do just that by taking some extra time to set a table that is so lavish and lovely it lets guest know how very important they are to you. The time you invest in creating a dramatic tablescape pays off when you see the surprised and delighted faces of your guests as they take in your dining room, decorated to the hilt just for them.
Create a Centerpiece that Wows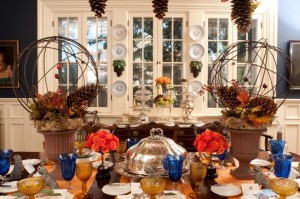 A powerful centerpiece is the key to creating a table that wows guests. I have designed some centerpieces that are intricate and complex, and I've fashioned some that are powerful in their subtle simplicity. The centerpiece in the photo above, taken at my Fall Open House this year, is somewhere in between. It looks layered and lush, but actually didn't take very much time to pull together.  Since my table is a long rectangle, I balanced two identical urns holding a simple fall arrangement on each end. The space between the urns was left open to hold this gorgeous covered tray, reserved for Dan's delicious turkey.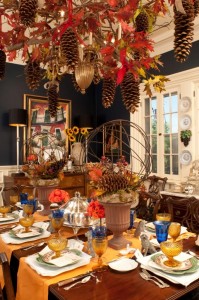 Orange and blue is my favorite fall color combination right now, so I filled two pedestal bowls with a compact bouquet of orange roses. If you look closely at the urns, you'll see how simple they would be for you to recreate or modify for your table. If you don't have matching garden urns like these, you could use tall, beefy vases or cake plates or hurricanes – anything that gives you some nice height and allows you to embellish with seasonal décor. We topped our urns with some moss and straw to hold the metal orbs in place. Then we filled the orbs with some fall foliage and other goodies, pulled together in a short, tight arrangement. If you like things bigger and wilder on your table, you could use longer tendrils of fall foliage and fallen sticks in your centerpiece.
Style Charming Place Settings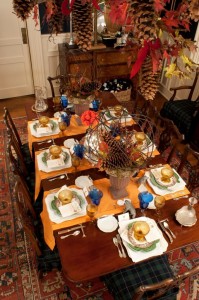 Lushly layered place setting that weave together different colors, textures and heights are among my very favorite, and a bedrock of the Nell Hill's style. This table started with simple orange table runners, which provide a pop of bright fall color, break up the wood of the table top and serve as placemats. We mixed three different types of plates to create this lovely collage: a big white dinner plate as a charger, a green majolica dinner plate, a brown transferware salad plate and an amber glass bowl on a pedestal. We finished off with a mix of blue and amber stemware.  Look in your china cabinet and see what dishes you could mix up to give your table a blend of patterns and colors. You'll be surprised by the diverse pieces you can weave together to create a charming place setting.
Step 2: Zero in on Details that Make a Difference
Personalize Your Place Settings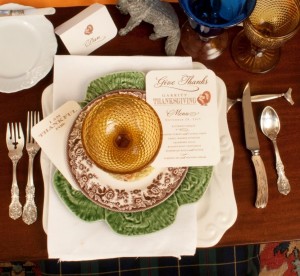 I recently blogged on ways you can personalize your tables when you entertain, but I wanted to show you how I used personalization to make each place setting on my Thanksgiving table that much more special. I used three different pieces at each place: a menu card featuring each course Dan had prepared for dinner, a name card so everyone knows where to sit and a conversation prompt: "I am thankful for …." There is something special about seeing your name at your place setting, isn't there? It makes you feel like a treasured addition to the party.
Tuck in a Few Surprises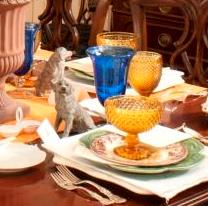 On every table I set, I try to tuck in a little surprise, something whimsical or unique that shares a bit of our family with our guests. Since Dan and I are crazy about golden retrievers, this year's surprise was a little figurine of a golden at the top of each place setting. In addition to a bit of our dog's hair clinging to their pants, our guests will also take home this sweet gift as a reminder of the evening.
Thread in Seasonal Touches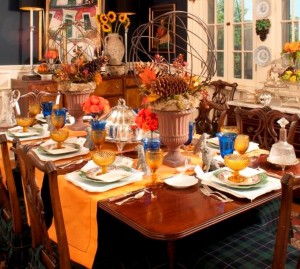 Make sure to add in a few touches that applaud the season. You can do so by using fall themed dishes and table linens, fall foliage worked into your centerpiece, or other accents. A subtle way I celebrate the winter months is by switching the slip covers on my dining chairs. As the weather gets cool, I swap the cream linen covers for this rich plaid.
Step 3: Don't Forget the Backdrop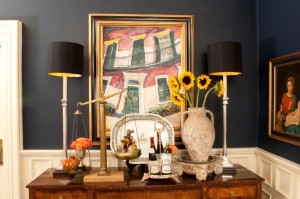 While the dining table is the undisputed star of the show at Thanksgiving, don't forget to add some decorative touches to the rest of your dining room.  If your table is loaded with drama, you won't need much.  One of the spots I like to dress up for holiday entertaining is my buffet, pictured here. Many of the pieces on my buffet remain in place year round, like the matching lamps and the platter. I just poke in a few seasonal motifs, like this scale holding a fall figurine, a pumpkin and a tiny bouquet of orange roses, just like the ones on my table.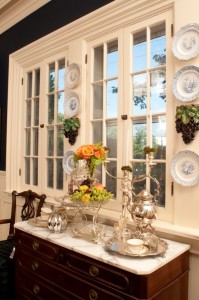 I often use this little marble top table to hold a drinks service when I entertain. Here it's set for after dinner coffee and dessert. The coffee service and tiered server of fruit are so beautiful, all I added was another tiny bouquet of orange roses …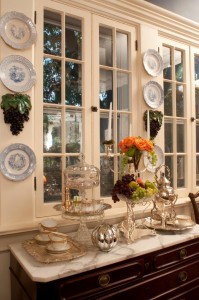 … and a mercury glass pumpkin. Done!
Next Week: One of the most powerful ways to add holiday pizzazz to a room is to decorate your light fixtures with seasonal greens. I'll show you how next week.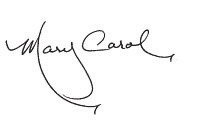 P.S. Don't forget — the Nell Hill's Holiday Open House is this Friday and Saturday. Come see my home in Atchison dressed for the season. It's my favorite way to kickoff the holiday season!