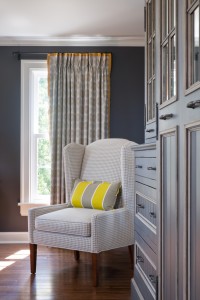 The color gray has gotten a bad rap. Think about it. Gray day. Gray hair. It's time to toss out all your dreary images of gray because the sun is shining on this multidimensional color, and it is absolutely HOT in the world of interior design. Pick a shade of gray, from dove to charcoal, and it's huge right now.  Want to add a little gray to your day? Here are some tips for weaving gray into your home decor. 
Wash a Wall in Gray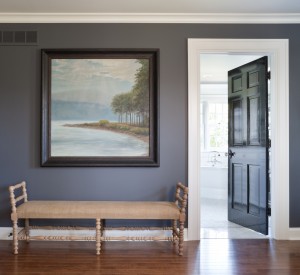 If you want a rich, saturated color on your walls that will bring a room alive without competing with your artwork and upholstered furnishings, paint your room gray. Forget the myth that gray walls will make a room feel dark and gloomy. I've found that when you use gray as a backdrop for a space, every color and texture in the room explodes with energy.
Looking for an ideal shade of gray? Try Abbey Steps, a warm charcoal shade from my Mary Carol Artisan Paint line. It looks amazing with white, yellow, orange, brown, pink, blue … and the list goes on and on. Want something a bit softer, to add just a hint of color? Check out Heartland Ghost from my Mary Carol Artisan Paint line. It's soft and serene and a nice alternative to white or cream.  (You can get all my custom paints at both Nell Hill's locations, and if you want to experiment with the shades, we have sample packets, too.)
Give Gray a Go in Your Furnishings
Because it comes in so many great shades that pair well with just about any color, is a timeless classic and suits every style of home, gray is an ideal color for upholstered furnishings. When I work with young families at Nell Hill's, I often recommend gray upholstery fabric on the pieces they use daily so the furniture won't show the wear and tear of kids and pets. With the rich backdrop of a gray sofa, you can go a million different directions with your accent pillows, threading in white, yellow, orange, teal, coral, pink, citron, emerald … you name it!
Gray lends itself well to contemporary and transitional style homes, especially when you bring it into the interior landscape through pieces covered in bold geometric patterns, like the chair from Nell Hill's in the photo above. It's fun to mix modern patterns like this one with upholstered furnishings and trims that pull in revitalized traditional patterns like chevrons and florals.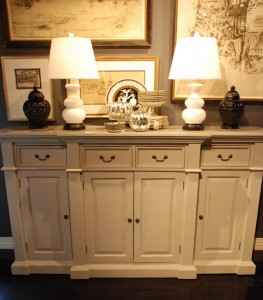 When it comes to wood furnishings, I'm a fan of just about every finish known to man, including painted wood. The hutch above is covered in a light gray paint. Look how lovely it is against this wall painted Abbey Steps. Because the color is so soft and unassuming, it would work with lots of different wall colors and finishes.  You can find gray finishes in dining tables and chairs, side tables and bookcases.
Tuck Gray into Your Bed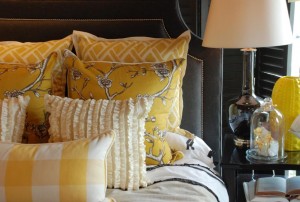 Check out this yummy gray and yellow bedding at Nell Hill's Briarcliff. Talk about warm and inviting! The luxurious stormy gray velvet headboard is a provocative backdrop for our sunny yellow and white ensemble. Fresh and clean, yellow, white and gray is an invigorating combination that energizes without overwhelming. Note how we stitched together bedding elements that feature gray, yellow and white in a wide range of fabric patterns and textures, from the gray plaid duvet to the contemporary yellow Euro pillows.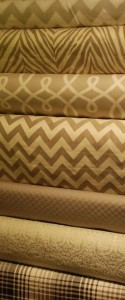 You'll see how crazy we are about gray at Nell Hill's when you meander through our fabric rooms at Nell Hill's Briarcliff. We have spools and spools of fabric that span from classic plaids, florals and stripes to contemporary geometric prints. If you haven't visited our fabric room yet, you are in for a treat! It's a visual candy store.
Create a Mood with Gray Accents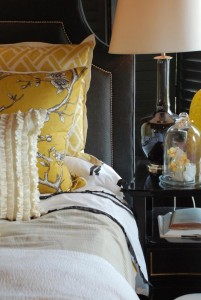 Take a closer look at the bedside table next to our stunning gray and yellow bed. This metallic gray lamp really lights up the scene. If you'd like just a pop of gray in your interior, try an accent lamp. It's amazing how the addition of this sleekly styled lamp with its crisp white shade makes the grouping more interesting.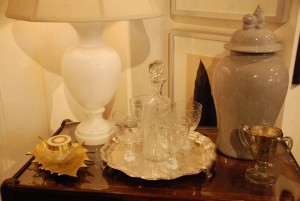 You don't have to talk to me very long about interior decorating to know that I'm wild about the simple and shockingly affordable pottery pieces we're selling like hotcakes at Nell Hill's. This gray temple jar is an ideal addition to this formal arrangement of crystal and silver, and a nice partner to the simple white lamp.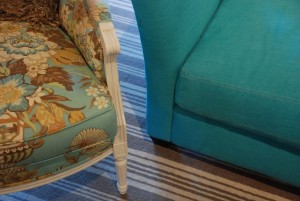 Life is less stressful when you pick accent rugs in colors and patterns that camouflage the signs of daily use. What could be a better pick than gray? This gray and white stripe rug is exciting without being overdone. Like every good accent rug should, it adds to the overall allure of the room.
Next Week … Entertaining this Thanksgiving? Make your Thanksgiving tablescape a feast for the eyes! I'll share inspiration and photos from my Fall Open House Thanksgiving table.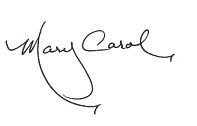 P. S. The Nell Hill's Holiday Open House in Atchison is just days away — Friday, Nov. 8-Saturday, Nov. 9. I hope you'll come tour my  historic home, richly dressed for the season. For more information on the open house and store hours, please see www.nellhills.com.