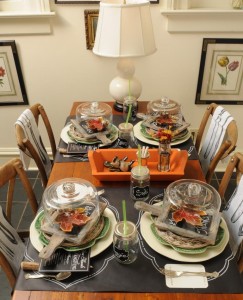 I started my fixation with chalkboards at an early age, when a neighbor gave me a chalkboard easel her kids had outgrown.  With that dusty chalkboard, all I had to do was add a swirl of imagination and my bedroom was transformed into a school house, a fashion designer's studio or, my favorite, a grocery store (Mom was very tolerant when I raid the pantry and filled my room with canned goods.).
All my sparkling chalkboard memories came flooding back to me when I saw the chalkboard accents at the Atlanta home furnishings market this year. After too many years apart, my creativity and the chalkboard were reunited. Wanna play in the chalk, too? Here are three fun ideas to inspire you: 
1. Chalkboard Table Tops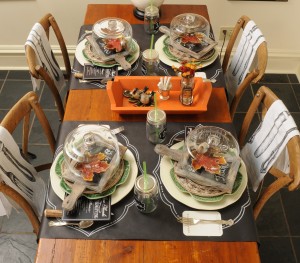 My favorite takeaway from the Atlanta market this year? Chalkboard paper. I went berserk over this launch pad for creativity and ordered 1,000 rolls! Since then, all of us at Nell Hill's keep coming up with fun new ways to use this unique paper this fall.  Here are just a few:
Set a Thanksgiving table you can truly give thanks over.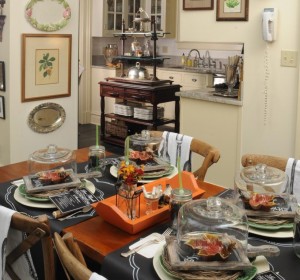 The lovable mob of friends and family we entertain at Thanksgiving every year includes a some very creative kids. Oh man, are they going to have fun with the chalkboard paper! The width of the paper roll is just the right size to serve as a table runner, either stretching down the center of a long table or over the side of a smaller table, like I did on my kitchen table, pictured above.
Arm yourself with the chalk that comes with the roll, or, if you don't want your creation to smear or rub off on your clothes, get some chalk paint in a variety of fun colors. Then, go to town!
Draw place mats, like we did on this table.
Instead of using name cards, write each guest's name by her place (or do a caricature of the person, if you're really artsy).
Fill in the margins with fun doodles.
Draw in some games to entertain guests while they wait for the fool, like hang man or tick-tack-toe.
Create a whimsical table for the holidays.
I hope you'll visit my home for the Nell Hill's Holiday Open House on Nov. 8-9 because I'm going to use the chalkboard paper to create a whimsical dining table that's sure to put huge smiles on the faces of young and old. I don't want to give it all away, but the table is going to celebrate bright and cheery seasonal candies. One gimme: The centerpiece will include silver teapots holding bouquets of large lollipops. Honestly, I haven't been this excited about setting a table for the holidays for years!
Make your next party lots more fun.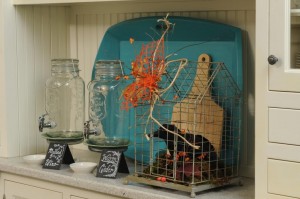 The chalkboard paper magic can extend far beyond the holidays, adding pizzazz to any event you're hosting.  Planning a wine and cheese tasting? Roll out the paper on the tabletop, place your bottles on top, then use the chalk to label each selection. Or, lay out the chalk and ask guests to write in their ratings and comments about each bottle of wine.  Hosting a dessert party? Draw fancy doilies around each dessert server then label each sugary selection.
Be creative – the sky is the limit!
Planning a kid's birthday party? Roll the paper down the center of the treat table and let them go to town, drawing and doodling. It's great entertainment!
 Taking some little ones out to dinner? Cut the chalkboard paper into placemat sizes and take it along, letting the kids decorate them while they wait.
Like to wrap beautiful gifts for birthdays or the holidays? Use the chalkboard paper and make the wrapping paper as personal – and special – as the gift inside.
Have a teen who wants to personalize her room? Cover her door with chalkboard paper and let her and her friends go to town, writing in their names, gluing on photos from magazines, you name it.
2. Chalkboard Table Accents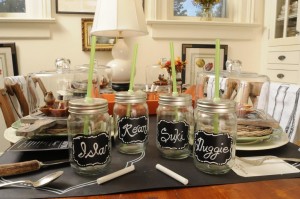 When we have big groups over, we have a dickens of a time keeping everyone's drink glasses straight. People fill their glass, drink a bit, set it down and forget which one is theirs. That's why I jumped at the chance to get these adorable chalkboard mugs. I love the nostalgia of the Mason jar look, and how it fits perfectly with the yesteryear charm of chalkboards. When your guests arrive, write their names on the glasses. Want to send them home with a gift? Theses glasses are so affordable, they are the perfect pick!
3. Chalkboard Decor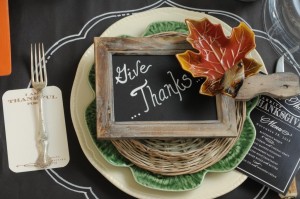 If you've been reading my blog for a while, this is not the first time you've seen these fabulous little chalkboards used in my displays. And, it probably won't be the last! For my Fall Open House, I used a chalkboard that is encased in a wooden frame and has a wooden handle in the table settings on my kitchen table. Use them instead of name cards, like we did here, decorating them with each guest's name. Then, let them take their board home as a gift.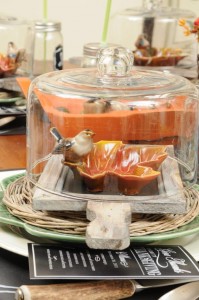 Here's the same chalkboard used as a tray to hold goodies on the place setting. Cover it with a glass cloche to finish off the look. I also love the larger sizes of these paddle-like boards used as chargers for place settings or as trays for tabletop displays.
Here are some more fun ideas for chalkboards:
Hosting a birthday party? Write a special message to the guest of honor on a chalkboard and hang it from the front door.
For a wine and cheese tasting, write the name of each wine selection on a little chalkboard and place it in an easel beside the bottle. We also have little chalkboards with twine hangers, which would be perfect hung from the neck of a wine bottle.
Mix a larger, framed chalkboard in with other art on your mantel for an intriguing, layered look.
Write your favorite poem or saying on a larger framed chalkboard, then hang it from your front door or above your mantel.
Next Week … Gray is hot, hot, hot right now! Come see how to use this glorious, dramatic color in your home's interior (I'll have some pictures from my new book!).