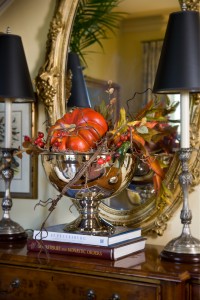 Want to thread the beauty of fall through your home's décor? Try tricking up a few tabletops. Whether it's your living room coffee table or the little tables nestled between the chairs in your den, occasional tables are a perfect place to add a tribute to this beautiful season. Bruce, one of our talented visual designers at Nell Hill's, pulled together five creative tabletop displays to inspire you to add a flourish of fall to your own décor. 
1. A Pop of Petite Pumpkins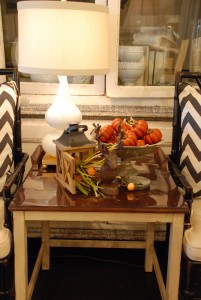 When you are decorating a side table in your living room or den, usually you don't have a lot of surface area to work with, so I recommend going with a more edited, understated fall look. Bruce created a wonderful smaller-scale display that is low-profile so as not to inhibit conversation between people sitting in the side-by-side chairs.  Our trifecta of decorative elements in this sweet little look starts with the earthy urn holding a tumble of little pumpkins. No time to decorate? Stop here and you've got a splash of seasonal color that will spark up your space. Want more? Add another iconic fall element, like this wonderful wooden lantern. You could place a pumpkin or candle inside the lantern, or make the display even more colorful, as Bruce did here, by letting a fall spray spill out.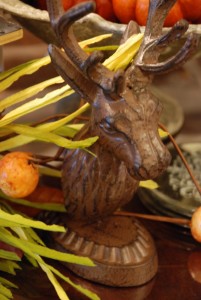 This great display is finished off with a bronzed fall figurine, catching more of our warm fall tones. I really like to add small statues of woodland animals to my decorating in the fall and winter, and this deer head is just right.
2. Back to School with Style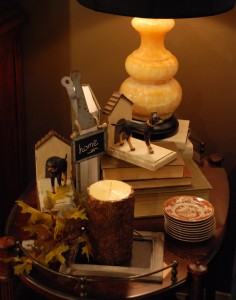 Here's another, very different, look for a living room side table, one with just the slightest touches of back-to-school nostalgia. A tower of old books makes a wonderful pedestal to give our best-selling alabaster lamp some loft.  We use lots of books in our fall motifs at Nell Hill's because they evoke images of chilly fall evenings spent by the fire, reading a great novel. For some added texture in this tableau, Bruce tucked in a single fall foliage pick. If you are satisfied with the existing displays on your occasional tables, adding in a spray or two of fall flowers, leaves or vines is an easy and effective way to give the grouping a taste of autumn.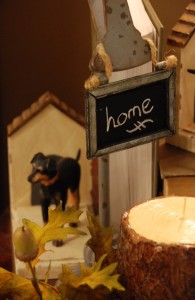 Bruce found a creative way to add these mini chalkboards to our back-to-school tribute.  These old fashioned chalkboards are one of my favorite fall decorating tools this year because who doesn't like to write on the chalkboard? We're finding dozens of ways to feature them in our ever-changing store displays.
3. The Romance of Yesteryear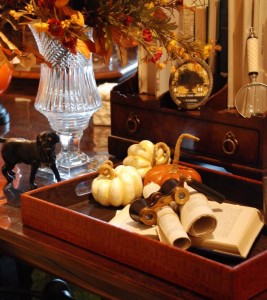 The browns, creams and golds of fall are so romantic, and in this lushly layered display, they blend together to create a sepia photo that pulls you back in time. Bruce staged this grouping on a buffet, but you could adapt it to a desk or console table, too. He started with an intriguing backdrop, a desktop shelf holding creamy books and a pretty vase bursting with a bouquet of fall leaves.  Artwork, silver trays or china platters propped in an easel also make ideal backdrops for tabletop displays. Another option? Stacks of baskets or old wooden boxes.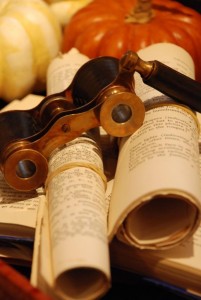 One of our secrets at Nell Hill's is to build tabletop displays on top of trays. Trays ground the individual elements of the display, pulling them together into one visual unit. I really like the rich wooden tray Bruce chose for this collection because it looks lovely with the other wood tones in the grouping. And the tableau is to die for! Three little faux pumpkins for fall color, books and scrolls for texture, and opera glasses because they are beautiful in and of themselves.
4. Fall Fruits Add Flair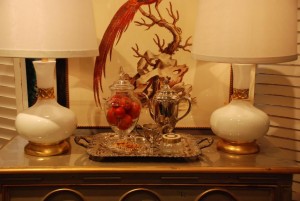 If you like a very clean, minimalist approach to seasonal decorating, check out what Bruce did in the photo above. He took a gorgeous display on a side table and added one simple but arresting hint of fall. Swoon! The red apples, which echo the swath of red in the artwork behind the table, become the instant focal point in the sublime creamy white, gold and silver loveliness of this arrangement. Apothecary jars are your best friend if you want a dramatic tribute to the season but don't want to spend more than about two minutes decorating. In the fall, fill a jar with faux red apples, pears, avocados or artichokes. As the holidays approach, switch out the jar's contents for pinecones, gilded nuts or tree ornaments.
5. Coffee Table Creations Celebrate Simplicity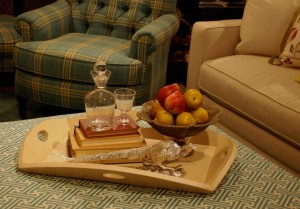 Displays on coffee tables can be tricky to construct. You want to create a tableau that is scaled large enough so that it doesn't get gobbled up on a large upholstered ottoman like the one shown here, yet not so large as to create a visual barrier that stifles conversation. This intriguing grouping strikes the perfect balance. Once again, Bruce grounded the decorative pieces on a tray, which gave us something firm to build upon on top of the soft ottoman. Notice how similar this tableau is to the first one I showed you? This time the urn is holding faux red pears. All good tabletop displays need to include a variety of heights and textures, and the tower of books holding up a crystal decanter and glasses gives us the vertical height we need without making the display too big and bulky. Again, we placed a tremendous fall figurine in the foreground: a graceful silver pheasant.
Next Week … One secret to creating a home that wraps you in a warm embrace is to personalize your decor. I'll have some tips on how I added a personal touch to my home for my Fall Open House.