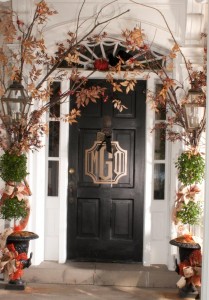 Want to know the secret to creating a home that wraps you in a warm embrace? Make it personal. Whether I'm decorating my home or helping a friend or customer decorate hers, my guiding light is to design interior spaces that celebrate the homeowner's unique style and spirit. What better way to do so than by adding distinctly personal touches? That's exactly what I did when I decorated my home for the Nell Hill's Fall Open House.  I wove in playful and welcoming touches of "me" throughout my seasonal décor. You can do the same! Here's a peek inside my home to see how. 
Personal Pumpkins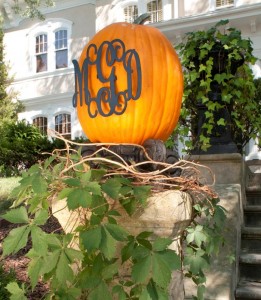 When I plan my Fall Open House, I put a lot of thought into how to decorate the front of my home because that's my first chance to make a big impression. My historic home features two stone pillars on either side of the walkway that leads from the street. The tall, flat posts are an ideal spot to stage a seasonal display. This year, I knew exactly what I wanted to showcase there: personalized pumpkins.
Check out these fabulous metal monograms I discovered at market this year. Love them! If you want a sophisticated jack-o-lantern but don't have the time or inclination to carve a pumpkin, you've got to get some of these metal monograms.  They come in a black finish, but you could easily paint them any color that suits your fancy. The monogram secures to the pumpkin with small spikes affixed to the back — just press them in. When the pumpkin is ready for the compost pile, remove the monogram and use it to decorate a wicker clothes hamper or basket.
To create the look above, we took two terra cotta pedestals we carry at Nell Hill's, painted them black and turned them upside down to serve as pumpkin holders. We finished off the look with a few twists of honeysuckle vine.
 Warm Welcome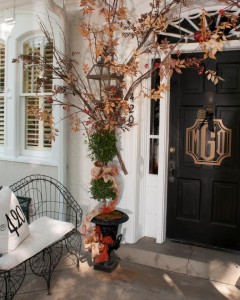 My ode to monograms continued on my front porch, where I hung this amazing metal monogram from my door knocker. Let me tell you, this quick but dramatic door treatment was a show stopper, and as I greeted guests at my door to welcome them to my open house, they all fell in love!
If you're ever stumped by how to decorate your door, this is a great option.  You can hang it solo, like I did, or layer it on top of a seasonal wreath. Next summer I'm going to change the look of my monogram by painting it white, dressing it up with a seasonal ribbon and some faux gerbera daisies and hang it on my door again.  You can reinvent the monogram over and over again with just a can of spray paint, a roll of seasonal ribbon and maybe a faux bloom or two.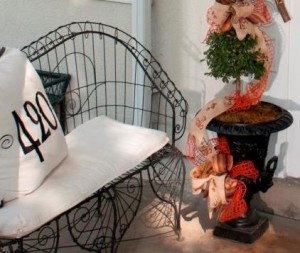 About five years ago I made these adorable pillows, bearing my house number, to display on the wire chairs that flank my front door. They are so simple, yet so fetching, giving my front entrance a very personal touch. My entry is pretty sheltered, so I took a bold step and used cream fabric with a black monogram. To my delight, they have held up wonderfully, despite being outside all spring, summer and fall. I only wash them twice a year, and I probably wouldn't even need to do that if my two cats didn't sleep on them, lazily keeping watch on the neighborhood.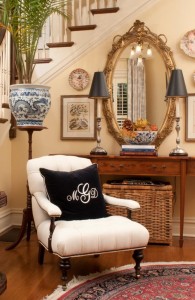 As soon as guests walk through my front door, I like them to feel warm and cozy and welcomed. To make my lofty foyer more intimate, I've filled it with furnishings. This chair, personalized with a monogrammed pillow, is one of the first things you see. I'm crazy about monogrammed accent pillows because they take a generic piece of furniture and make it yours.
Best Seat in the House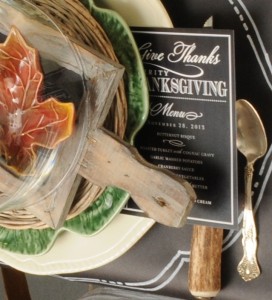 Know how to make your dinner guests feel like a million bucks? Personalize their place at the dinner table. Here's a shot of my kitchen table all set for Thanksgiving dinner. Check out these adorable menu cards, created for Dan and me by my friend Rebecca Wood of The Plaid Pen, one of my favorite cottage industries. (Check out her selection of personalized products at www.theplaidpen.com.)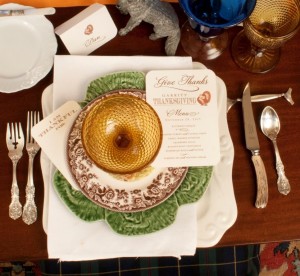 Dan and I host a huge group of family and friends at our home every Thanksgiving.  To make each person feel special, I printed their name on a place card. Dan is our Thanksgiving chef, so I had menu cards printed that list the culinary delights he will prepare.
I thought it would be fun to have an icebreaker for dinner, so I ordered "I'm Thankful For …" cards from The Plaid Pen. I can only imagine what my insane family will write down!
Little Surprises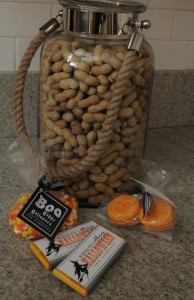 Want to let the people around you know how much you care? It doesn't take much money or time to do so. Just a little bit of pre-planning and a little personalization. Steal this idea: Order or make your own wrappers or labels for holiday candy. I had The Plaid Pen make these candy bar wrappers to cover chocolates we will hand out to lucky trick-or-treaters.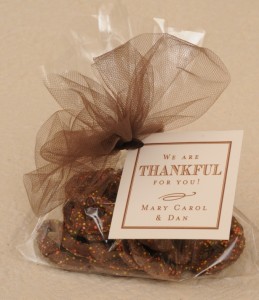 Pick up some cellophane bags at a hobby store, fill them with seasonal candy, then tie them up with a seasonal ribbon and a custom tag.  Make a bunch and give them to your kids' teachers, your neighbors, church friends or co workers. They will be thrilled!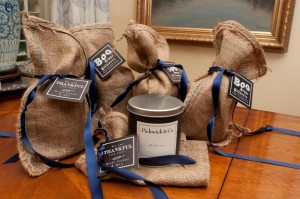 Pickwick candles are one of my favorite hostess gifts because they are universally loved, come in very unique seasonal scents and you don't have to worry about whether they will match someone's décor.  Use a pretty ribbon and a custom label to cinch up a burlap gift bag holding a candle. Your hostess will feel very appreciated.
Next Week … When the weather cools down in the fall, I like to take the party outdoors and entertain guests under the stars on my patio. I'll share some ideas and inspiration for planning a lovely fall fete.