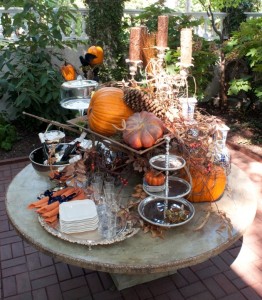 The weather is too beastly hot in Kansas for me to do much entertaining in the late summer, but as soon as the tiniest autumn chill is in the air, I start planning for a fall fete on my patio. One of my favorite ways to spend a bright, clear fall evening is under the canopy of amber, red and orange trees that fill my courtyard, enjoying a lovely meal with friends. How about you? Here are some tips for creating an inviting al fresco dining room for your fall dinner party.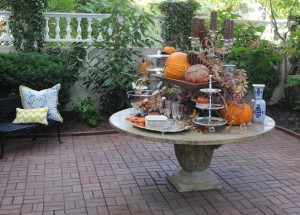 When planning your outdoor event, you can approach your table two different ways: Dress it with style for a sit down dinner or set it up for a buffet.  Usually I jump at the chance to trick up the concrete table in my courtyard because every lavish touch you add when you dine outdoors is so unexpected that it instantly shoots the tablescape up on the drama scale. But this year, I was feeling the buffet love, so I set the table for a simple service of appetizers and drinks.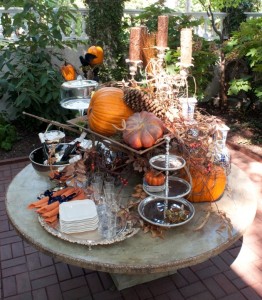 The food and drink service takes a back seat to this large, layered and super showy centerpiece. Since I'm not a chef, I like to put my creative energy into tablescapes, and boy did I have fun on this over-the-top treatment. Not that I'm trying to justify my penchant for extreme centerpieces, but when the room you are decorating is as big as all outdoors, you have to have something large at the center of your table if you want to make a statement. The added benefit of a buffet is that you can go really large because you don't have to worry about interrupting cross-table conversations (not that that has stopped me before!).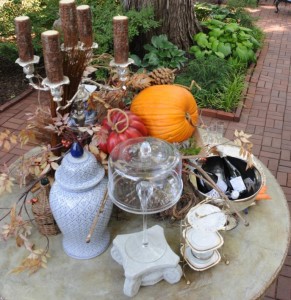 For this show stopper, we started with a decorative wheelbarrow as our base. A gigantic silver candelabra gave us dramatic height. Then we started layering in favorites of fall, from pumpkins and vines to nature-inspired candlesticks. Creating a fall centerpiece for an outdoor event isn't an overwhelming feat for me because when you're outdoors, you take your lead from nature, and just about anything goes.
Here are some other Nell Hill's go-to picks for statement outdoor centerpieces:
Cluster three different sized trellises at the table center, fill them with a stack of pumpkins and finish off by twisting honeysuckle vines around the trellises.
Place a garden statue at the table center, giving it an air of fall by entwining it with honeysuckle vines and dotting in a few pumpkins and gourds.
Put a birdbath at the center of the table then place a gigantic pumpkin in the bowl of the bath. Twist some honeysuckle vines up the base of the bath.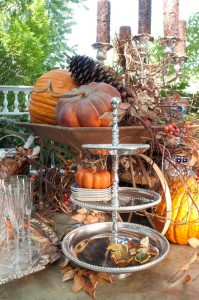 A central tenant of the Nell Hill's look is to mix the formal with the informal, the rough with the refined. So, we balanced the wild, organic nature of our centerpiece with an elegant table service. A silver tray holds crystal champagne flutes. This three-tiered silver server will show off even the simplest of appetizers – fruits, cheeses, nuts and veggies – in fine style.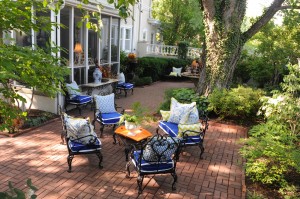 Another benefit of a buffet service is that guests are free to mill and mingle about, catching up with everyone, not just the person they are seated next to at dinner. To give my guests a comfortable place to sit while they dine, I cozied up my iron outdoor furniture with soft cushions and pillows made from durable outdoor fabrics. Instead of doing an elaborate fall centerpiece on my little iron table, I just added in this orange wooden tray. A lot of people tell me they don't think they can use orange for fall decorating because they don't have a lot of earth tones in their décor. Nothing could be further from the truth. Look how great my safire blue cushions look with this little pop of orange.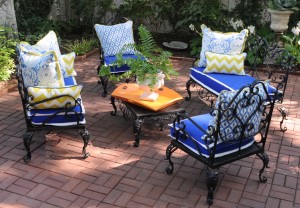 You won't believe the selection of outdoor fabric we carry at Nell Hill's Briarcliff. Unlike years past, when outdoor fabrics were stiff and shiny and only came in a limited array of colors and patterns, we now have a mindboggling selection that will help you create custom cushions that will ensure your outdoor room is as gorgeous as those indoors.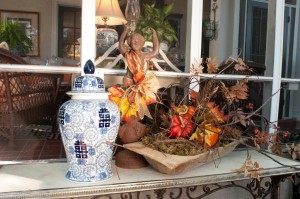 I keep this iron occasional table out on my courtyard most of the year and have fun dressing it up differently through the seasons. Sometimes it holds a drinks service. Others, it's an appetizer buffet. This year, I covered it with a fetching fall display. I'm a blue girl, and always have to work some blue and white in with my fall fanfare. Outdoor fall displays are super easy to create because between Mother Nature's bounty and the fabulous selection of artificial pumpkins and vines, you have so much to work with. I recommend pulling together pieces is a loosy-goosey way, free form and messy, an easy going creation that looks evolved and natural.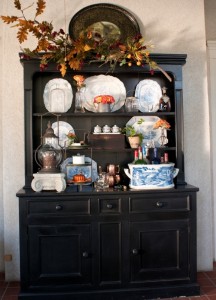 Thanks to my sheltered screened porch, I can entertain outdoors even when the weather is nippy or misty. When guests gather on the porch, I use my wooden hutch to serve food and drinks. To trick it up for a fall party, I added a spray of fall foliage to the top, then dotted the shelves with gourds and little vases holding orange roses, one of my all-time favorite flowers for fall decorating.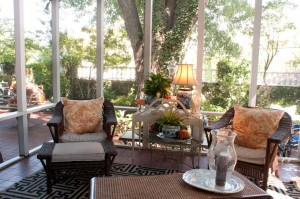 When I covered my porch furnishings in a timeless ticking fabric, my goal was to give myself a neutral base so I could change up the look of the seating arrangement just by switching out my accent pillows. These orange toile pillows gave me a pop of seasonal color, yet are so subtle they don't steal attention from the real star of the show, the garden.
Next Week … I am thrilled to partner with The Global Orphan Project in their amazing work to care for orphaned and abandoned children in Haiti. One of the ways we're supporting their life-changing work is through the Nell Hill's Christmas stockings project. I'll tell you all about these adorable stockings, and how you can team up with us to help provide a home and hope for kids in Haiti.