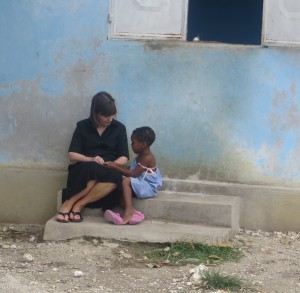 I just had the experience of a lifetime. I went to Haiti with my friends who started the Global Orphan Project and left completely exhilarated, excited to support this remarkable organization and the beautiful orphaned and abandoned children it serves.  My first step? The Nell Hill's Christmas Stockings, custom designed by Nell Hill's, made in Haiti, benefiting the children cared for by The GO Project.  I'll tell you more about these gorgeous stockings in a minute. First, I want to share about the Haitian orphans who stole my heart. 
Falling in love in Haiti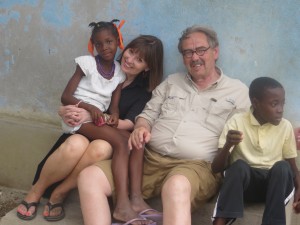 As I listened to my friends Beth and Mike Fox talk about The GO Project, the ministry they founded to care for orphaned and abandoned kids around the world, I was transfixed. Nell Hill's is committed to caring for fragile members of our community, so I asked the Foxes how we could support their work.  They told us the first step was to visit Haiti and see firsthand what The GO Project was doing there.  Let me tell you, I was blown away.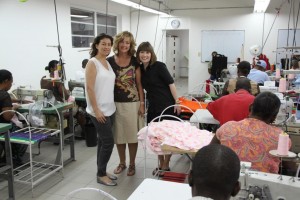 Our trip included a tour of a GO Exchange Sewing Center, where we visited with Haitian women who were working on projects like sewing uniforms for Haitian kids so they could attend school. They also create products that are sold through The GO Exchange, an online marketplace where profits are used to provide orphans around the world with an education and a loving home.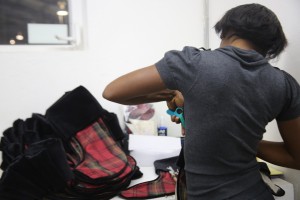 The Sewing Centers hire moms so they can earn a living wage to support their families. They also provide jobs for young women who have "aged out" of the program so they can develop marketable job skills. I learned that The GO Project sets up poultry farms and other sustainable enterprises in Haiti that provide good jobs at good wages, stimulating the local economy as they move families out of poverty. This wasn't a hand out. It was an opportunity for men and women to not only change their own lives, but their entire community.
Next, we spent an afternoon at one of the orphan homes, playing with the kids. I fell in love, over and over again. The girls did my hair. We cuddled.  We played games. These precious kids were so hungry for love, for connection. I can't express how they filled my heart and how uplifting the entire experience was for me.
I can't solve all the complex problems in Haiti. But Nell Hill's can help provide a better life for the people served by The GO Project and The GO Exchange. Then these folks can help their neighbors. And so on. Creating a ripple effect that will bring about positive long-term change.
Nell Hill's Christmas Stockings benefit The GO Project and The GO Exchange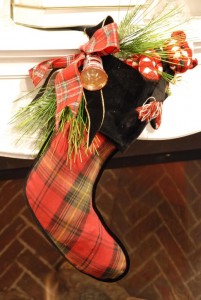 The Nell Hill's Christmas Stockings is our first tiny nugget of involvement in what I hope will be a more expansive, long-term relationship with the Haitian people served through The GO Project and  The GO Exchange.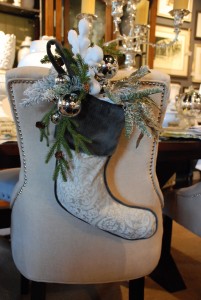 Our creative Nell Hill's team designed a custom line of Christmas stockings using our favorite Nell Hill's fabrics and trims. Each stocking is handcrafted at The GO Exchange Sewing Center in Haiti.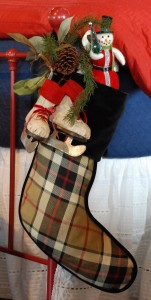 The six unique styles are perfect for holiday decorating and gift giving, and will be available for a limited time only at both Nell Hill's locations, at the Nell Hill's Holiday Open House, at the Kansas City Junior League Holiday Mart, and through The GO Exchange, www.thegoexchange.org.  Every penny of the profit from these stockings will benefit children in The GO Project's care.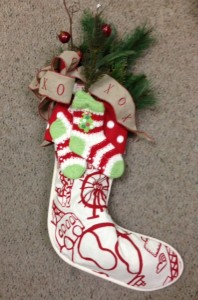 Add the stockings to your holiday décor throughout your home this year. Hang them from your mantel,  from the post of your guestroom bed, from the knob of your dining room hutch, from the latches of your windows.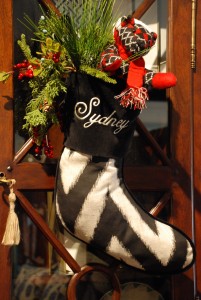 I'm going to give the stockings as Christmas gifts to friends. (For added fun, personalize them with a monogram or embellish them with pins or ribbons.) They also make ideal shower or wedding gifts for young couples who don't yet have holiday décor.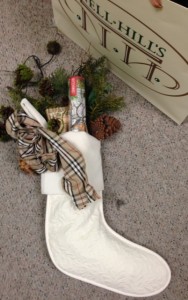 Here's another fun idea: Use the stockings like you would a gift bag or basket, filling them with gift items, like a bottle of wine for a hostess gift.
Now it's your turn: Make a difference in a Haitian child's life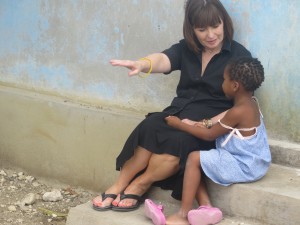 1. Buy a stocking … or two. All profits help children in Haiti. The stockings will be available for a limited time at all Nell Hill's locations and at www.thegoexchange.org.
2. Take part in The GO Exchange. Visit www.thegoexchange.org for clothing, shoes, purses and more made by the craftswomen around the world who benefit from The GO Project. Order online or make it a party by hosting an in-home GO Exchange.
3. Make a donation. Visit www.goproject.org to support this exciting organization that is creating real change around the globe by providing jobs, living wages and care for orphaned and abandoned children.
Next Week … My newest book is here! Come for a preview of Nell Hill's: Rooms We Love!