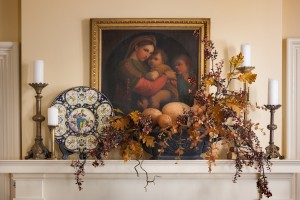 Fall is here and it's time to celebrate this glorious season in your décor. One of the easiest – and most powerful – places you can trick up for autumn is your fireplace mantel. Depending upon how much time or creative energy you want to invest, you can use this little plank of wood to make a big fall statement or just a whispered tribute to this beautiful season. Ready to get your creative juices flowing? We created three sensational mantel displays at Nell Hill's to inspire you. 
Gorgeous Gourds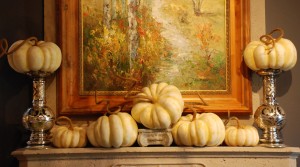 Before my Fall Open House, a few years back, I was rushing around in a frenzy trying to get everything ready before I opened my doors to thousands of visitors. Usually Dan scrams when I have my open houses because my photo finishes send him up the stress chart. But this year, he offered to help. I sent him to the farmer's market to buy some good gourds to use in displays. He zipped off like he knew exactly what he was doing. But soon I got a call from him, his voice perplexed.  "What makes a good gourd?" Poor man! Once again, he was left to try and read my mind.
When it comes to gourds for fall decorating, they're all good, in my book. I like to build displays with crazy colors and shapes. And I also adore looks like the one above, using just one color and shape of gourd to create a soothing scene.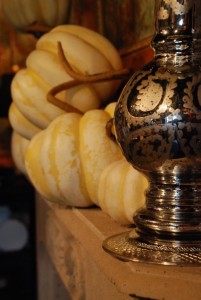 No matter what shape, size or color of gourd you pick for your mantel display, you'll need some risers to give your display a variety of visual heights and finishes. We started ours with one of my favorite tricks: perching a gourd on top of a candlestick. This time, we used beautiful etched mercury glass pillar candlesticks, but any candlestick will do. We were going for symmetry on this mantel, so we stationed one on each side. To give the space in between some movement, we added a second riser, another one of our use-it-a-million-ways tools at Nell Hill's: a capital. Putting a bigger gourd on top of the small capital gave us the undulating lines we needed to make this simple scene captivating.
A Flash of Glass and Foliage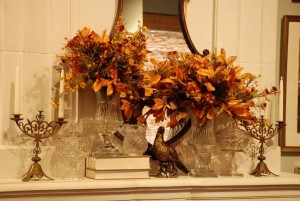 I blogged a few weeks ago about how much I love to decorate with glass pieces. Here's another example of how simple glass vases can make a mantel look regal. We framed our display with these ornate but not ostentatious gold candlesticks that have a vintage feel. Gold is back in a big way, and I'm so glad because it is a perfect pick to pair with the warm colors of fall.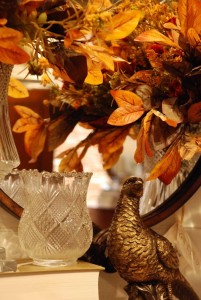 We used a tight color palette of shades of gold and white on this mantel. The interest comes in the variety of shapes and sizes of our glass pieces, which range from big vases to tiny votive cups to candy dishes. An old book is an excellent riser on a fall mantel, lending a drop of charm. Plus, it's a great way to use some of those books wedged into all your bookcases. I often incorporate figurines into my mantel displays because they bring a little unexpected surprise to viewers. One of my favorites for fall?  Birds.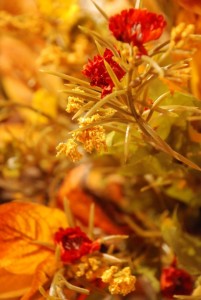 The show stealers in this display are the two brilliant bouquets of fall foliage. The key to making your fall greens look wonderful is to spend a few minutes working with them. The picks are flat when they come out of the package, so it's necessary to gently pull out all the branches, twisting them a bit, pointing them up and down and out, just as they would grow in nature. Can you believe how real these picks look? All that's missing are the bugs!
Time to Celebrate the Season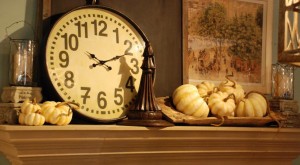 At Nell Hill's, we like to create displays that tell a story or evoke a mood. This one conjures up feelings of nostalgia for me. We added hints of back-to-school images, like the blackboard used as artwork and the clock, which resembles the one I stared at for hours on end when I was a kid, willing it to fast forward to the end of the school day. The wire votive holders, aged corbel turned on end and stacks of capitals add to the vintage charm of the arrangement.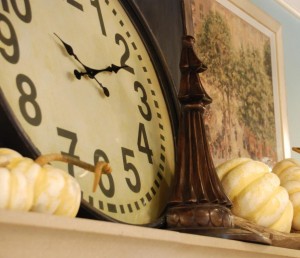 Have you ever thought about using an old clock in your fall decorating? I just love to work in these large-faced wall clocks because they are so intriguing. In Halloween displays, I poise the hands at just a few minutes before the stroke of midnight. For this mantel, the clock seems to symbolize the passing of the year, a gentle reminder to seize the day.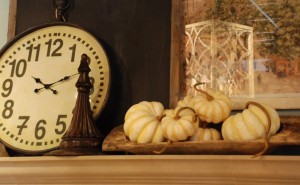 A favorite fall decorating tool at Nell Hill's is antique wooden dough bowls. Often we place these long, hollowed out troughs at the center of rectangular dining tables, on hutches or over bookcases, filled with fall gourds and foliage. Now we have this petite size – just the right width to use on a mantel. Doesn't it look lovely holding a few gourds?
Next Week … Fall decorating continues as I share some tips on creating autumn displays on your occasional tables.