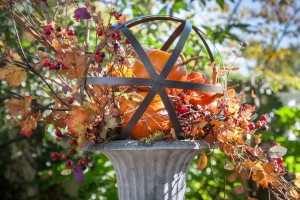 A few years ago at market, I happened upon metal orbs and fell hard for these minimalist tools that offer limitless decorating possibilities. They are so simple, just a few straps of metal that form the faintest outlines of a globe, but they are bursting with drama. And, with their aged patina, they are an ideal tool for fall decorating. If you haven't yet decorated with metal orbs, you are in for a treat! Here are some ideas to inspire you.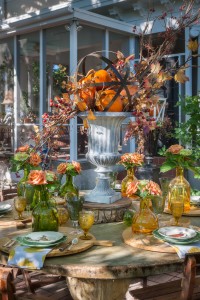 The photo above was taken at my Fall Open House last year. (I hope you join me for this year's Fall Open House – it's this Friday and Saturday! Get the scoop at www.nellhills.com.) This color-drenched display is a great example of how a simple metal orb can bring structure to a bouquet of fall foliage without stifling it. And best yet? It was a snap to make. We topped the iron garden urn with an orb, then used it as a flower frog of sorts to hold in place a wild assortment of fallen sticks and faux fall branches and picks. We kept the focal point on target by squeezing a few small pumpkins in the center of the orb.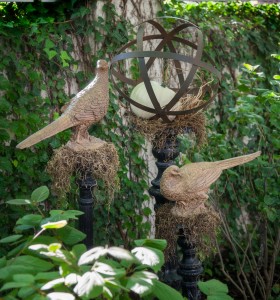 How about this understated outdoor fall display? I got these iron pillars years ago and planted them in a corner of my garden. Each season, I concoct a different display on these three peaks. This time, it was a soft, soothing fall motif that was done in a flash. After topping each pillar with a pinch of Spanish moss, I rested iron bird figurines on two and an orb holding a fake white pumpkin on the third. You could easily replace each of the bird figurines with a large white pumpkin.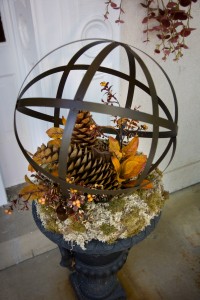 When we plan my Fall Open House every year, we put a lot of thought into how we'll decorate my front porch, the first place guests see when they pull up. The pressure! Last year, orbs did the trick. We made twin designs in the two iron urns flanking my front door. We started with mounded nests of mixed mosses for color and texture. Then we placed the orbs on top, filling them with a small, tight bouquet of fall foliage.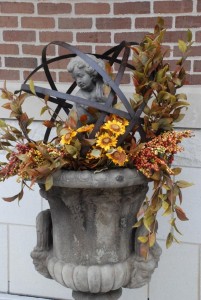 Check out this beautiful display in front of Nell Hill's Briarcliff. This intriguing design, built into an iron garden urn, is simple yet richly layered. We placed the orb around the cherub garden statue, then filled in with fall foliage.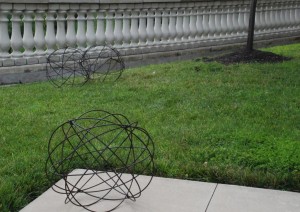 Here's a new orb we're carrying at Nell Hill's this season – thinner, more streamlined and modern. They are easy to manipulate so you can insert decorative pieces inside them. And, they collapse for easy storage. Here we left the orbs empty and unadorned, modern 3D art to add interest to this lawn.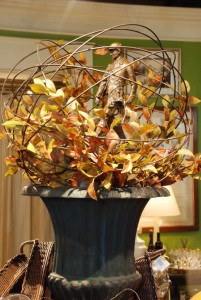 We like to use the inside of the orb as a stage, filled with all sorts of interesting elements. Here we inserted a bronze English equestrian statue. You could use all kinds of figurines that speak of fall. Realistic faux birds would also be lovely, like pheasants, quail or owls. We sell a lot of these at Nell Hill's in the fall because they look so lifelike, finished with real feathers.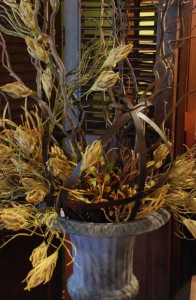 Not one for arranging intricate displays? Try this trick. Rest an orb on the mouth of an urn, then just stick in an assortment of fall foliage. So easy, you don't have to be good at flower arranging to pull it off (I say this because I am NOT good at flower arranging!).  I really like the addition of the twisty sticks in this bouquet.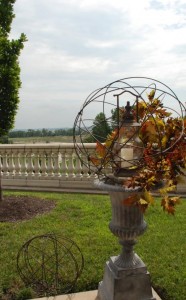 Last week I blogged about using lanterns in your fall décor. This fetching, multi-layered display combines both of these fabulous tools. Notice the empty orb resting on the lawn at the foot of the garden urn? It adds to the interest of the overall display, don't you think?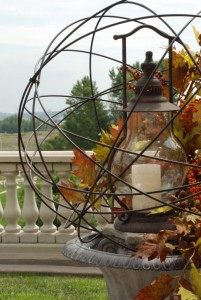 Here's a close up of the display so you can see how we did it. To give the lantern firm footing, we wedged one of our go-to capitals into the mouth of the urn. We opened up the orb to insert the lantern, which is holding a battery operated candle. (This would be ideal with a candle that works with a remote control or timer so you wouldn't have to hassle with opening up the lantern when you want to turn it on.) Then we created an asymmetrical spray of fall foliage and berries, fanning up and down and around the orb. Stunning!
Next Week … When you decorate your home for fall, be sure to remake your mantel, the high-impact focal point of your living room.  I'll share some tips and inspiring photos from Nell Hill's.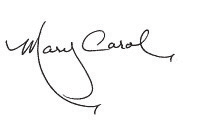 PS My Fall Open House is this Friday and Saturday and I can't wait! I hope you'll join me as I open my historic home in Atchison for free public tours. Get all the info at www.nellhills.com.