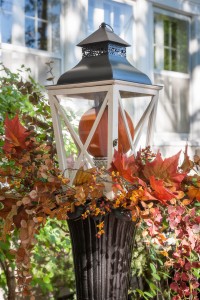 Living in a small town in Kansas is definitely not for everyone. But one of the things that keeps me rooted in Atchison after all these years is the beauty of autumn.  The trees in this quaint river town, where Lewis and Clark camped on their journey westward, are simply stunning. So when I decorate my home for fall, I look for ways to celebrate this natural symphony of color. Two of my favorite tools for fall decorating? Lanterns and orbs. Today, I'm going to share a few suggestions (and lots of eye candy) for using lanterns in your autumn decorating. Next week, I'll blog about fall decorating with orbs.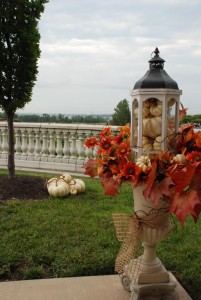 Every year when I go to market on a treasure hunt for new fall décor, I wonder if my passion for lanterns will dim. But year after year, I'm wowed and wooed all over again by the charm and good looks of this amazing tool that has become a bedrock of the Nell Hill's look.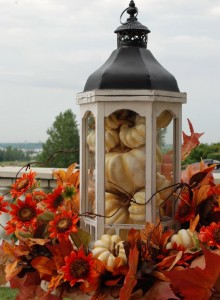 I use lanterns in my year-round decorating. But in the fall, working lanterns into my seasonal displays is an absolute must. You're going to be dazzled by lanterns once again at my Fall Open House, Sept. 6-7, when I open my home for free tours. Get all the details at www.nellhills.com,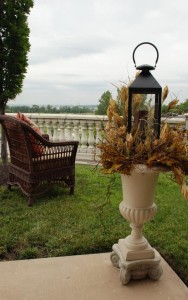 Greet friends with a warm welcome when they visit this fall with a knock-your-socks-off exterior display like the one above. We called on the power of faux fall greens to pull off this dramatic yet simple arrangement. The key to making fake fall picks, wreaths and garland look natural, not cheesy, is to work with it, turning and twisting, until it looks like it would really grow in nature. Let some strands reach up, some stretch out and some trail down.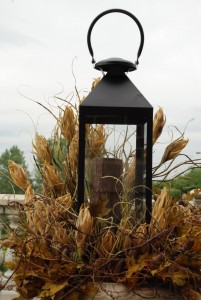 In this close up you can see the cool candle we placed inside this lantern. I really like the moody feel of this deep brown pillar, but it's for decoration only. If you want to have the glow of candlelight to brighten up the fall evenings, use a battery operated candle instead. We carry these realistic cheaters at Nell Hill's and they are amazing. You can get ones with remote controls and on timers – all the romance of candlelight with none of the fire risks or hassles.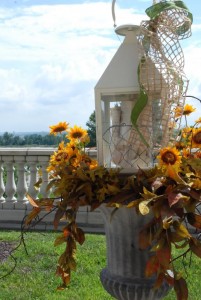 We also like to use the space inside a lantern as a little stage for fall décor. Here's a fun new idea: roll up pages from old books into scrolls, then place them in a little wire basket and insert it inside the lantern, like we did in the photo above.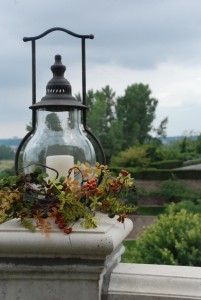 Every year at fall market, I find a new lantern I can't live without. The metal lantern in the photo above was this year's swoon-worthy pick. It's simple and superb, and a screaming bargain. It's gorgeous styled with this tiny touch of fall, adding a hint of the season to an outdoor or indoor display.
Here is the same lantern hidden in the greenery of the garden, adding a bit of seasonal blaze to the lawn.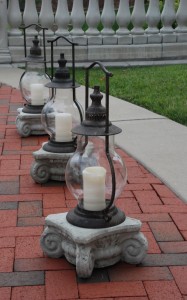 When I entertain in the fall, I like to place lit lanterns on the steps that lead up to my front door.  During the day, a line of lanterns adds interest to a front walkway or patio perimeter. In the evening, light them to illuminates each step for guests.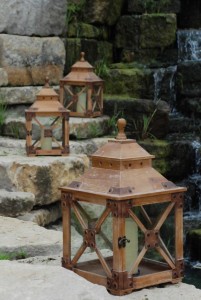 Work lanterns into your landscape as well. These simple lanterns are dreamy on the rock shelves of this garden waterfall. Place one in a dry birdbath, hang one from the top of an arbor, dangle one from the garden gate or suspend several from tree branches over garden beds or an outdoor table.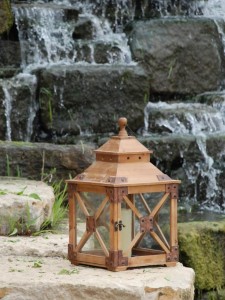 Here's a close up of this rustic but radiant lantern. Love this one!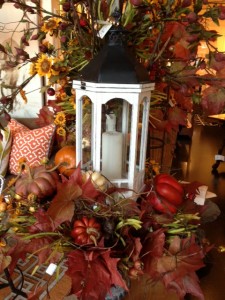 I use lots of lanterns in my interior fall displays because you can trick them up millions of ways, all in a matter of minutes. In the shot above, we just put a little battery operated candle inside then surrounded the lantern with a cloud of foliage. Don't like faux foliage? Get rid of it and put a line of these lovely lanterns down your table's center or on your fall mantel.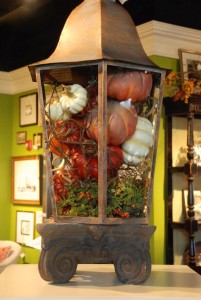 Try this favorite Nell Hill's trick: Open up the lantern and dump in a cornucopia of fall treasures. We started our display with a bed of fall greens, then added in a tumble of faux fall gourds, with a vine snaking about to add fluidity to the collection. For added grandeur, we put this fly-off-the-shelf-popular bronze lantern on a simple capital.
Next Week … Metal orbs are another of my new favorites for fall decorating. I'll have lots of ideas for using these intriguing pieces in your autumn displays next week!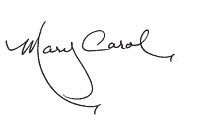 P.S. I hope I see you at my Fall Open House Sept. 6-7 in Atchison, when my home is open for free public tours. I'll be at my front door greeting guests who visit my home, resplendent for fall. See you then!