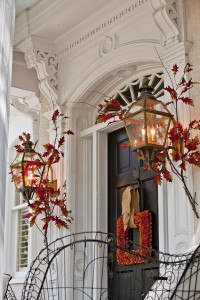 If the thought of transforming your home décor for fall makes your eyes glaze over, than I have some good news for you! It's easy to make your home look lush for the season when you use these time-saving tricks in five key spots.
1. The Front Door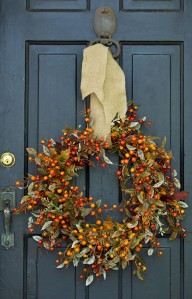 If you don't do another thing to your home this fall, dress up your door with a seasonal treatment. Everyone who passes by will enjoy this highly visible tribute to autumn. If that's as far as you want to take your fall décor, no problem. You've made your home's exterior look lovely and put a smile on someone's face – not a bad return for a five minute investment!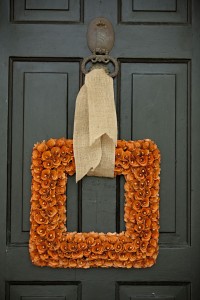 What could be easier than hanging a fall wreath on your door? Wreaths that feature faux fall foliage like leaves, flowers and berries have gotten better and better through the years. I found some exceptional ones at market this year that I'm going to showcase on my own door. Use a length of fall ribbon like burlap, which is my current favorite, and tie a simple knot to secure the wreath to the door knocker or a nail.
If you are feeling imaginative and want to try something new, how about hanging a piece of artwork on your front door? Maybe a mirror embellished with some fall picks like sunflowers or berries? It would be darling to hang a chalkboard on your door and personalize it with a friendly greeting for guests. If you're having a fall party and want your door to look extra special, tie a pottery water pitcher to your door using a fall ribbon, then insert some fresh flowers into the pitcher.
2. A Dining Table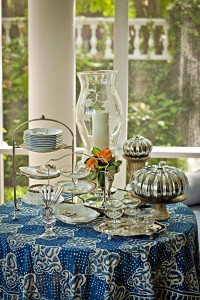 Maybe it's because I go ape over beautiful dishes and am nearly as nutty about table linens, but one of the first places I focus my energy when I decorate for the season is my tables. Whether it's a more elaborate display on your formal dining room table, something simple on your kitchen table or a unique treatment for an outdoor table, you can pull together an eye-catching tablescape in a matter of minutes.
The photo above is of the dining table on my screened porch. During the late spring and early fall months, when the weather in Kansas is at its best, Dan and I like to eat dinner on the porch whenever we can. This tablescape I created for my Fall Open House looks lush and layered, but was really a snap to pull together. First, I just covered the table in an amazing tablecloth. Next, to give the display height and drama, I grabbed two silver dessert servers, powerful decorating tools I use over and again when I dress up my dining tables. The background is filled with a tall hurricane holding a big fat pillar candle, and the foreground is set with silverware and dishes. The only fall pieces I added to this table were two pumpkins made of mercury glass, each perched atop a distressed faux-silver stand. This beauty took 10 minutes tops to create and oh, is it lovely!
If you want a simple, clean look on your dining table, just put a line of pumpkins going down the table's center. Could anything be easier than that? If you are crazy about fall flowers, pull a few interesting vases from your china hutch and place a single bloom in each one then line them up down your table. Right now at Nell Hill's we have a line of really cute vases that look best holding one solitary bloom – a look I absolutely adore. Or, put three small lanterns, each holding a pumpkin, down the table's center.  Or, try this Nell Hill's timeless trick: Cluster a group of different sized candlesticks in the table's center and top them with mini pumpkins and crazy looking gourds.
If you have a round table, put one large lantern in the table's center. Call it quits there or fill the lantern with fall treasures, like sprigs of colorful leaves, branches of acorns or a fall figurine. Another quick but powerful look is to place a pedestal bowl at the table's center and mound it with gourds and pumpkins.
Cluster three different sized apothecary jars on the table and feature a single gourd in each one. When you use your creativity, the options are endless.
3. The Buffet or Hutch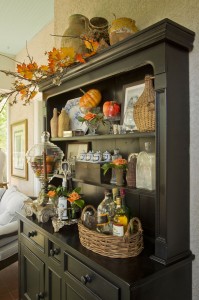 In general, I've gone for a simpler, cleaner look in my decorating these days, but one place I still like to do it up is my dining room buffet. This is a stage waiting for a grand performance. When you decorate your buffet or hutch for fall, start by bringing in some tall pieces that will give the overall display some jaw-dropping drama.
A great place to start is with a pair of fabulous buffet lamps. While buffet lamps by nature are tall and thin, don't opt for something spindly and under-scaled. Go with a pair that will make a strong statement. Then, all you'll need to do is fill in the space in between with a few carefully chosen accessories.
If you're decorating a hutch, like the one on my screened porch in the photo above, just tuck some pumpkins in your existing display. Or, place a bare branch on the top of the hutch, then weave in a few picks of fall foliage. I really  like how the branches look coming out from behind the set of earthy jars I keep on top of my hutch.
4. A Side Table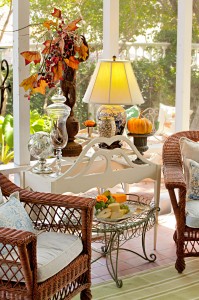 Try creating a quick display on a side table to two. Perfect picks would be a console table in your entry, the coffee table in your living room or a side table in your den. I picked the unusual painted wood table I keep on my screened porch because I love to decorate my outside rooms as much as I do the inside rooms. The eye-catcher in the photo above was crazy easy to do. We just placed one of my favorite garden statues, which features a child with his arms held high, in the background and filled the statue's uplifted hands with fall picks of berries and leaves.
We could have stopped there and achieved a lovely fall feel. But I wanted to take it one step further. So we placed a pumpkin on a small urn in the foreground and filled an apothecary jar on the left with birds' feathers. A tiny vase holding a single orange rose, my favorite flower for fall, completed the look. When I get ready to change my décor for the holidays, I'll simply pull out these few autumn pieces and replace them with holiday or winter-themed seasonal décor, like a spray of faux pine branches, a tree ornament and a red rose. Easy, but powerful!
5. The Garden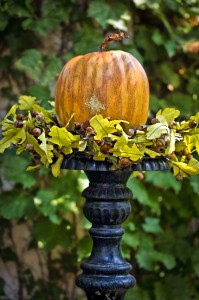 It doesn't take much to create a sharp outdoor fall display, but when your neighbors remark about how great your home looks, you'll be glad you invested the 10 minutes (tops!) it took. I keep a trio of iron pillars in my garden year round for this very purpose. In fall, I simply top them with pumpkins. If I'm feeling extra creative, I may place a small fall wreath on top of the pillar, then rest a pumpkin into the nest of the wreath.  This display is shockingly simple to create, yet looks sensational. Every time I look out my window it greets me like a wave.
Hit your local pumpkin patch this year or grab a few pumpkins and gourds next time you're at the grocery store then tuck them into your existing garden displays. Sometimes I cluster small pumpkins at the base of the topiaries that flank my front door. I'll put a pumpkin or two on each step up to my front door. You could also put a lantern holding a pumpkin on your back porch.
Next Week … After years of having nothing but plantation shutters on my windows, this year I decided to cozy up my home with drapes. I am crazy about the look! Come take a peek at them next week and find out everything you need to know to select the right drapes for your home.