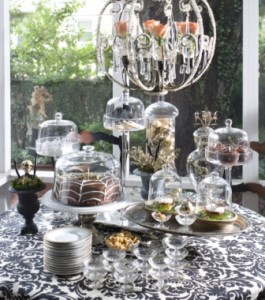 When my hometown of Atchison was given the dubious distinction of being named one of the Most Haunted Towns in Kansas, I wasn't surprised. We have about everything you need for a spooky good time, from creepy Victorian mansions to frequent spook sightings. Since my historic home is surrounded by so much spine-tingling fun, decorating for Halloween is a must for me.
To achieve a sophisticated but scary Halloween look in your home, work a few ghoulish touches into your year-round or fall displays. It's easy to do when you use your imagination and have the right tools. Here's how …
Bones and Bodies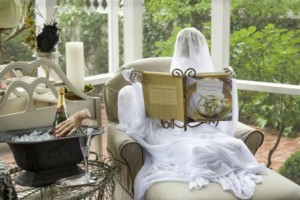 If you use kitschy Halloween props like skeletons and "dismembered" body parts in your décor, make the displays subtle and sly, not overwhelming or schmaltzy. For instance, one Halloween I wanted to give guests a jolt when they stepped onto my screened porch so I reclined a skeleton on the chaise and put a copy of one of my books in her hands. (To order a copy of one or all of my decorating books, click here) It was fun to watch folks jump then let out a nervous laugh as they took in the unexpected scene.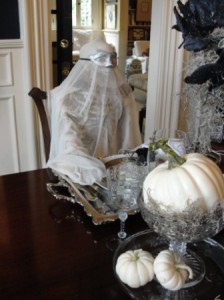 Another year, I placed skeletons in the host and hostess chairs in my dining room, positioning them like they were ready to each a ghoulish dinner.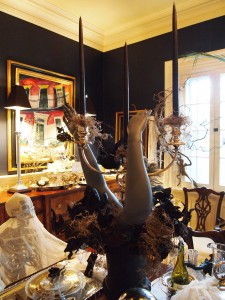 But perhaps my favorite display to date was last year's, when we spray painted some mannequin legs and arms black and stuck them in the floral displays on my dining table and on my porch. Black iron urns made the perfect vases for this blood-curdling bouquet.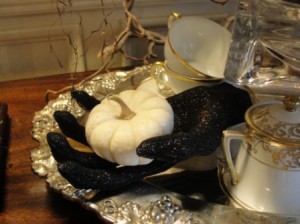 For less outlandish displays that are still lots of fun, put a black skull encrusted with glitter in the punch bowl or on a cake plate. Or let a scary hand hold the salt and pepper shakers.
Super Spooky Scrim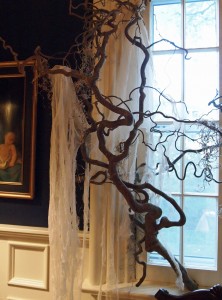 Scrim, an inexpensive gauze-like fabric, is a blast to use at Halloween. For my fall open house last year, we cut scrim into long, thin strips then draped it over the dead branches we had secured to the trim around my dining room windows.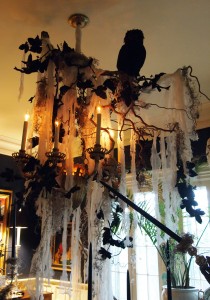 We also hung scrim from the dining room chandelier and from the centerpiece. It took just minutes to do yet made the room look other-worldly. Another great way to use scrim is to wrap it around the head of a garden statue to make it look like it's draped in grave cloths. Or, cut the scrim into strips and wrap them around a Halloween skeleton and you have a mummy risen from the grave.
Scary Spanish Moss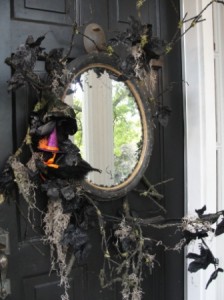 Like scrim, Spanish moss is another easy and inexpensive tool that gives just about any fall display an instant Halloween feel. In the snapshot above, taken of the Halloween display on my front door last year, we draped a few handfuls of Spanish moss over some bare twigs, and suddenly it felt like they were stolen from a haunted forest. You can also put a pinch of moss here and there in your regular fall displays to make them slightly sinister.
Jumbles of Jars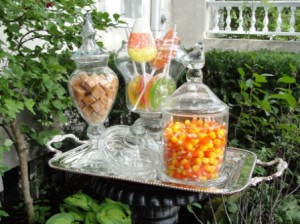 Get out your glass apothecary jars, compotes and bowls and fill them with well-loved Halloween treats, like candy corn and wax vampire teeth. Or, go for the gross-out factor by filling the jars with rubber eyeballs, plastic spiders or even vermin, like a rubber rat or roaches.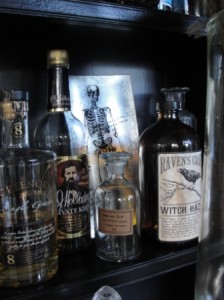 Another fun touch is to include vintage looking jars affixed with Halloween labels into your drinks table. Or cluster a few together on a silver or wooden tray to create a simple centerpiece for your kitchen island or table.
Creepy Critters
What's Halloween without some super creepy critters, like rats, bats and spiders? At Nell Hill's we have critters that are playfully fun, like fuzzy black rats and fluffy black owls, a perfect pick for young families who want a whimsical touch of Halloween without any gore. Here we perched ravens on my kitchen light fixture.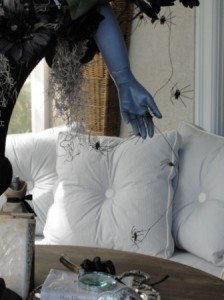 Fake spiders are another must-have this time of year. Put them on your dining table, let them cascade from plants, hang them from your light fixture. Or, hide a few in your existing displays and see if the kids or guests can spot them all.
Gothic Serving Pieces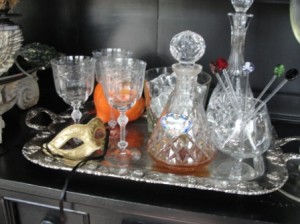 Dress your dining table, hutch, bookcase or side tables with your nicest silver then give them a macabre twist. Here, the bar on my porch takes on a sinister tone with the addition of a few skull and cross bones. Silver serving pieces, like five-armed candelabras, are perfect when you want to conjure up a gothic Halloween look. (You can order my favorite candelabra right now from Nell Hill's Online by clicking here! In fact, I have several fabulous silver candlesticks in my online store for you to choose from.)  Top the candlesticks with drippy black candles or perch a fake raven or black owl on an arm. Place a silver serving tray on your buffet and top it with a skull or hand. If you want to get really icky, place a butcher knife next to it.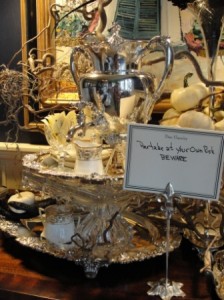 Another great way to give your Halloween displays a sinister sparkle is to weave in mercury glass. The tarnished, tattered feel of mercury glass makes it a natural for Halloween decorating. Put a set of candlesticks on your entry table, a trio of decanters on your kitchen island or a bowl filled with fake eyeballs on your side table.
Next Week … Want to decorate for the season but limited on time? I'll share five spots in your home you can decorate with minimal effort for maximum impact.