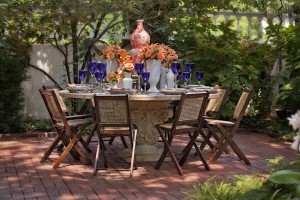 My love light burns bright for simple, sleek and stylish white and cream pottery. Maybe it's because you can achieve so many different looks with just one piece of pottery. These decorating chameleons look just as smashing in a modern home that is filled with contemporary furnishings as they do in a traditional home full of timeless classics. Here are some quick tips for using these inexpensive, attractive and versatile vessels in your fall decorating.
White and cream pottery comes in lots of different shapes and sizes and styles, and I love them all. But for today, I've selected one of my new favorites to illustrate three different ways you can work white pottery into your fall décor: a white chalice. I'm partial to this particular piece because its lines are both classic and modern. And it's inexpensive enough that you can get one just to try it out, experimenting with it in lots of different displays.  Get yours today from Nell Hill's Online (click here to check it out) or at any of our three stores. Or, adapt these ideas to a piece of pottery you already own. (We have several styles to chose from on line now — click here to see.)
1. Overflowing with Flowers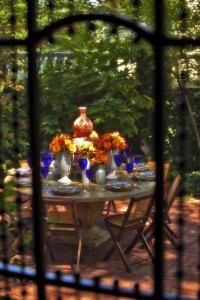 When we were brainstorming ways to dress up my courtyard for my Fall Open House, I knew I had to use white pottery on my outdoor table. This fall I'm over the moon about the color combo of bright white, sunny orange and cobalt blue, so I called on my white pottery chalice to bring in a pop of white. One of the secrets to creating a dramatic centerpiece is to include a variety of heights, colors and textures, so in addition to the chalice, I mixed in some white pottery in a variety of shapes and sizes.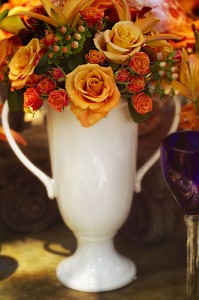 The show stealers on this table are the amazing floral bouquets that mix of a variety of flowers and berries in shades of orange. But the flowers wouldn't be allowed to shine so brightly if they weren't displayed in such unassuming vessels.
I really like the contrast of live plants in these bright white vases, don't you? If you have a green thumb, you could also put a house plant in a chalice, like a fern or ivy.
2. Corralling Tools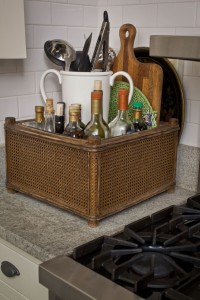 My kitchen is small and counter space is at a premium. And here lies one of Dan and my greatest sources of friction. He wants the counters open so he can actually use them to cook (he's the chef in the family). I want to fill them with decorations. So we've struck a compromise. He gets to keep his cooking stuff on the counter if I can make it look cute. Decorating tools like this white pottery chalice make that possible. Here, I've filled an antique basket with Dan's cooking vinegars and oils (are all these different flavors really necessary?!?), then squeezed in a chalice to hold the cooking utensils. I've given up a small corner by the stove for the sake of the culinary arts, but I've also gained a darling still life. Not a bad compromise!
A chalice like this is perfect for holding a variety of everyday items. Put one on your coffee table to house the remote controls. Place one in your office to keep your mail or magazines. Stand one next to the bathtub filled with lotions and soaps.
3. Adding Dimension to a Display
Any decorating tool that will hold seasonal treasures is an automatic hit with me. That's why I'm crazy about urns and bowls and vases. In the photo above, I paired the white chalice with another one of my favorite decorating building blocks: a lantern. All told, this display took about a nanosecond to create. We placed a trimmed white birch stick in the chalice, rested a pick of faux fall berries on top of the chalice and topped it with a white pumpkin. We tucked the whole thing in a tall, thin lantern and presto, we had a stunning display that would look sensational on a side table, buffet, entry table, kitchen island or outdoor patio.
Next Week … Ready for the thrills and chills of Halloween? I'll have some fun ideas for pulling together tasteful but spine-tingling Halloween displays in your home.