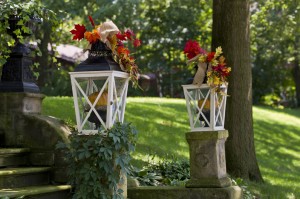 Visit my home, shop at Nell Hill's or Garrity's, or thumb through my decorating books, and it won't take you long to figure out that I'm crazy about lanterns. I use lanterns in my decorating year-round, but during the fall and winter months, they are a key component of my look. Any why not?  Lanterns are unbelievably cute, come in a zillion different styles, are available in just about every price range and can be styled a million different ways. Here are a few of my favorite ideas you can steal for your fall decorating. (Many of the photos are of my home in Atchison, decorated for my Fall Open House this Friday and Saturday. It's free and fun, and I hope to see you there!)
Brighten Your Porch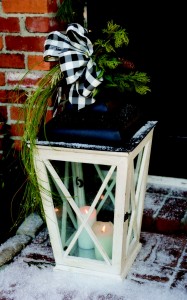 Want visitors to feel warmly welcomed this holiday season? Place one or more beefy lanterns next to your front door and fill them with candles. Tie up the top with a seasonal bow holding a few sprigs of greens, and in minutes you've given your porch new energy. This black and white lantern is one of my favorites! (Get yours today — they are available at Nell Hill's Online in three different sizes. In fact, I just started a new section in my online store that features nothing but lanterns! Go there now!)
Spark Up Your Outdoor Walls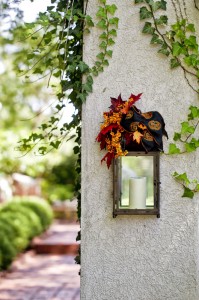 Lanterns make ideal outdoor artwork to hang on any surfaces on your home's exterior, like a garden gate, a garden wall or the wall of a screened porch. I styled this cutie, which brightly greets guests entering my courtyard, with a bit of Halloween ribbon and fall greenery. Keep the lantern up all year and just change the adornment to reflect each new season. The candle tucked inside is battery operated so you don't need to worry about messy wax ruining the lantern or turning it into a raging inferno. These cheater candles, available with timers and remote controls, are one of the hottest selling items at our online store, Nell Hill's Online.
Instead of a wreath this fall, consider hanging a wall lantern on your front door. One year for my fall open house I did just that, and it was a huge hit. With that in mind, I worked with one of our manufacturers to redesign one of our most popular lanterns, placing a mirror on the back. I am so excited about the finished product! They look great from the street, sparkling with battery operated candles.
3-D Art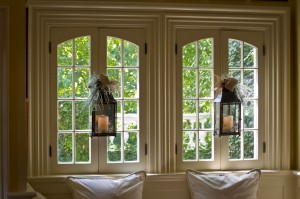 Lanterns belong in your artwork displays inside, too. Mix them into your art groupings just like you would any other piece of art. You won't believe how adding a three-dimensional piece like a lantern will invigorate a montage. Or if you're all about symmetry, hang a pair of lanterns on either side of a large mirror or piece of artwork. Or center one over a wall bracket or shelf.
I also like to hang lanterns from windowsill, like it did in the photo above. This pair of twin lanterns is dressed up for the holidays, featuring a bit of silver glitter garland inside the lantern and a sprig of frost covered pine greenery tied to the top with a burlap bow. If you're hanging lanterns from wall or windows, battery operated candles are a must so you don't create a fire hazard.
Light Up the Night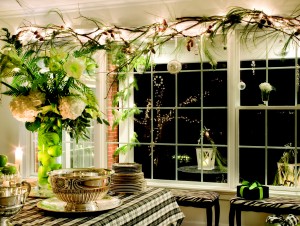 When you entertain on cool, crisp, jet black evenings this winter, wow your guests by placing mood lighting on the outside of your windows. It's so romantic to peer outside and see the twinkle of a candle in a bright lantern.
Dress up Your Table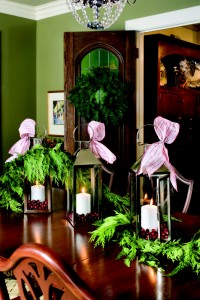 Looking for a quick but stunning centerpiece for your holiday table this year? Place a row of three or more lanterns down the center of the table. Stop there, or take it one step further by filling in the base of each lantern with a seasonal touch, like acorns for your Thanksgiving table or cranberries for your holiday table. Want the display to be more lush and full? Loosely twist seasonal garland around the lanterns, honeysuckle vine or faux berries for Thanksgiving and prettier-than-real pine garland for the holidays.
Brighten a Display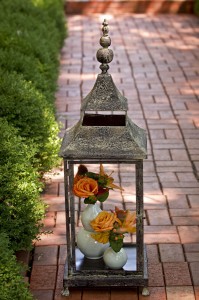 When you're decorating your home for the fall and winter seasons, be sure to include a lantern or two in your displays. Lanterns are perfect on fireplace mantels, especially when they are holding a twinkling battery operated candle. With all the shapes and sizes of lanterns available today, you're sure to find one to fit the width of your mantel, even if it's super skinny.
One of the things I like most about lanterns is they are like stages, ready to be dressed up myriad ways to reflect your mood or the season. The lantern in the photo above was simple to trick up for fall. We just inserted two inexpensive white ceramic vases holding flowers.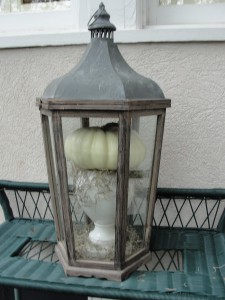 For a different look, dress the lantern up with a small urn holding a pumpkin, as in the snapshot above. Or, try an interesting figurine, like a crumbly garden statue.
Next Week … Come learn about another of my favorite decorating work-horses, white pottery, and how you can use these adaptable and inexpensive pieces to perk up your home for fall.