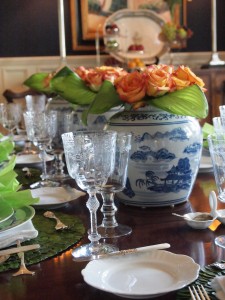 One of the things I like best about living in the Midwest is the changing of the seasons. While I truly enjoy each season, I confess that fall is my absolute favorite because of the rich color palette Mother Nature gives us to decorate with this time of year: amber, ruby, chestnut, sage and so many more luxurious hues. At Nell Hill's, we're all about making the most of these brilliant fall colors in our seasonal decorating. But this year, we're giving our fall tables a surprising new twist by introducing some cleaner, brighter shades.
Fall, Light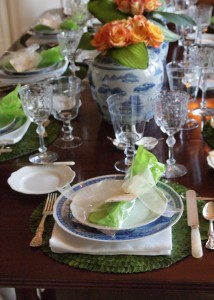 A few weeks ago, I was decorating my dining room table for a birthday party when I stumbled onto a new look for autumn that made me swoon. There was almost nothing that reminded me of autumn when I picked the place settings and centerpiece for the table. But when the bight apple green, deep royal blue and soft orange elements came together, they gave a subtle nod to fall.  That's when I decided that this year, I was going for "fall, light" on my table.
To create this table, I started each place setting on whimsical placemats that look like they were made from just-picked leaves. Then I created a simple layer of plates, mixing my blue and white transferware dinner plates with crisp white salad and bread plates. To tie in the apple green, I topped each place setting with a little take-home gift wrapped with green tissue paper, tied up with a bow.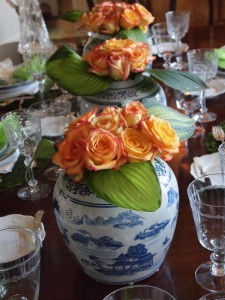 For a centerpiece, I placed three blue and white ginger jars down the center of the table and filled them with hosta leaves from my garden and three inexpensive bouquets of orange roses, the flowers snipped short so they formed a little mound right over the mouth of the container. I cannot arrange flowers to save my life, so instead of laboring over bouquets that always look lopsided or lumpy, I've come up with this goof-proof formula that works every time.
Fall, Fresh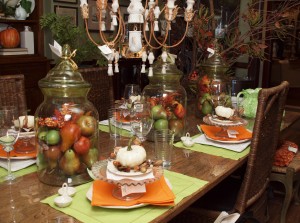 Don't you love the energy in this fun autumn table done in apple green, citrus orange and crisp white? To create this light yet vibrant look, we relied on awesome seasonal linens and our versatile white dishes. (I you don't have a set of plain white dishes yet, you've got to get one. Not only are white dishes a great value, you can use them millions of different ways to transform your tablescape for every season. They are available right now at Nell Hill's Online.)
If you'd like to, you could also add orange, green or seasonal salad plates to this display, layering them atop the white dinner plates. The great thing about each of these new fall colors is they also work well during other seasons: the green is ideal for spring decorating and the orange would be a perfect addition to a sunny summer table.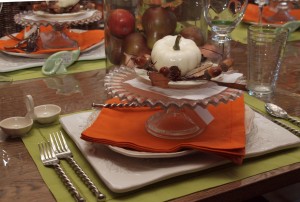 This place setting would look wonderful just featuring these bright dishes and linens. But we took it a step further by adding some iconic fall accents–an acorn pick fashioned into a wreath and a small white gourd.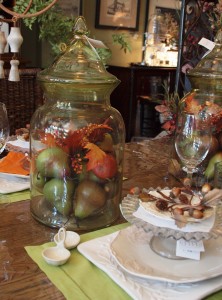 I used to do lavish centerpieces on my fall tables, but this year, I'm keeping it clean. Here, we filled some green-tinted glass jars with faux pears, then topped them with a few fake fall leaves. Simple and sensational! Another great centerpiece look would be to create a line of candlesticks or glass hurricanes down the center of the table, them outfit them with apple green candles.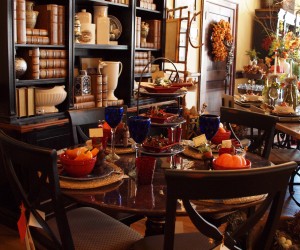 This eye-catching table treatment is a bit richer and more lush, yet still simple and straightforward. This time, we're pairing bright orange with royal blue. To create the look, all we did was set the table with blue majolica dinner plates and water goblets, then top the plates with cinnamon colored bowls holding a bright orange pumpkin.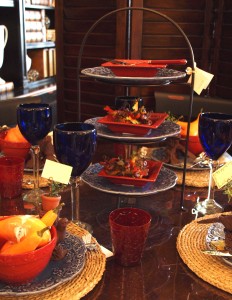 Servers make great foundations for centerpieces because they add much needed height to a table, with means a more dramatic presentation. Some servers, like this one, can be outfitted with your own plates, giving you a chance to showcase pieces from your collection or some new seasonal plates. Once you pick the plates, dress them up with fresh fruit, veggies and cheese, or with seasonal accents like nuts or gourds.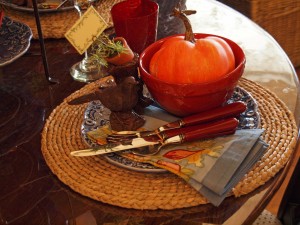 Great seasonal table linens are worth their weight in gold when you see how they pull together dissimilar pieces, like our plates and bowls, into one harmonious look.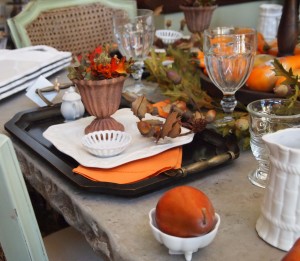 It used to be that people avoided decorating for fall because they couldn't make the color orange work into their décor. Now that orange is one of the most popular colors in interior decorating, it's a different story. It looks great with another of today's top color picks: gray. In this relaxed but powerful table setting, the white dishes come alive thanks to the pop of orange provided in the table linens and faux gourds. I can just picture this scene in a room painted in our dark gray wall color, Abby Steps.
Looking for a low-scale centerpiece for your fall table? How about creating a montage of white gourds, like this one. It's the perfect addition to our orange and white fall tablescape.
Fall, Traditional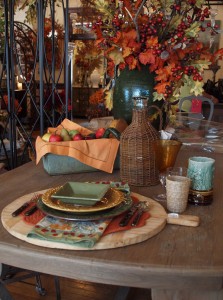 As much as I like to experiment with new colors in my seasonal decorating, I will always love tradition. And the traditional colors of fall are simply unsurpassed. Don't you love how we used colors like moss green, sienna and gold on this lovely layered tablescape?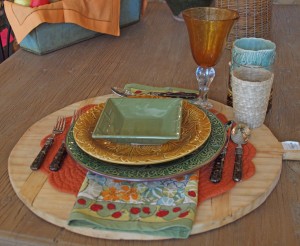 Quilted placemats like these are great for kitchen tables because they launder so well. Each element of this place setting is a different color, but the napkins knit them all together wonderfully.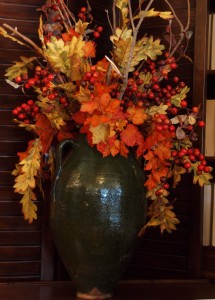 This bouquet centerpiece showcases the best of fall by using foliage and berries. To create a killer arrangement like this one, start with bare sticks to give the display structure. Then add an assortment of foliage picks, some reaching high, others trailing low and a few filling in the middle. Then, finish off with sprigs of fall berries.
Next Week … Brighten up your fall décor with lanterns. I'll show you how to use these versatile decorating tools to add a hint of the season to your home.