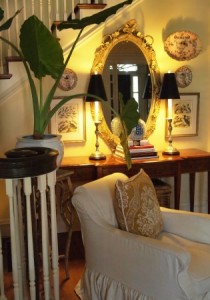 Looking for an easy way to bring a new splash of style to your interior decor? Sounds like it's time for a light-bulb moment! Add a sensational lamp. You'll be amazed by how replacing an out-of-style or weather-worn lamp with one that reflects today's clean lines and bold look will electrify a room. Here are four tips for picking a lamp that will brighten your home for years to come.
Pick Lamps that Turn You On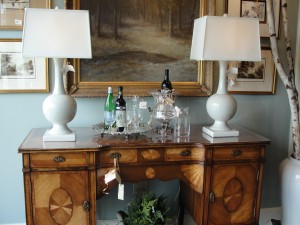 If you only think of lamps as functional tools, the workhorses that provide light so you don't stumble around in the dark, it's time for a new point of view. Just like the artwork on your walls and the accents on your mantel, lamps are powerful decorating tools that can infuse your home with personality and give it singular character.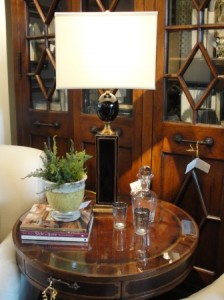 For that reason, don't ever, ever, ever settle for a lamp that doesn't turn you on. I'm a big believer in listening to your heart over your head when picking things like lamps. Don't over think your decision—simply see how the lamp makes you feel. If it leaves you cold or ambivalent, walk away. But if it makes your heart skip a beat, it's the one for you. If you're like me, finding a lamp that puts a huge grin on your face won't be a problem. The selection right now is simply amazing. Today's designers have taken classic shapes and styles and re-envisioned them, giving this new breed of lamps a timeless yet hip look that works prefect in any home, from traditional to contemporary.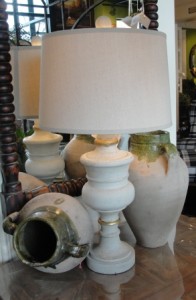 To help you pick the perfect one, first determine how the lamp will be used. Do you need it for task lighting or to provide ambiance? Next, zero in on what colors, shapes and finishes you're attracted to. How about the lampshade? Do you prefer dark shades, with their dramatic look, or light shades that add a bit of sunny brilliance? What shape intrigues you? Circular, square, rectangular, oval?
For a lamp to work well in your home, it has to be the right scale. Don't make the common mistake of picking a lamp that is so little or delicate it will be overpowered by the size of the room and the furnishings around it. Instead, look for a lamp that's a bit beefier, carrying enough visual weight to hold its own on a sofa table, end table or buffet.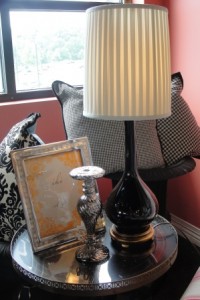 "Bigger is better" is usually a good rule of thumb when selecting a lamp, but you still want to use common sense. If your table is small, or if the lamp will be paired with very fine, delicate furniture, you will want one that is small enough to harmonize, not take over.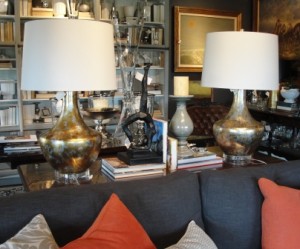 As you right-size the lamps in your home, you may find that some of your smaller lamps are displaced. If they are good lamps, by all means find a new home for them in your décor. For instance, if you have a pair of tall, thin buffet lamps that you now realize are too small to use on the side tables in your living room, consider placing the pair on top of the dresser in your bedroom or on either side of the vanity in your bathroom.
Don't Cheat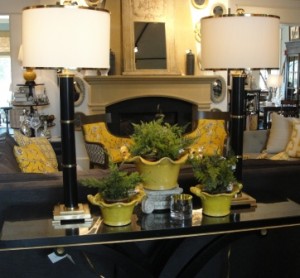 While I love top-quality furnishings and accents, I firmly believe that you don't have to spend a bundle to achieve an amazing look in your home. In fact, at market I feel like I'm on a race to find the best bargains and the newest "cheater piece" I can feature at Nell Hill's– a table or vase or chair that looks a lot more expensive than it really is. For me, value is king. So believe me when I say that right now, you get what you pay for when it comes to accent lamps. With very few exceptions, I've found that lamps that are cheap look cheap, tarnishing the stylish appearance you're aiming for in your home. Grrr! That makes me mad just to say, but it's a reality in today's market.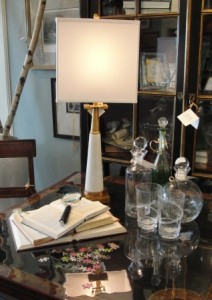 That's the bad news. The good news is that when you invest in a good, quality lamp, it will pay big dividends. It will last you for years – probably longer than some of your upholstered furnishings. And it will elevate the look of your home's interior decor. Once I started bypassing cheap lamps and instead invested in a few lovely pieces, I never looked back because the difference these beauties made in the overall feel of my home blew me away.
Walk on the Wild Side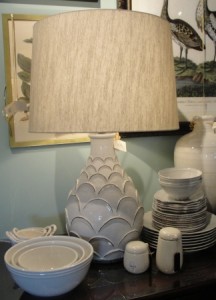 When picking lamps for a room, resist the urge to make them all match. Instead, walk on the wild side and mix them up. Pull together an assortment of shapes, styles, materials, colors and dimensions.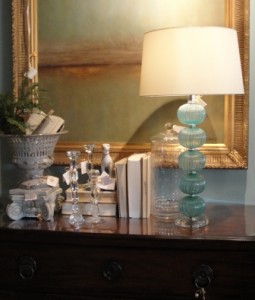 Right now, we're seeing a trend toward lamps that are more transitional, meaning they artfully walk the thin line between contemporary and traditional décor. Designers are achieving this careful balance by creating a classic style lamp out of a more contemporary material or in a trendy color. They are also reinterpreting the classic styles ever so slightly, giving today's lamps new energy.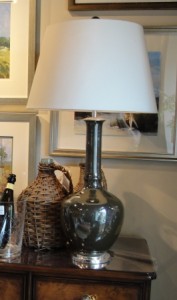 Another way designers are adding more pizazz to lamps is by pairing them with great lampshades. Some feature mod shapes, others unusual colors. In fact, if you have a lamp you love, with good lines and form and scale, you could try simply switching out the lampshade to give it a new lease on life.
Next Week … The weather here in Kansas may still be sweltering, but in my book, it's time to decorate for fall! This year, we're reinterpreting autumn using a fresh, new color palette. Come be inspired!