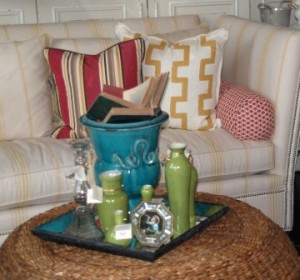 Very few of us like to completely remake our home's interior on a regular basis. But I'd venture a guess that most of us like to give it a tweak every few months. One of the things I enjoy doing most on my days off is playing with the displays in my home. I frequently move my favorite accessories from room to room, display to display, making room for a few new treasures I couldn't live without.
Right now, those treasures are the colorful pots, bowls, vases and urns I discovered at market. Not only is this collection of pottery shockingly inexpensive, the pieces are both contemporary and timeless, which means they work well in any style home. Here are four ways you can use these perky pots to freshen up your home's interior displays …
Razzle-Dazzle Your Mantel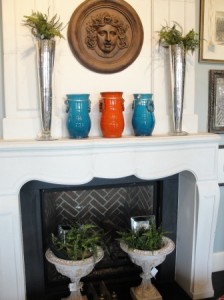 I prefer a cleaner, simpler look on fireplace mantels right now, using just a few accents to achieve a big look. Nothing gives you more bang for your buck than colorful pottery. To create this energetic mantel, we simply lined up three matching vases, alternating between sunny orange and blue. The color and repetition grabs your eye, doesn't it? You could also feature the vases all by themselves or stick with just one color. But I thought this display needed something more to hold its own on this big mantel. So, we placed a set of tall, thin silver vases on either end. I like how the silver vases act as bookends, pulling together the artwork above and the pottery below.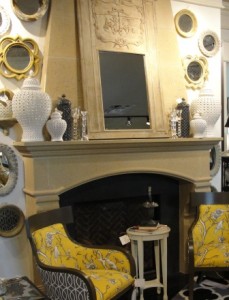 We went for a transitional look on this mantel. We paired a trio of ginger jars on each side of the mantel, making each side a mirror image of the other. Because there is so much color and pattern in this room, with the striking yellow and gray upholstered furniture, geometric patterned area rug and collage of mirrors, we decided to keep the pottery neutral. You could keep up this display all year long, perhaps adding tiny seasonal touches if you wanted to.
Create a Head-Turning Hutch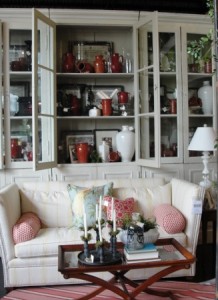 If you have a large hutch in your living room or family room, turn it into a statement piece by filling it with colorful pottery. Mix together several different colors, like green, yellow, orange and blue. Or, pick one color and repeat it in new and interesting ways through several displays, like we did here.
Taking our inspiration from the accent pillows on the sofa in front of the hutch, we pulled together a selection of coral colored pottery pieces in an array of sizes and shapes. To prevent the display from being too dark, we also added in a liberal amount of creamy white pottery vases and urns.
The reason this displays works, and isn't boring or busy, is the staging. We set off each mini tableau with a piece of framed art, casually leaned against the back of the shelf. Then, we played around with the positioning of each pottery piece. Some pieces were elevated on risers like books or capitals. Others were tipped on their sides. Finally, we broke up the sea of shiny finishes by tucking in a few potted ferns and inserting rolled up paper in the mouth of some of the urns. Thanks to the blend of textures, shapes and sizes, this hutch display is a head-turner.
Shake up Your Coffee Table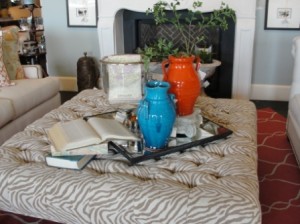 Pottery is a great way to infuse your coffee table display with color and substance, especially if your room is full of neutrals, like this one at Nell Hill's Briarcliff. And since the pottery is so inexpensive, it's a great choice for a high-traffic area like a coffee table because if it gets bumped and breaks, you won't be out a fortune.
To give the pottery something stable to stand upon on this upholstered ottoman coffee table, we stared the display on a sizable mirrored tray. We used a capital riser to hoist one of our pots, giving the scene visual height. We balanced the duo of pots by placing a hurricane on the left side of the display, filling it with a book wrapped in a jacket made out of a map. I like how the colors in the map subtly reflect the bright blue and orange pots. The stack of books in the foreground softens up all the hard surfaces and makes the display look natural, not stuffy and staged.
Wake Up Boring Bookcases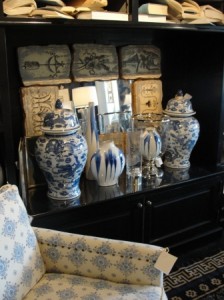 Since I'm such a huge fan of blue and white Asian pottery, I just had to show you an example of how to use this timeless classic in a more contemporary setting. We leaned a unique mirror against the back of a large open compartment in this black bookcase. Next, we placed traditional ginger jars on either side. Then, we filled in the space between the ginger jars with a few pieces of modern pottery that feature a complementary white and blue glaze. Because the bookcase is so dark, we wove in some glass accents to give the display some snap, crackle and pop.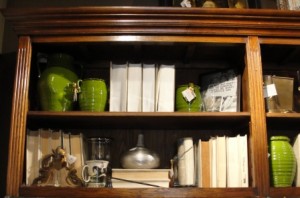 This lovely bookcase needed a bit of color. So we removed a few books to make room for a selection of green pottery. We decided to stick with one key color and shape for this simple display, but you could easily mix in pottery in an array of colors and shapes. These cute pots are not just fun, they are functional, working perfectly as bookends.
Next Week … The right accent lamps can infuse your décor with personality. I'll share some tips for picking the perfect lamps for your home.