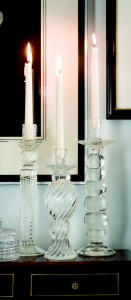 I love romantic candlelight. And the older I get, the more firmly I believe that everything – and everyone – looks better in its soft, forgiving glow. And while you'll find lots of displays in my home that feature candles, from elegant tapers on my dining room table to tiny tea lights on my kitchen windowsill, I just as often leave the candles out of the picture altogether and decorate with just the candlesticks themselves. Candlesticks often bring a much-needed sculptural element to displays, and you can use them in existing tableaux all over your home.
Do you have some eye-catching candlesticks you'd like to work into your interior decorating?  Here are four spots in your home where you can show off your candlesticks, creating simple but fetching displays.
I love all kinds of candlesticks, from traditional silver candelabras to contemporary turned wood pillars. But right now I'm over the moon about a line of glass candlesticks I discovered at market this year. With their clean lines and tantalizing sparkle, I think they capture the best of traditional and contemporary design. Since this collection looks marvelous in any style home, I decided to feature them in each of the displays we styled for today's blog. But you could easily create a similar look with any candlesticks that capture your heart.
Light Up a Coffee Table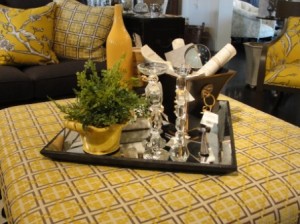 Whether you have a traditional coffee table or an upholstered ottoman in your living room, it's probably screaming for a killer display like this one. I think the duo of crystal candlesticks, featured front and center in our grouping, looks amazing in this setting. We went for the "sparkle" factor in this tableau, grounding the display on a mirrored tray.
We're embracing a transitional style at Nell Hill's now, one that welcomes both the simplicity and spunk of contemporary interior design and the timeless style of traditional décor. That's what you'll find in this display. Vintage looking accents, like the metal planter filled with curled up papers, a looking glass and the stack of old books, balance the bold pottery in today's popular marigold hue.
To build a display like this in your home, select a pair or trio of similar candlesticks and place them in the center of a tray. Position some larger decorative items, like the bucket and bottle, in the background, on either side of the candlesticks. Then pose smaller accents on either side of the sticks, as we did with this fern in a fun pottery bowl and candle snuffer.
Dress Up a Buffet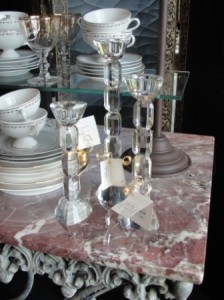 Candlesticks look as great on your dining room buffet as they do on your dining room table. And look how easy it is to do! The lovely dishes, displayed on a two-tiered dessert server, were the main attraction on this serving table, and we didn't want to detract from our deserving focal point. But we wanted to add in a little light through our glass candlesticks. So, we clustered three candlesticks, all in different heights, in the foreground of the display. I think they bring the perfect finishing touch.
What's on your dining room buffet or console tables right now? If you have a display you like, spark it up a little by adding in a few candlesticks.
Make Bookcases Beautiful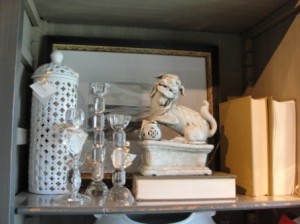 I think books should be the main attraction in bookcases. But that doesn't mean you still can't have some fun on those miles and miles of welcoming shelves. The bookcase in the snapshot above has lots of little compartments, each one acting like a stage waiting for a great tableau. We rose to the challenge, creating this lovely look with a few key accents, our glass candlesticks among them. One of our favorite tricks at Nell Hill's is to use a piece of artwork as the backdrop for a display in a bookcase. The Asian lion statue is the focal point, but the display wouldn't work without the set of glass candlesticks, which partner with the urn on the left to balance the stack of books on the right.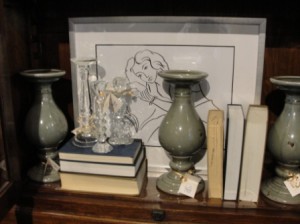 Here's a variation of the same look. Once again, we created a great transitional feel by using a piece of contemporary artwork as the backdrop to this bookcase display. The three pottery pillar candlesticks give the composition structure and balance, but it's our glass candlesticks, standing proud on a riser made of books, that take this display from average to awesome.
Look over your bookcases. Are they intriguing to look at, grabbing the eye and capturing the imagination? If you have wall to wall books, remove some and have some fun, putting a piece of artwork in the background. Then, bring in some candlesticks and a few other great accents, like a potted fern, a piece of statuary or a selection of colorful pottery.
Create a Masterpiece on the Mantel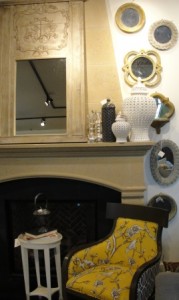 Candlesticks are an ideal pick for your mantel, especially if it's exceptionally thin. They give lots of vertical height, so desperately needed in an effective mantel display, without requiring much space to sit on. In the Nell Hill's Briarcliff gallery featured in the snapshot above, we created an enchanting transitional look with gray and marigold, blending contemporary fabrics and traditional furnishings. The bold mantel display is the perfect addition to the space. The glass candlesticks echo the sparkle given off by the montage of mirrors that surrounds the hearth. And, they are a great addition to the collection of unusual pottery urns clustered at each of the mantel's corners.
Whether you want a symmetrical look, where each side of the mantel is a mirror image of the other, or an asymmetrical display, where the sides are daringly different yet visually balanced, you can use candlesticks to help you get there.
Next Week … I can't get enough of today's brightly colored pottery, an inexpensive and easy way to liven up your décor. Come back next week when I'll show you how to use these playful pieces in your existing displays to make your spaces fresher.