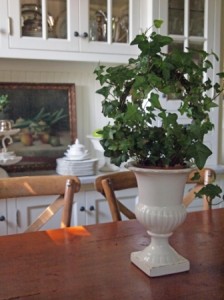 No matter how crazy our schedules get, several nights a week Dan and I try to enjoy a family meal at home. We invite my mom over, and Dan cooks up something wonderful. Then the three of us relax around the kitchen table, catching up on each others' lives. I think some of my fondest moments are spent at that little table, connecting with those I hold most dear. I bet you feel the same!
Why not make this all-important family gathering spot as beautiful as it is welcoming by dressing it up with a stunning but simple centerpiece? Here are three looks you can try today….
1. Tell a Story with a Tableau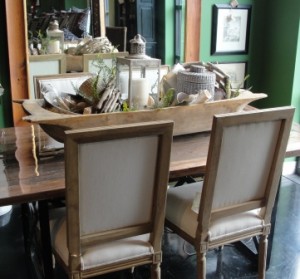 Sometimes, I like to tell stories with my centerpiece designs. I've come up with some whoppers for my dining room table in the past. But on my kitchen table, I try to keep things simple since this is a hard-working spot where function is paramount. Your centerpiece must not only be scaled appropriately for your kitchen and the table itself, it must also allow ample room for your place settings and serving pieces. In addition, be sure it is short enough to see over so it doesn't create a barrier to good discussion.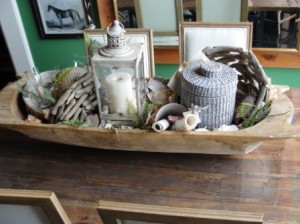 This head-turning kitchen table centerpiece is low enough to see over and portable, so you can easily move it off the table if you need to make more room. Built in a wooden dough bowl, this still life pays tribute to the sea. Featuring the soft color palette of a restful beach, it pulls together iconic yet interesting accents that seem to have a tale to tell: a weathered hurricane lamp, a bowl made from driftwood and a stack of seashells.
You could use all sorts of decorative tools to serve as the base of your kitchen table tableau, like a tray or a framed mirror. Then, use your creativity to come up with a scene that speaks to you and your family.
2. Spotlight Beautiful Blooms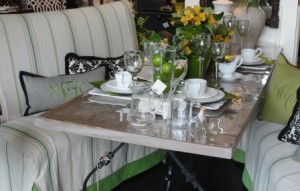 People have been using flowers to dress up their kitchen tables since the dawn of time, and no wonder. Beautiful blossoms make everything lovely. I think these simple bouquets of yellow flowers, unceremoniously scattered in a cluster of green pottery vases, is the perfect finishing touch to this great kitchen tablescape.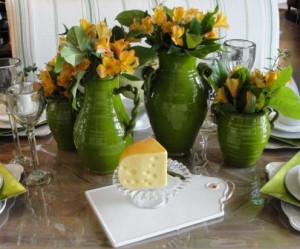 To pull off this super simple look, we picked out a quartet of similar green pottery vases. The variation in the size and shape of the vases gives this fresh display more movement and visual interest. If you like, snip some blossoms from your garden and tuck them willy-nilly into the vases. Or, pick up an inexpensive cash-and-carry bouquet from the grocery store, like we did here. The key is to make the bouquets look just-picked, not styled and fussy.
For a variation on this look, get three to five matching vases and line them up at regular intervals down the middle of your table. Then, fill them with cuttings from your garden, from budding branches in the spring to evergreen boughs in the winter. By keeping the vases low and the bouquets tightly cropped, you ensure that your overall display won't be intrusive.
On my kitchen table right now I have a single white urn that's holding an ivy topiary. It's the perfect scale for my narrow kitchen table and fills my need to have a live plant in my house, even though with my brown thumb, it probably won't live very long.
3. Get Fruity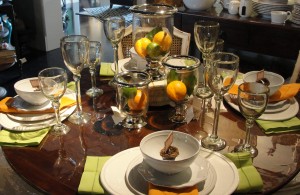 Hurricane lamps are one of my favorite decorating building blocks because you can reinvent them over and over again. Perfect chameleons, they instantly take on the look and feel of any display they are used in.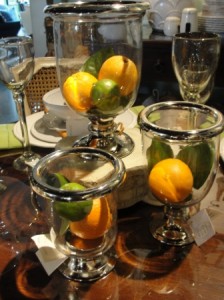 Here, we've created a super simple but spunky centerpiece using three hurricanes, each filled with a few fresh lemons and limes. To give the grouping more visual interest, we placed one of the hurricanes on a riser. Our pick was a faux concrete capital, one of our hottest sellers at Nell Hill's (you can get one right now at Nell Hill's Online!).
Another fabulous way to use fresh fruit in a kitchen table centerpiece is to simply place it in a lovely bowl. I like to fill a blue and white Asian pottery bowl with green apples in the summer; in the fall, it's red pears. Another look that's grabbed my attention right now is placing a long, narrow tray at the table's center and filling it with a line of fruit, like a row of apples.
Next Week … I'll share fast and easy ways you can use candlesticks to create simple but fetching displays in four key spots in your home.