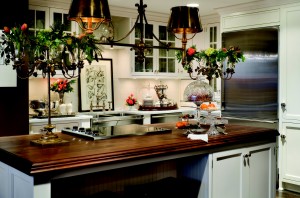 For most of us, our kitchen is the heart of our home, and some of our best memories are made when it's filled with family and friends. If you have an island in your kitchen, chances are this is the hub around which all the love and laughter is shared.
Since your kitchen island is such an important place in your home – and in your life — make it beautiful. Here are four quick and easy looks to inspire you.
The key to styling a show-stealing kitchen island display is to match the scale of your arrangement with the size of your kitchen and of the island. For example, many newer homes have large kitchens with islands that are so expansive, you could almost call them continents. To keep a display from being swallowed up on a bigger island, it needs to carry some visual weight. But the same display on my tiny kitchen island would be overpowering. Scale is everything!
Once you know what size your display should be, select one larger-scale accent piece to serve as the base. Then, weave in additional elements, such as seasonal decor, to create the lovely layers that make the finished tableau intriguing.
Here are four great looks to inspire you:
1. Just Desserts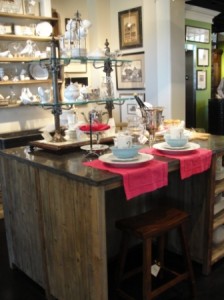 I am crazy about two-tiered French dessert servers. If the truth be told, I decided to add an island to my kitchen just so I would have a spot to display a dessert server in my home. Tall and narrow, a dessert server is the perfect pick for my little kitchen because it doesn't take up much counter space yet gives me lots of shelves to dress up with accents. And, the glass shelves make it less visually overpowering.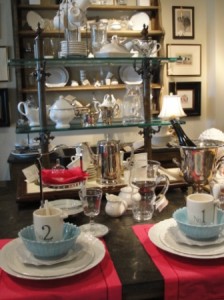 The snapshot above features a server just like the one in my kitchen. Here, we filled it full of lovely dishes, treating it almost like an open air china hutch. This is a fabulous way to add storage to your kitchen and show off some of your most treasured china.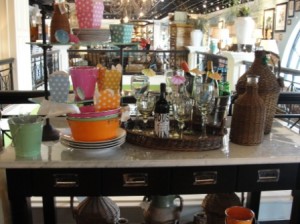 The dessert server shown in this playful display is not only beautiful, it's a bargain, and it's been selling like hotcakes at Nell Hill's. Here, the visual team has dressed the island for a summer party.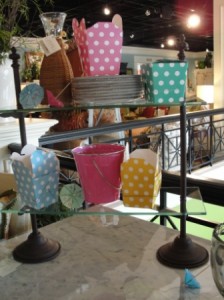 The dessert server, placed at the back of the display, makes a perfect backdrop for the drink and snack stations on the island. The shelves are lined with brightly colored boxes that could be filled with snacks. You could easily substitute them with  bowls of condiments for your burger bar or ice cream toppings for your ice cream sundae bar.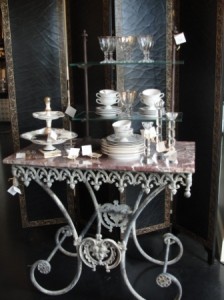 I just had to show you one more shot of this versatile server in action. This time, it's part of a coffee buffet on a side table. Doesn't it look elegant in this setting? Of all the decorating building blocks I've carried through the years, this piece is one of the most functional. (You can order one for yourself right now at Nell Hill's On Line!)
2. Beauty in a Birdbath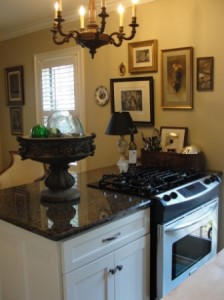 Concrete statuary, with its aged patina, interesting lines and strong visual weight, is an excellent option for your kitchen island, no matter what size the island is. Here, my friend Marsee filled a concrete birdbath with glass balls in all sorts of sizes and hues of green. Depending upon the season, you'll find this cute birdbath filled with different items, like gourds or seashells. It serves as an arresting focal point on her kitchen island, strong and proud but not overwhelming.
3. Urn a Second Look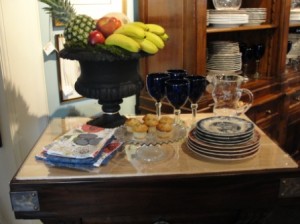 Black iron urns aren't just for the garden. They are also fabulous on kitchen islands. Here, the Nell Hill's team has styled a kitchen island for a brunch. The capstone is a wonderful urn holding a medley of fresh fruit. I love working with urns because you can change them in a snap, reinventing their look for special events or to reflect the season. For instance, for fall, simply place a fat pumpkin on top of an urn and your kitchen island display is done! For the holidays, fill it with tree ornaments or large pinecones painted silver and gold.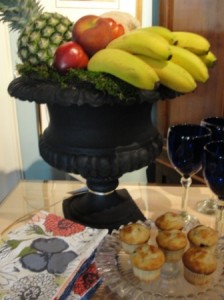 One of the secrets to making your fresh fruit displays look so professional is to place a layer of moss between the top of the urn and the fruit. You could also use Spanish moss, letting a few tendrils trail down.
4. Dough Bowl Bliss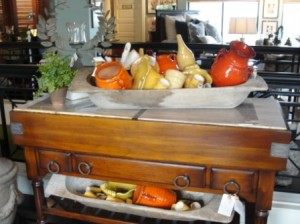 Aren't wooden dough bowls amazing? We still can't get enough of these big beauties at Nell Hill's because you can reinvent them again and again, making them one of the best investment pieces you'll find. Wooden dough bowls are particularly perfect for kitchen island displays because they are long and thin, giving you lots of visual weight without eating up precious counter space.
In this unusual kitchen island display, we've filled a dough bowl with brightly colored pottery. The reason this display works is we've mixed together a variety of sizes and shapes, but kept our color palette harmonious, centering around the warm hues of gold and orange. For added texture, we tucked in a few rolled up pages from old books and magazines. I'm hot on this look right now, and we're doing it in displays all over the stores.
Another great way to style your wooden dough bowl is to fill it with a line of potted ferns, a mess of ceramic balls, an arrangement of chunky candlesticks or seasonal items like gourds or pinecones.
Next Week … With your kitchen island looking fantastic, you'll be ready to turn your creative energy toward creating a simple, leave-on centerpiece for your kitchen table. I'll show you some great looks next week!