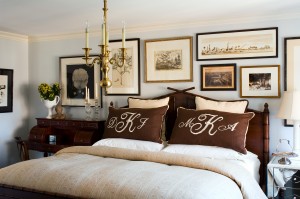 At Nell Hill's we love to help customers create a beautiful living environment that reflects their unique personalities. What better way to personalize a space than with your monogram? Monograms are more popular than ever because they look absolutely sensational in every style of home and in just about every spot. Here are some tips and tricks for working magic with monograms in your home. 
7 Spots in Your Home that May be Screaming for a Monogram
We've had fun over the years finding new and creative ways to artfully weave monogrammed items into room settings to give the spaces a truly individual look.
1. The Dining Room
*On the table …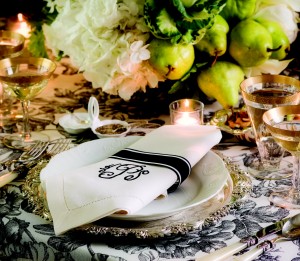 I think the ultimate in dining luxury is using monogrammed linens on your table. Start with a set of white napkins monogrammed in black or white so you can use them all year long and with a variety of plate colors. Watch out: Once you catch the bug, you will probably want monogrammed napkins in a variety of colors to match your seasonal decorating.
Or, hunt for vintage or antique monogrammed napkins at flea markets or antique stores. If you're lucky enough to find some marked with your initials, you've scored! If not, just find some that melt your heart, no matter whose initials they bear. Who cares if they are not yours? I have two different sets of antique napkins that feature beautiful raised monograms that aren't mine. The script on the napkins is so elegant – and unreadable – that you can't tell whose initials are on them. But even if the letters were clear, it wouldn't make a difference to me. I think of these treasured old linens as works of art and am thrilled to invite them to my dinner table.
One note of caution when adding monogrammed items to your dinner table setting. Pick one monogrammed piece and stop there. It may be your napkins, a set of dishes, napkin rings, silver or crystal. If you have more than one piece that's monogrammed, it will be overkill.
*On the chairs …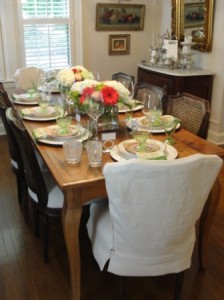 For the past 10 years, we've been placing monograms on dining room chairs to give the set a distinctive air. My friend Marsee, who is crazy about monograms, changed the look of her existing dining set by having monogrammed slipcovers made for the host and hostess chairs.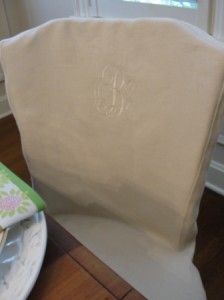 By picking a neutral linen fabric and a tone-on-tone monogram, she can easily change the look of her tabletop display without having to change the slipcovers – they go with everything. Another option is to add monograms to the back of custom upholstered dining room chairs. We do this all the time at Nell Hill's and I still can't get over how fabulous it looks. It blows me away by how easy it is to transport a dining room from "fine" to "fabulous" just by adding a few embroidered letters to the back of a chair.
*On the pillows …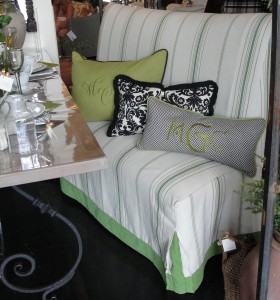 At market, I fell hard for this dining room bench dressed up in a slipcover. When it arrived at Nell Hill's Briarcliff, we gave it the special Nell Hill's touch by cozying it up with a cluster of too-cute pillows featuring monograms.
2. The Living Room
*On pillows…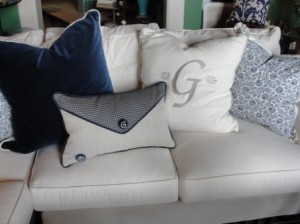 When I redid the accent pillows in my living room a few years ago, I included two Euro size navy blue pillows emblazoned with my monogram. Right now, they are plopped on my window seat, making it look all the more warm and inviting.
Adding a monogrammed pillow to the mix on your sofa or showcasing one on a side chair is an easy way to bring this fun look to your home. Or, make the look even more dramatic by mixing together a grouping of pillows, with several featuring different style monograms, like we did on this sofa at Nell Hill's Briarcliff, pictured in the snapshot above.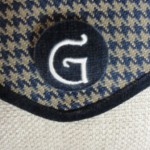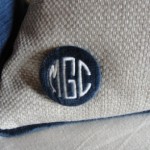 When you experiment with monogram styles, consider adding your mark in unusual ways, like we did on the buttons on this custom pillow. It's the ability to add arresting details like these that makes custom accent pillows so popular.
*On upholstered furniture…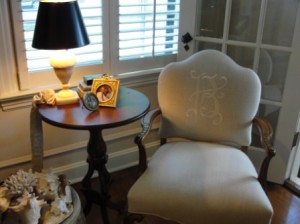 When Marsee had this lovely antique chair refinished, she decided to make it exceptionally beautiful by decorating it with a monogram. I'm crazy about monogrammed upholstered furniture, and we do this all the time at Nell Hill's Briarcliff. It takes a few extra steps, but it's well worth it when you see results like these.
3. The Bathroom
*On the shower curtain…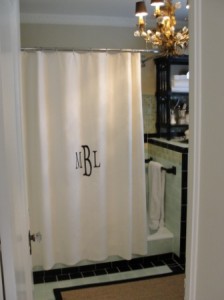 Get a load of this amazing shower curtain in Marsee's son's bathroom. The shower curtain is ready made – all she did was add the monogram.
*On the towels…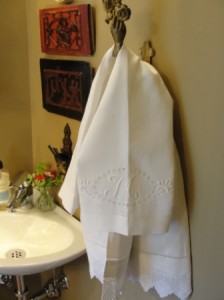 An easy way to elevate the look of a main floor powder room is to use monogrammed hand towels, like these beauties at Marsee's house.
4. The Home Office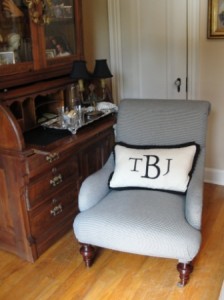 One of the great things about a home office is that you can make it truly reflective of your style. What better way to make it yours than by decorating it with your monogram? This adorable monogrammed pillow is the perfect finishing touch for this stylish work station at Marsee's home.
5. The Bedroom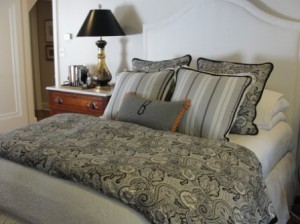 Monogrammed bed linens are a terrific way to give your bedroom character. My friend Melanie had custom pillow shams made for her bed, one of which featured her monogram and the other, her husband's. This is an especially good choice for couples who have different last names. In the snapshot above of Marsee's bed, she went for a sweet and simple approach – a small accent pillow monogrammed with the her family's last initial.
Another great spot to monogram is an upholstered headboard. We're seeing a resurgence in the number of people who want a custom fabric headboard, and these singular pieces look amazing decorated with a monogram.
6. A Hallway or Foyer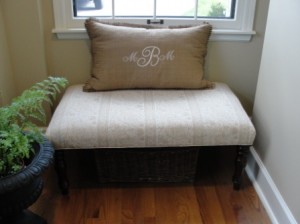 Hallways and foyers can be hard to decorate because they are often small and focused on function. Here's a great way to add charm to this busy spot: Tuck in an upholstered ottoman backed with a lovely monogrammed pillow. This simple but attractive grouping not only fills a dead space, it serves as a welcoming spot to sit while you put on your shoes or flip through the day's mail.
7. The Outdoor Rooms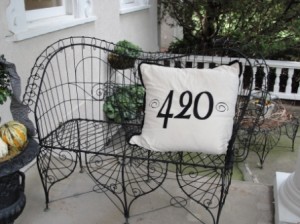 For fun, I had my house number monogrammed on an outdoor pillow and placed it on the wire benches that grace my front porch. The pillow adds a wonderful decorative element and assures visitors that they are in the right place.
3 Tips for Creating Monograms You'll Love
1. Put Your Initials in the Right Place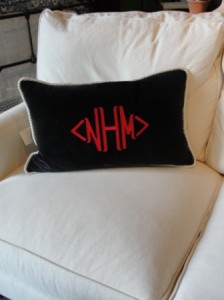 To find out the protocol for ordering initials in monograms, I went straight to the source: Patty, who does all the custom monograms for us at Nell Hill's. Patty says that when you're monogramming an item for a husband and wife with a shared last name, traditionally, the last initial is placed in the center and in a larger size. The wife's first name initial is placed on the left side and the husband's first name initial is placed on the right. If the wife has a hyphenated last name, you can include both last name initials in the center in a larger size.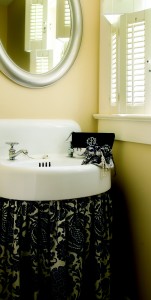 When doing a monogram for an individual, the last name initial goes in the center in a larger size. The first name initial is on the left and the middle initial is on the right. Another option is to do the initials all the same size and in order, first, middle and last name.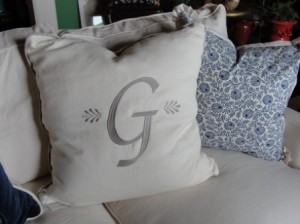 Before you have a monogram done, Patty advises seeing what the finished product will look like. One reason is to avoid embarrassment: sometimes initials spell words you probably don't want decorating your home. For instance, when combined, Patty and her husband's monogram is PMS. "I don't want a pillow spelling PMS in my living room," she laughs. So, she switched the position of the letters so they read SMP. Another option for those with problematic initials is to simply use the letter of your first or last name, like the pillow pictured in the snapshot above.
2. Pick Great Fabric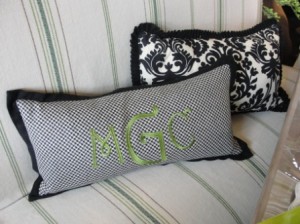 While monograms look sensational on solid fabrics, don't be afraid to put them on patterns. Right now at Nell Hill's we are doing a lot of monograms on hound's tooth check, stripes and old fashioned ticking. They turn out fabulously, as you can tell from the snapshot above.
3. Select Stunning Styles and Colors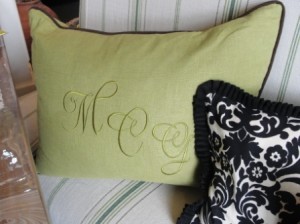 At Nell Hill's you can chose from 350 colors and over 100 fonts when designing a custom monogram, which means you can let your creativity run wild! When picking a font, make sure you see how your particular letters will look. Not every letter in every font is readable or attractive.
Another tip is to pick a font and color scheme that suits the size and style of the object you are having monogrammed. For instance, if you are monogramming tip towels for your formal powder room, you'll want something that looks a bit more elegant. If you're monogramming a headboard for your little boy's room, you might want something a bit more playful.
Don't be afraid to try something new. In the aftermath of the royal wedding, we've been experimenting with a new monogrammed look inspired by Will and Kate's royal monogram. The man's first name initial, done in a block font, is the base of the monogram. Then, the woman's first name initial, done in an elegant script, overlays the man's initial below. The result is a lovely piece of artwork.
When coming up with your monogram, try putting the letters in the shape of a diamond or circle. Or, place the letters back to back. Consider alternating different colors. Or, go with a simple tone on tone.
Next Week … Stumped by how to decorate your kitchen island? I'll have three different looks to inspire you.