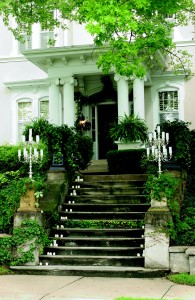 I know you shouldn't judge a book by its cover, but as a decorating enthusiast, it's particularly hard for me to not judge a home by its exterior. That's where you create your first impression and let people know what they can expect inside.
Is your home's exterior creating the impression you'd like? If not, the good news is, you usually don't have to do a lot of work or spend a pile of cash to make your home shine. Often, it's the little details that make the difference.
A Doozie of a Door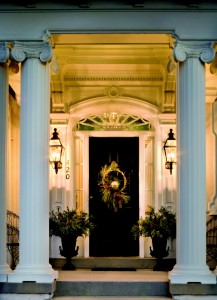 When I visit new cities, I like to drive around and look at houses, checking out what different owners do to make their homes' exteriors beautiful and inviting. I've noticed that one single feature draws me like a magnet: a fabulous front door treatment.
Show me a drop-dead gorgeous door, and I'm covered in goose bumps. I have to restrain myself from ringing the bell and begging for a tour.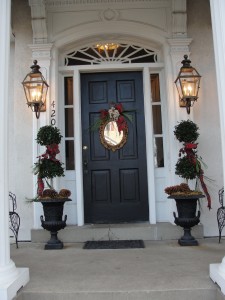 Before you tackle your door treatment, first stand back and do an honest evaluation of your home's front elevation. Are you dazzled by the exterior lighting? If not, perhaps it's time for new light fixtures. The ho-hum lamps that originally lit my front door lacked the large scale and detailing my tall entry demanded, so I swapped them out for two black wall sconces that better suit my home. It was a small change, but it made a big difference.
Does the hardware on your door look like it has had a hard-knock life? Does it lack character and charm? If so, consider installing a new doorknocker, handle or kick plate.
How about the color of your door? If your paint is faded or just plain blah, pop open a can of paint and treat your door to a new hue. I'm crazy about black doors because they are filled with drama, but I also adore bright red or black-green.
Once your home's entrance looks its best, bring on the door décor! This summer, consider dressing up your door with something out of the ordinary, like a hanging mirror, a lantern, a basket filled with flowers or a clock. Or, look for a beautiful wreath, the gold standard.
Splurge on a Showplace Piece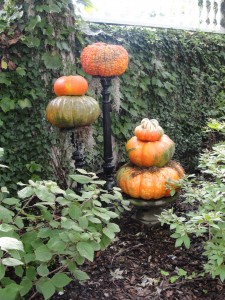 Every spring my friend Gloria, who is a master gardener, invests in one beautiful ornament for her garden, a new piece that will give her outdoor space style or a bit of whimsy. One year it was an oversized lantern. She placed the lantern atop an iron garden urn on her front porch then filled it with a small garden statue and faux spring greens. The affect was simply stunning. The trio of oversized iron candlesticks pictured above has become a mainstay of my seasonal garden décor. Here, I've topped them with pumpkins. In the winter, it may be green gazing balls that look like tree ornaments.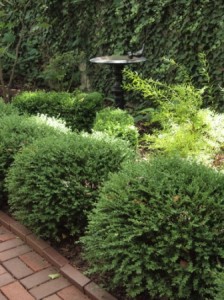 How about getting a fountain or birdbath? Have you always wanted an arbor at your garden's entrance, covered with climbing roses? Maybe a unique or stately trellis for your clematis or morning glories to climb upon?
Create Living Space with Comfy Furniture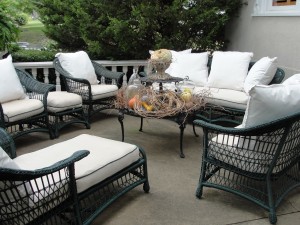 I use regular "indoor" furnishings on my covered screened porch and love how it makes this open air room seem like an extension of my home's interior. But on the exposed patios at the front of my house, where tall trees drop leaves and birds drop other things … I have opted for more weather and wear resistant furniture. My favorite is outdoor wicker pieces, including a sofa, side chairs and an ottoman. Today's synthetic wicker has come a long way in terms of style. It looks lovely and wears well. At Nell Hill's Briarcliff, we have a host of beautiful indoor-outdoor fabrics you can chose from to cover your cushions in durable style.
Make Magic with Paint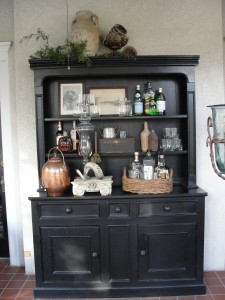 If your outdoor furnishings look a bit worn or lackluster, brighten them up with new paint. I took a boring wooden hutch and with a coat of black paint, transformed it into an attractive display case and bar that serves as the focal point of my porch.
You can't miss when you paint outdoor furnishings classic colors like black, white or cream. But if you're feeling adventurous, crack open a can of today's hot colors and have fun. Paint your wooden garden bench apple green, then toss on some navy and white pillows. Or jazz up your wrought iron dining set with a coat of periwinkle blue, purple or tangerine paint.
If you like how your furnishings look dressed in these spunky colors, keep going. Paint your arbor a vibrant color that accents the plants that will be growing there soon. Or, pull a color from your outdoor linens and use it to paint your pergola.
Ramp up Your Porch Linens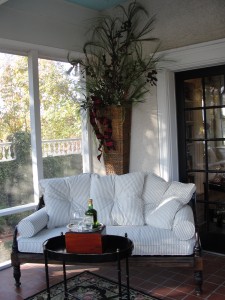 Sun and rain can wreak havoc on your outdoor linens, leaving them stained and bleached out. If your cushions and pillows are looking shabby, treat yourself to some new ones this year.
Get out your sunglasses because one of today's hot looks in outdoor fabrics is bold and bright. You'll see lots of electric hues like apple green, orange and sunny lemon, and a wealth of peppy patterns that feature huge flowers and funky geometric shapes.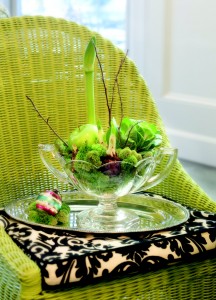 A friend of mine created a sensational look on her outdoor patio using black, cream and apple green. For her seat cushions and pillows, she mixed three black and cream fabrics – an old-fashioned ticking, a fat stripe and a wonderful abstract floral. Then she added a jolt with apple green, brought in through pillows and accents. The chair pictured above is another take on this exciting color combination.
Beef up Your Backyard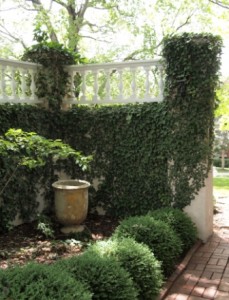 If you love to hang out in your outdoor room, consider investing in some infrastructure improvements. A few years back, Dan and I walled in our tiny backyard, transforming it into a private courtyard like those we admired in Charleston. If you love to barbecue, add an outdoor kitchen with a built-in gas grill, fridge and serving bar. If you entertain a lot, think about adding a brick or flagstone patio surrounded by flowerbeds. If your outdoor space is a quiet retreat, how about a soothing water feature?
Next Week … Monograms are more popular than ever these days. I'll have some fun ideas for using your initials to add a singular sense of style to your home.