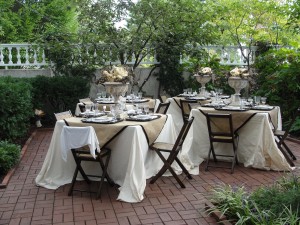 I love beautiful gardens, but the sad truth is, I don't have a gardening bone in my body. Thankfully my dear friends Gloria and Lynda, Master Gardeners extraordinaire, took pity on me several years ago and adopted my poor, neglected courtyard, turning my little plot of dirt into a paradise. Watching them at work, even I've been able to learn a few things about creating a gorgeous garden .…
To Thine Own Self Be True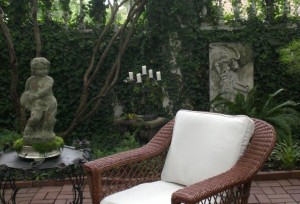 For many of my friends, gardening is a way they refill their batteries. But for me, it's a chore. You'll never find me planting, mulching or pruning. In fact, I don't even water. Until we finally installed an irrigation system, my courtyard was more like a graveyard for plants. So, when Lynda and Gloria designed my garden, they knew they had to be realistic. They stayed far away from fussy flowers that need lots of TLC and instead picked plants that are super heroes, possessing death-defying abilities.
When you are planning the garden at your home, do an honest assessment of your plant passion. Are you happiest when digging in the dirt, or is weeding, pruning and mulching your idea of a prison sentence? Make sure you install a garden that suits your gardening ability and level of commitment. Otherwise, your garden won't be a sanctuary; it will be a constant source of guilt.
Make a Statement with Statuary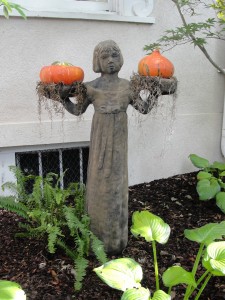 Through the years I've invested in a few pieces of garden statuary and positioned these unique works of art so they peek out from the ivy and hostas in my courtyard, a surprise awaiting the careful observer. If you're adding statuary, be careful not to overdo. Just a piece or two is all you need to bring sophisticated style to your garden.
Variety is the Spice of Life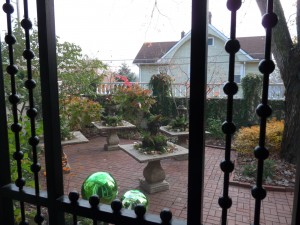 Gloria and Lynda have taught me that you should include a variety of shrubs and flowers in your garden so it looks great all year long, not just during the summer. For example, in the spring, the cascading branches of the Itea (Virginia Sweetspire) shrubs they planted provide a lush background for flowers. Then, in the fall, this bush takes center stage when its leaves turn a bronze-burgundy color. In winter, its red branches look amazing dusted with snow.
In the spring, my garden is a colorful showplace. There's a cluster of azaleas that will make your jaw drop when they're on fire with blossoms. I have a lovely lilac that fills the air with sweet perfume, as does my juddii viburnum. But nothing beats the peonies!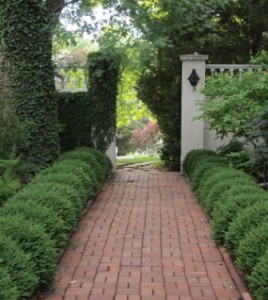 As soon as the spring bloomers are done, my garden slips into a more restful state, circling around a simple palette of green and white. The oak leaf hydrangeas, with their soft, conical flower clusters, are beautiful all summer. As the blossoms die, they turn from cream to pink to tan. The bushes hold these dried flowers all winter long, adding visual interest to my winter garden. In the fall, the leaves of this showy bush turn a rich bronze color. All year long, the phalanx of boxwoods that lines the pathway through my courtyard adds structure and color.
Layer it Up
I've learned that designing a garden is a lot like creating a decorative display. You put the large and tall items in the background, where they serve as an artful backdrop. You place mid-sized pieces in the middle ground, your focal point. And in the foreground, you fill in with a few smaller pieces that lend interesting details.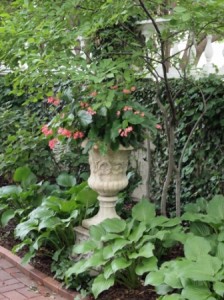 In my garden, all my taller shrubs, like the oak leaf hydrangea, serve as my backdrop. In the middle ground are the small shrubs, like the azaleas. In the foreground is a delightful mix of hostas, some that are such a bright lime green hue that it looks like they're under a spotlight.  Lynda and Gloria have also planted variegated liriope, with its green and yellow striped leaves and sweet purple flowers that comes on later in the season.
Urn Respect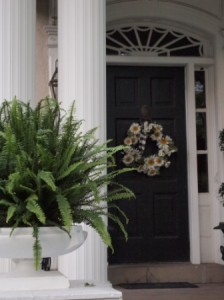 Because my inability to water is especially hard on potted flowers, Gloria and Lynda fill my garden urns with low-care plants. My running favorite is the Kimberly Queen fern because this plant is full and lush and incredibly hardy. Every year we put them in the concrete urns in front of my home because I haven't found anything that can rival them for simplicity or style.
Each spring, Lynda and Gloria plant two-balled eugenia topiaries in the iron urns that stand guard on either side of my front door. The topiaries match the formal exterior of my historic Greek revival home and give me a fun place to play when I want to decorate seasonally. For instance, in the fall I will twist ribbons or honeysuckle vines around them and cluster pumpkins and gourds at their base.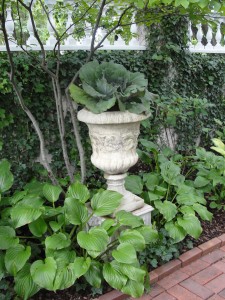 While the front urns usually stay the same year to year, Lynda and Gloria have planted a variety of things in the urns in my courtyard. Sometimes, it's shrubs like boxwoods, evergreens or Iteas, that they then transplant into my garden at the end of the season. For my annual Fall Open House, when my home and garden are open for public tour, they remake my urns, perhaps filling them with something like purple fountain grass, with its fluffy tassels that wave in the autumn wind.
Keep it Clean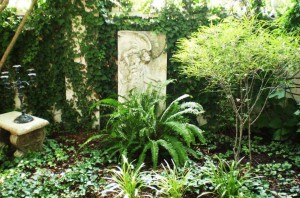 Each spring and fall, Gloria and Lynda give my garden a good grooming. They canvass the beds, raking leaves, deadheading tired flowers and surrounding everything with a protective layer of mulch. They also prune the shrubs, keeping them in check and trimming up the lower limbs so there is room under the bushes to plant things like hostas.
Next week … Long before they walk in your door, people make their first impression of your home based on its exterior. I'll share some easy ideas for amping up the curb appeal of your home.