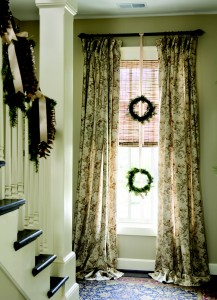 When someone walks into my house, I don't want them to say, "What lovely window treatments!" I want them to say, "What a lovely home." For me, every element in an interior space, from the furnishings to the accents, should work together to create a cohesive look. To get there, each individual piece in a room needs to be superb but not selfish, screaming above the rest to get the attention. This maxim is especially true when it comes to window treatments, which have the unique challenge of pulling a room together without stealing the show. The secret to achieving this careful balance is to select the right style of treatment and the fabulous fabric that pulls it off perfectly. Here are three sensational looks.
Look One: Romantic and Timeless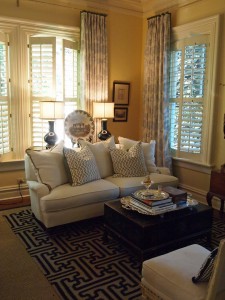 For the past 22 years, the windows on my main floor were covered with plantation shutters. I really like how the shutters offer privacy and light control, all with a simple tilt of the levers. But this year I decided to take the next step and dress up the windows a bit more by adding drapes.
I'm not a fan of fussy window treatments. In fact, I think designers go too far when they concoct complicated treatments that detract from the beauty of the overall room. So I opted for simple pleated panels hung from a nondescript curtain rod. (I mounted the rod well above the tops of the windows, just a few inches from the ceiling, then hemmed them so they barely broke on the floor, just like a man's trousers.)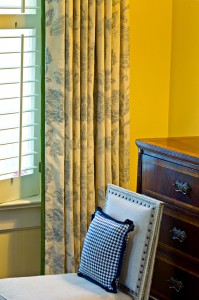 What makes the window treatments so beautiful isn't the fancy design, but the killer fabrics. Because I used simple, classic, unassuming pinch pleat panels, I had more freedom to give the drapes lots of personality through gorgeous textiles and trims.
I wanted fabric with colors and pattern that would complement the room's decor, yet was so subtle I wouldn't get tired of it. The hands-down winner was the lush blue and cream floral print you see in the photo of my living room window above. I'm gaga over this fabric line, which we just started carrying at Nell Hill's Briarcliff, because it's a reproduction of an old English pattern, yet is surprisingly affordable.  Then, to give the drape a bit more kick, I trimmed each panel with a one-inch flange in parrot green silk.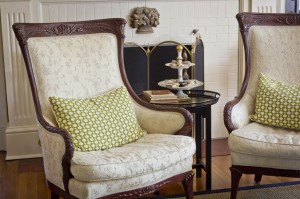 This was my first foray into bringing bright green into my living room. And I have to say, I love how that green pops! To tie in the drapes, I added just a hint of lively green through a few accent pillows. I like how these contemporary pillows look paired with these lovely old chairs that were Dan's mother's.
Find the Fabric at Nell Hill's Briarcliff:
If you're dreaming of a romantic, classic look for your window treatments, we have a wide array of great fabrics to temp you at Nell Hill's Briarcliff. Here are a few that are wonderfully romantic: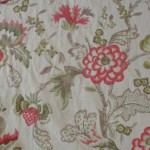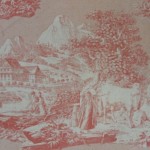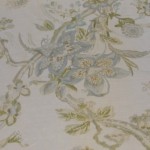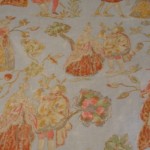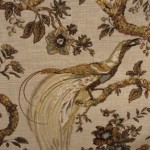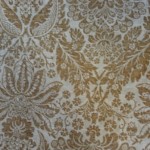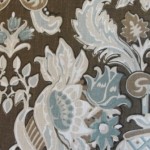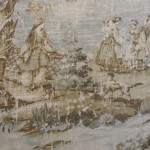 Look Two: Cozy and Classic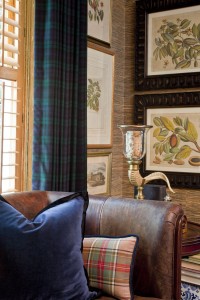 The English men's club look, with its yummy leather furnishing, men's wear fabric pillows and hunt-club accents like silver trophy cups and faux antlers, is one of my favorites. So when I designed our den, I wanted to play up the room's dark and cozy feel by weaving in some elements of a men's club look. The chocolate brown sofa, covered with men's wear fabric pillows, is one of Dan's and my favorite places to snuggle in to watch TV, read or enjoy our morning coffee during the winter months. Since the sofa stands in front of the room's biggest window, I knew that the fabric I selected for my panel drapes would need to frame this sofa well. My pick was a black watch tartan plaid. And once the window treatments were up, I cheered when I saw how well they tied in with the navy blue velvet, camel toile and tartan plaid pillows I already had on the sofa.
Find the Fabrics at Nell Hill's Briarcliff: There are so many great fabrics to choose from if you're trying to create a warm, masculine look in your study, living room, bedroom or library. Here are a few from the fabric room at Nell Hill's Briarcliff: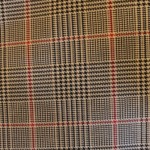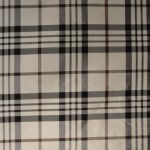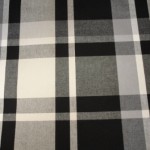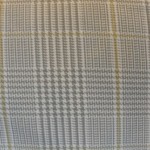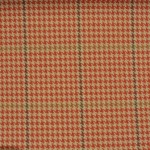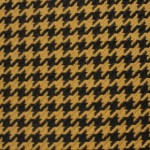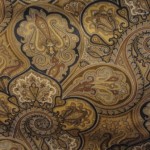 Look Three: Just for Fun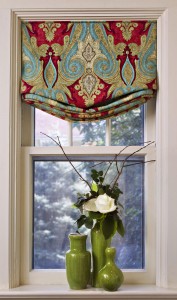 With its cream colored walls and cabinets, my kitchen defines the word neutral. I love it because it is so sophisticated. But now I'm craving a hit of color and I'm getting it through some snappy new window treatments, pictured above. Since I only have three small windows in my kitchen, I knew I could get away with a fabric that had a lot going on – lots of bold color and an energetic pattern.
Simple top treatments or shades are a great way to go in a kitchen. I had my heart set on Roman shades mounted inside the windows, and I was not disappointed when the curtains went up. I'm crazy about the combination of this unforgettable fabric and the soft folds of the Roman shade. Now that the curtains and up, I'm wondering why I waited more than two decades to do it!
Find the Fabric at Nell Hill's Briarcliff: Here are a few fun fabrics that I think would work well in a less formal space, like a kitchen, mud room, sun room or a child's room.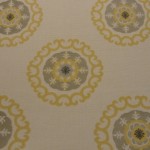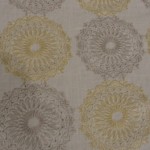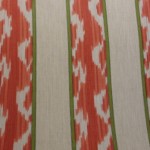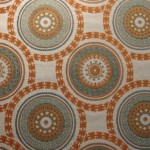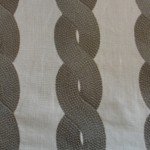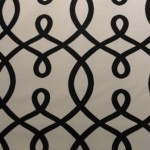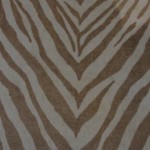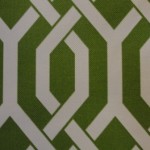 Next Week … Is your home's entry inviting? I'll share some tips that will help your foyer make a great first impression.