Last week I shared a few Spring-inspired flatlays with you, created by our Nell Hill's designers. They were tasked with concepting out a room inspired by this bloom-filled season, bringing their visions to life through bits of fabric, paint swatches, room finishings, and remnants of trim.
Not familiar with the concept of flatlays? They are an arrangement of objects on a flat surface and photographed from above. At Nell Hill's we use them like a mood board, that contain all manner of inspiration to help the client to understand how the elements come together and work in a space.
I love what our designers were able to accomplish and think that the resulting designs are as unique as the posys they're inspired by. I can't wait to share them with you!  
Bold & Beautiful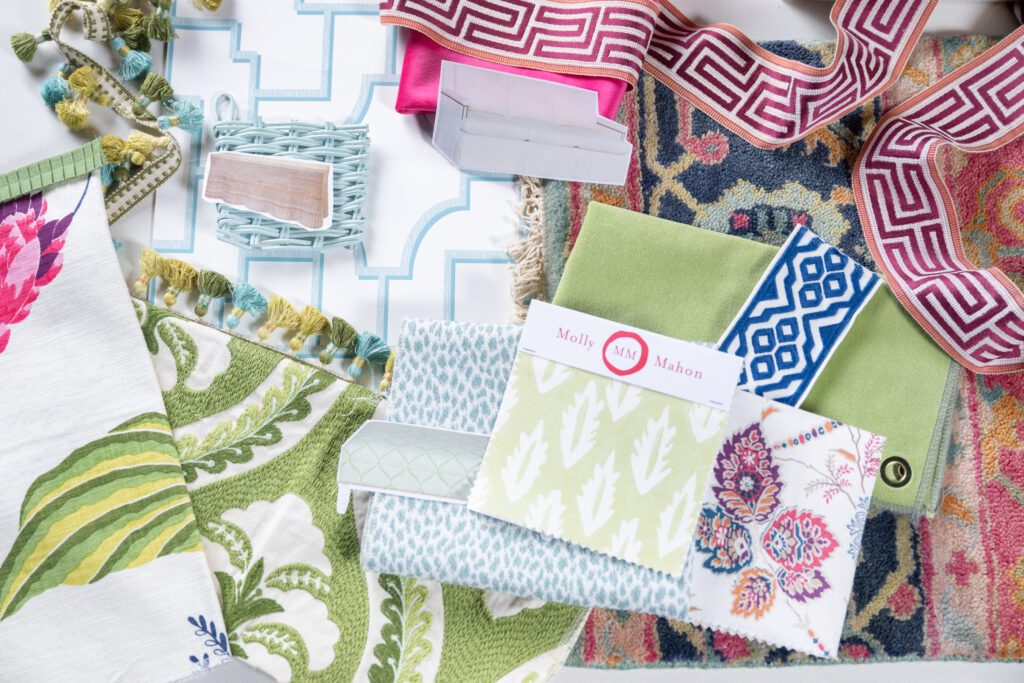 Taylor's flatlay design is a bold celebration of botanical color. Originally inspired by the colors found in the rug she selected for her room, her space is anchored by a colorful Nell Hill's floral fabric, Sylvie Fuschia. The drapery is imagined to have a simple green pleated trim running down the inside edge for an additional designer detail. Taylor had fun selecting the ottoman for the space, an entirely customizable version, from the shape to the fabric to the finish of the legs. She chose a light blue small-scale print and white spool leg to inject some softness into her design. The Jada sofa in a sumptuous pear green velvet commands the space, dressed with a blue tape trim running along the bottom of the skirt. A basket-woven console in dusky blue is the final addition.
A former Family and Consumer Sciences teacher and Interior Design instructor, Taylor is no stranger to design and she's excited to work with you! "I want a potential client to know that I bring my expertise, flair for pattern mixing, and an understanding that every client has a different vision for their space that we can make come to life at Nell Hill's through our incredible textile selection and knowledge of furniture." Schedule with Taylor.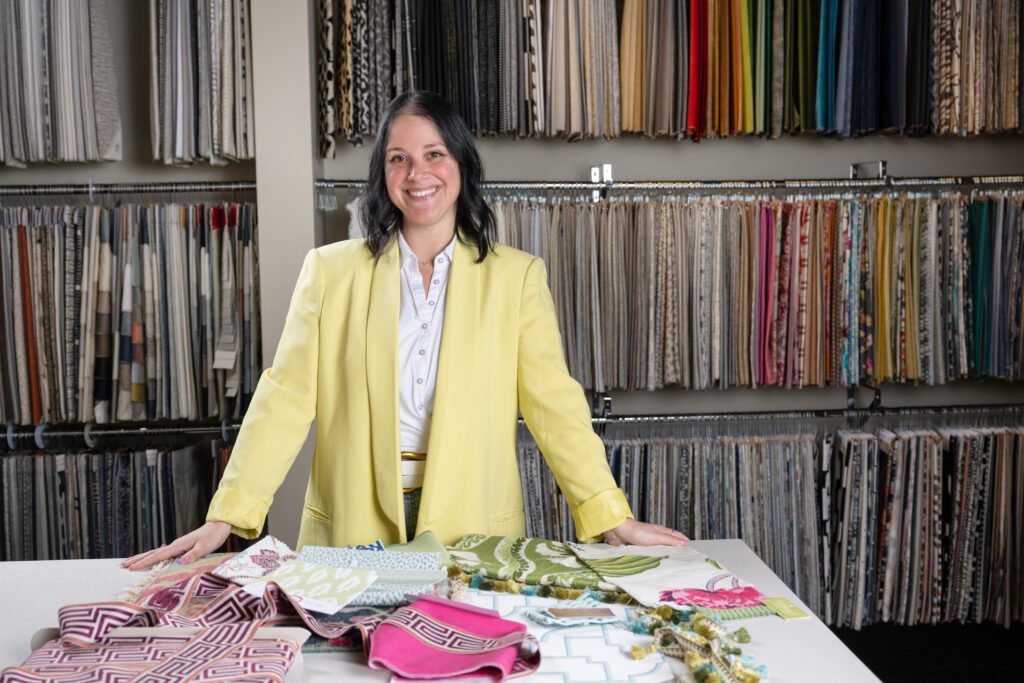 Sweetly Sophisticated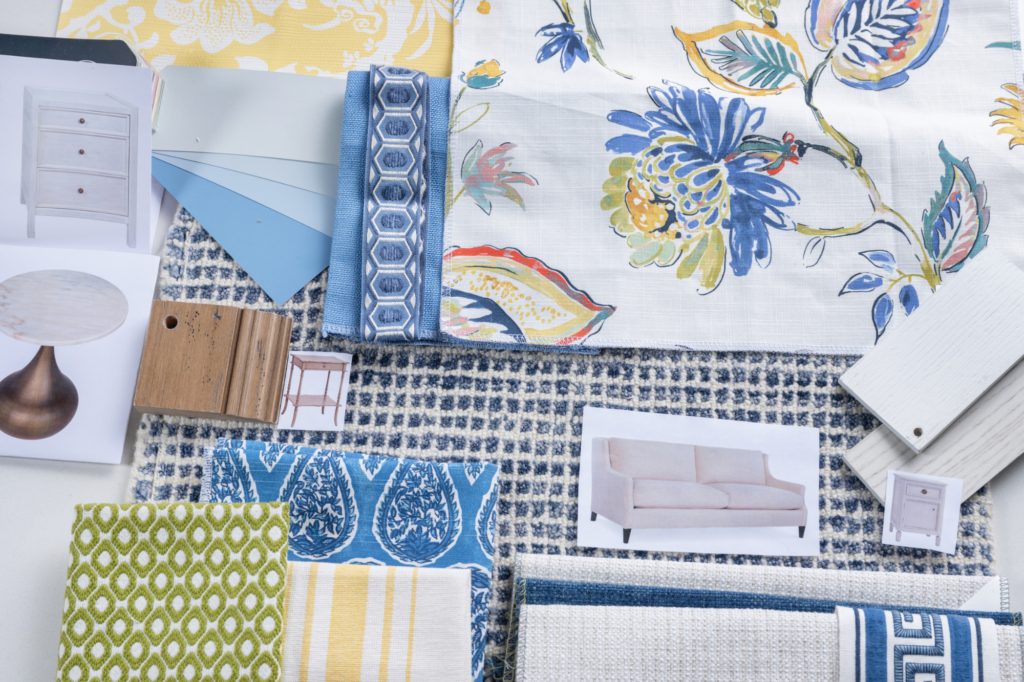 When creating her flatlay design, Dianne started with her signature attention to detail! The Nell Hill's fabric Liza Classic makes for gorgeous dining and living room window treatments with a trim of Anya Cobalt as a 2″ flange in one space and a cobalt tape trim on the leading edge of the other. From these fabulous treatments spring the colors for the entirety of the design.
In this design, the Austin sofa is done in a performance neutral fabric with blue contrast welt. The neutral fabric is perfect on the blue textured area rug and showcase pillows made in Waymaker Leave and Harbor Stripe. The yellow is echoed in the vibrant Thibaut Japanese Garden wallcovering on an accent wall, complemented with coordinating soft blue painted walls.

The side and accent tables are fun shapes and different materials, from marble, gold and painted high gloss white with a chestnut coffee table to warm the room. The window treatment fabric is the inspiration for the room design – fresh and vibrant and just what we need now to bring spring in!
 
When working with her clients, Dianne states, "My greatest priority is to fit the design to the client, listening is an important and necessary tool. As a designer, my favorite moment is when my client has their "aha!" moment and feels our project has come together." Schedule with Dianne.  
Summer Breeze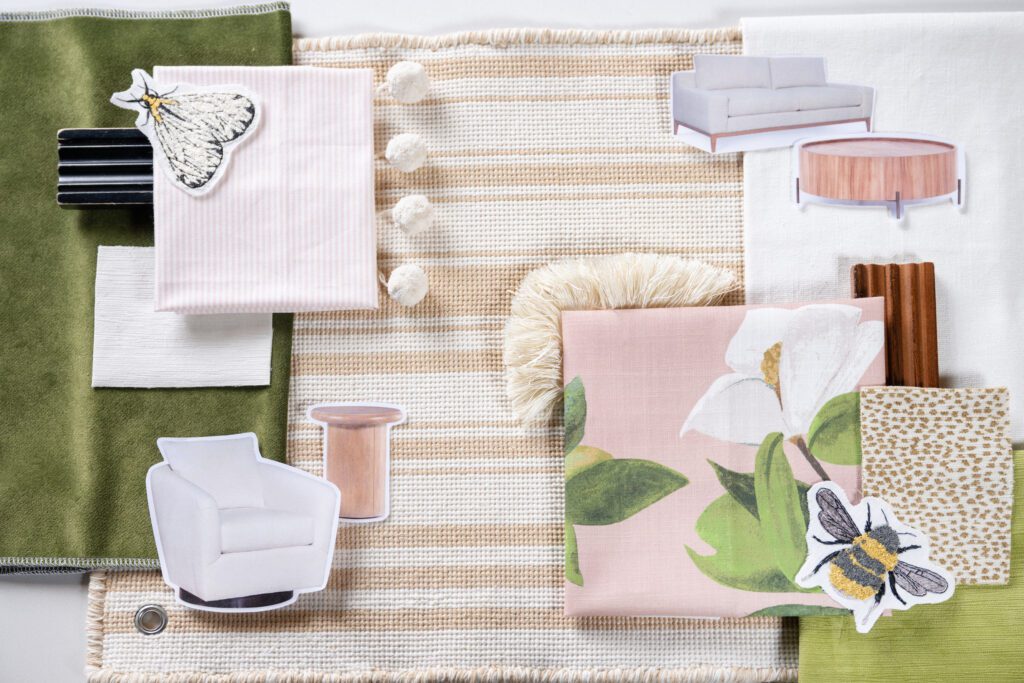 This design was inspired by the greens that the Spring time brings with pops of floral and pastels. Summer was inspired to create a calming, "light and airy" feel that could be applied to any space. She began by selecting the Shelby Rose Costal fabric then pulled in all the other elements to help support the colors and overall aesthetic.
Featured on the right, the Claude Sofa in Nell Hill's Showtime Oyster is paired with the fabrics just below it to create pillows. The pillows are made in bunches of spring fabrics, including Shelby Rose Costal, a perfect fern green, and the tan and cream dot, Siamese Tusk, which was imagined as a small lumbar pillow.
The lefthand side of the flatlay displays a swivel chair, imagined in the dark green Sintra Fern fabric, with the striped Baldwin Powder Pink fabric as a lumbar that includes a cording in Benson Vanilla and adorable pom pom trim. The space is anchored by the rug in the colorway Hampshire Stripe. The side lightly finished wood cocktail table and side tables keep the room feeling light.
As one of the newest designers on the Nell Hill's team, I asked Summer what she wanted someone to know about starting a design project with her. "When working with me, every element is considered, whether it's the textures within a space, the colors, the layout. Whether it's creating a space with lots of personality or a calming retreat, every space has a purpose and the end goal is finding that purpose."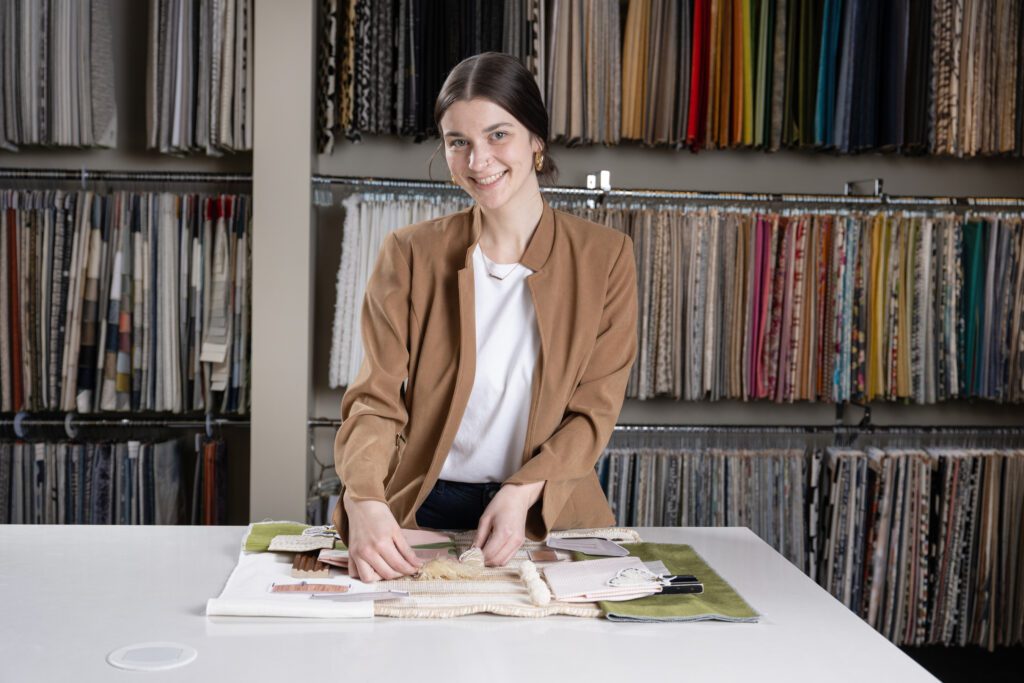 I love the different approaches that our designers take to their projects. From one word, "SPRING", can come so much different inspiration! Is there a seasonal space in the mix that speaks to you? Tell me below in the comments! Until next time – happy decorating!