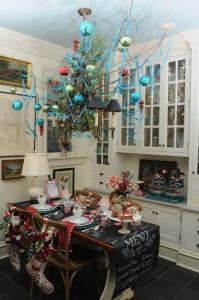 Have you ever been stuck at the kids' table for a holiday gathering? Normally, it's the worst seat in the house. A rickety card table set with mismatched dishes, strategically placed a good distance from the main dining table so the adults can enjoy a nice dinner without being interrupted by kid shenanigans. Being the youngest in my family, I'm very familiar with life at the kids' table. That's why I had a blast designing a kids' table for my Holiday Open House that was so fun, and so cool, it would be the envy of all the adults. Call it kid rebellion!
Want to make your kids' table the envy of everyone who gathers at your home for the holidays? Here are 5 tips: 
1. Set the Stage with Fun Place Settings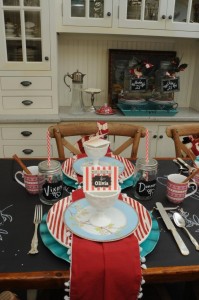 You know you are going to have fun for dinner when you sit down at a table set like this one. My favorite layer is the first: a chalkboard table runner used instead of a tablecloth or placemats. I am over the moon in love with this paper, which comes neatly bundled in rolls just like wrapping paper. I've blogged about it already, so you know all the fun ways you can use it. Here's just another example.
We picked a non-traditional palette for our kids' table, using blue, pink and red to evoke a kid-friendly feel.  When you decorate your holiday table, don't feel confined to the standard red and green. I've featured unconventional colors like apple green and turquoise in my holiday décor because new tones refresh the look of the season.
When you create place setting that make kids smile, be sure to use lots of color and pattern, plus playful, touchable linens, like these red napkins trimmed in fluffy pompoms. These lidded Mason jar cups, complete with a chalkboard space to write in each guest's name and a candy striped straw, complete the fun.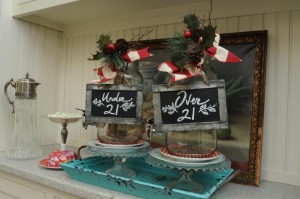 It's way more fun to stay hydrated when you get to fill your glass at a playfully decorated carafe. The countertop in my kitchen nook provided an ideal spot for a drinks station for kids – if anyone spills a bit, no problem. This durable but adorable wooden tray not only keeps the carafes from slipping, it collects drips and spills.  We thought the adults in charge of the little ones might also enjoy some liquid cheer, so we staged one of our carafes for the "over 21" crowd. It's the perfect place for mulled wine or eggnog.
This grouping is fun yet elegant, thanks to layers of interesting dishes and serving pieces, just like those you might have on hand at your home. We gave our carafes a pretty stage by placing them atop cake plates. Since we love to blend color and pattern at Nell Hill's, we topped the cake plates with a few of the same dishes we used on the table. Any kind of drinks container, from an urn to a pitcher, can be given a touch of holiday cheer just by adding picks and ribbons. Our cluster of pinecones and berries, tied up with a candy cane ribbon, did just the trick.
2. Advertise the Fun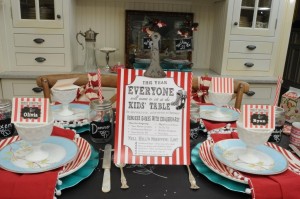 Personalized tables treat each person as a treasured guest. We topped each place setting with a place card that lets the kids know they are just as important at this party as the grownups. Then, we took it one step further by creating a placard for the table's center that brags about all the cool stuff the kids get to do while the adults are talking about boring things at their table, like politics. Just place some chalk on the table and let the kids draw on the chalkboard runner.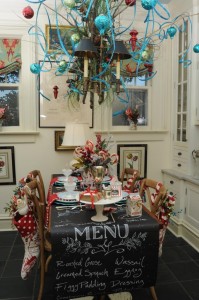 When kids walk in the door, usually one of their first questions is, "What's for dinner?" We let them know all the yummy food they will get to enjoy in this tabletop menu. You could also use the dangling end of the chalkboard runner to draw pictures or share your favorite holiday poem or Christmas carol.
3. Create a Fanciful Chandelier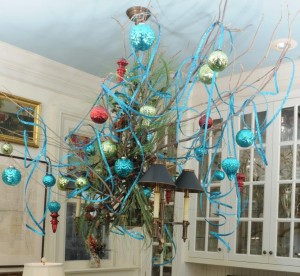 Does anyone else out there love Dr. Seuss? Oh, the fun you'll have eating under a canopy of Seuss-like colors, baubles and twists. The kids will feel like Cindy-Lou Who when they look up at this joyful tangle of pine, ornaments and shiny blue garland doing crazy loop-to-loops. Whatever the theme of your kids' table, echo it in a simple or elaborate treatment on the light fixture. Start with a fallen stick or greens, held in place with a clear plastic zip tie. Then embellish at will!
4. How About an Edible Centerpiece?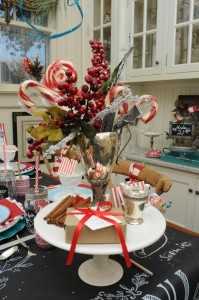 The centerpiece for our kids' table is really more of a supply station, beautifully arranged on a simple white cake plate to make it seem fancy-schmancy. We stocked it with chalk for creating masterpieces on the chalkboard table runner, cinnamon sticks for hot cider, a gift box filled with chocolate covered peppermint stirrers for hot chocolate, and a centerpiece that's full of nostalgia … and goodies. It looks complicated, but it's not. We started with a silver chalice, then tucked in a few simple red berry picks. We filled in with big, bold peppermint candy canes and a larger-than-life sucker. Smart kids will dive into this first, because everyone knows you should eat dessert first, right?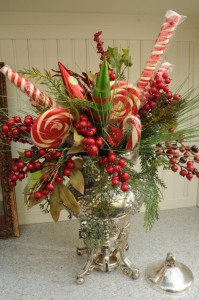 Here's a close up of the floral arrangement we placed on the drinks station. It echoes many of the features of our centerpiece floral, but also pulls in ornaments like those we used in the chandelier, allowing us to repeat key colors and shapes for continuity.
5. Gifts for Kids who are Naughty and Nice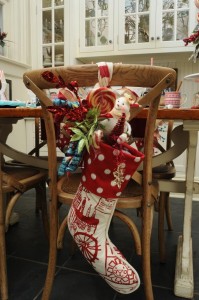 Let's face it: If Santa really only gave gifts to kids who were always nice, no one on Planet Earth would get a thing (certainly not me as a kid – I was ornery!). So we went ahead and spoiled all the kiddos at our holiday party with their very own stocking stuffed full of goodies. These stockings were specially designed by Nell Hill's to benefit The Global Orphan Project. The collection of six different stocking designs is available for a limited time only at Nell Hill's and through The Global Orphan Project Exchange. Every penny of profit from the sale of the stockings helps Haitian kids who are orphaned or abandoned. Want to learn more about why Nell Hill's is supporting this amazing cause? See my blog.
Next Week … Before you get too jealous of the kids, next week I'll share tips for creating a gorgeous holiday table for adults.