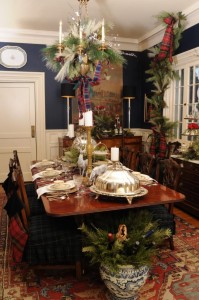 This holiday season, you don't have to live in Downton Abbey to sup in a dining room that's fit for nobility. When I decorated my dining room for my annual Holiday Open House, I followed seven simple steps to infuse the space with the feel of an English manor house.  
1. Classic Yet Simple Place Settings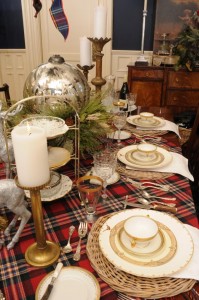 When I decorate my dining room for the holidays or for each new season, I pick a theme and bring it to life, starting with the place settings. While I knew I wanted this year's table to be a nod to English style, I also wanted it to be edited, approachable. So I started simply, using a wool Tartan throw blanket as my tablecloth, instead of a more formal white tablecloth. I will never, ever grow tired of Tartan plaid. Especially during the holidays. Especially in my dining room, which, with its masculine moorings, Twilight blue walls and traditional furnishings, just screams to be accented in this timeless fabric.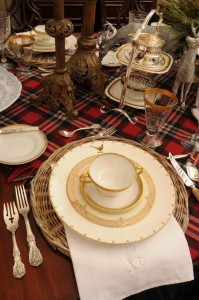 Since the plaid table topper was rich with color and pattern, I went with a simple, classic set of dishes so the table wouldn't feel busy or overdone. One of our techniques at Nell Hill's is to mix formal and informal together, so these unassuming placemats were a great pick to pair with this brand new Spode china pattern, which features iconic images like pheasants and deer.
2. A Lavish but Livable Centerpiece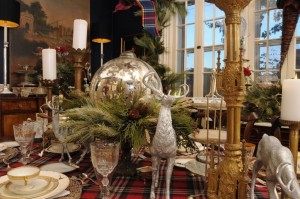 If you know me, you know my history of going BIG when it comes to creating centerpieces for my holiday table. This year, I restrained myself a bit. I wanted a centerpiece that flowed throughout the table space, was loaded with drama yet loose enough to allow for cross-table conversation. I went "shopping" in my home for pieces to use in the centerpiece, and zeroed in on the gold altar sticks I always keep on my fireplace mantel. I think they look sublime atop my red plaid cloth. The soft shimmer of the sticks was echoed in the etched silver ball we placed on an iron urn, resting on a nest of a pine wreath. The silver deer, tucked into the scene, were the perfect finish.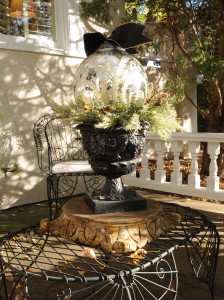 I used these gorgeous balls in displays all over my home this year – they are so elegant and unassuming, all you have to do is place them on a bed of pine.
3. A Chandelier that Lightens the Spirits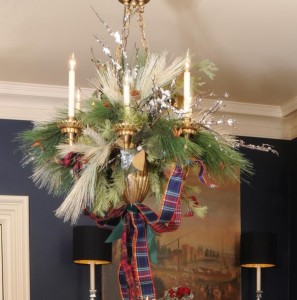 A decorated chandelier takes a beautifully appointed room to the next level. We kept this treatment tightly tucked to the center of the chandelier, compact and powerful. We started with a mix of faux pine picks. I like how the different tones of green set each other off. The more you mix the colors in faux arrangements like these, the more lifelike they look. The frost-covered sticks give the arrangement a wilder feel, while the symmetrical strands of ribbon keep it civil.
4. Chairs that Won't be Upstaged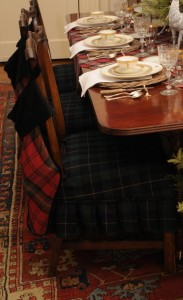 While I don't change out my dining chairs with each season, I do swap out custom seat covers when the weather turns cold, replacing the linen seats with covers made of yummy plaid. This simple switcheroo makes my dining room feel new, and it allows the chairs to do their part to contribute to the overall splendor of the room. When I entertain, I love to decorate the backs of the dining chairs with some intriguing element that will make guests smile. This year, I picked stockings we custom designed to benefit Haitian orphans served by The Global Orphan Project. I inserted a bottle of wine in each stocking, a gift of holiday cheer for guests. These stockings are fabulous decorating tools and also make perfect gifts. And every penny of profit from their sale is used by The GO Project to help orphaned and abandoned kids in Haiti.
5. Service Tables that Shine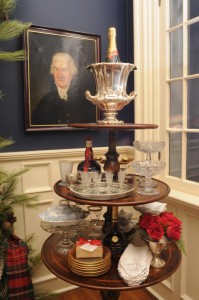 When you decorate your dining room, don't stop at your table. Dress the service tables as well. I just added this three-tiered server to my dining room, in the corner usual reserved for a Christmas tree. I liked the idea of filling it full of food we couldn't fit on the table, saving us trips to the kitchen.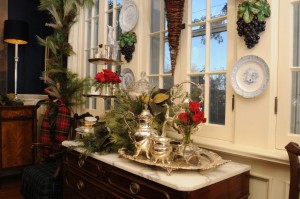 This silver set holds court on this table year round, so to give it a holiday feel, I just added greens.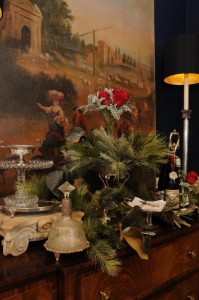 Normally, a piece of contemporary artwork hangs over my buffet. But I switched it with this pastoral painting from the upstairs hallway. I thought it did a marvelous job of contributing to my English manor theme.
6. Gobs of Gorgeous Garland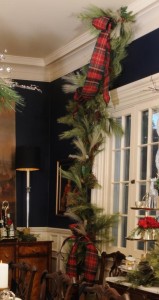 All great holiday displays start with gorgeous greens. In my book, high quality, lifelike garland is one of the smartest places to invest your holiday decorating dollars because it can be used year after year in myriad ways. For my open house this year, I went crazy with garland, using thick ropes of faux pine to crown the tops of my interior doors, trace the lines of my banister and accent the windows in my dining room.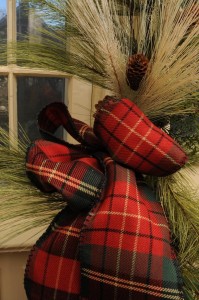 Holiday ribbon is another smart investment. It provides a lovely finish to any display, whether it's threaded through holiday greens, tied around the top of a lantern or holding a wreath in place on your front door.  And when the season is over, roll it up and reuse it next year.
7. Beautiful Details Finish the Design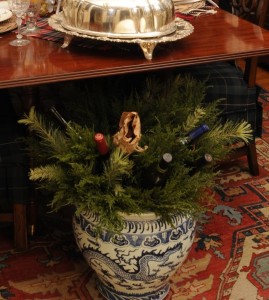 Sometimes when you are designing a room, it's the last little details that provide the exclamation point, driving the space up the drama scale. Instead of just lining up bottles of wine on the buffet, we decided to let them contribute to the beauty of this room by inserting them into a blue and white cachepot holding a simple arrangement of pine picks.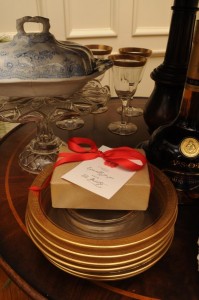 Who can resist the allure of a wrapped gift? I know I can't! That's why I like to include small take-home gifts when I decorate my dining room for entertaining. This simply wrapped gift holds chocolate dipped candy cane stirrers, perfect for a steaming cup of coffee. Take home gifts don't cost much, but they are a delight for guests.
Next Week … Plaid isn't just for the holiday season. You can use this classic pattern to warm up your home decor all winter long.