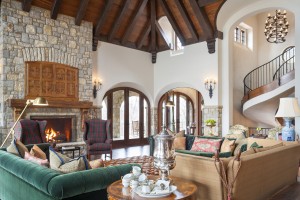 I'm mad about plaid. This timeless but trendy pattern plays a big role in my home décor every winter because it's warm and welcoming and creatively classic without being stogy and stuffy, a perfect part of a winter day, like a hot cup of tea, a warm fire and a dog at your feet. I poured on the plaid when I decorated my home for the holidays this year. But when I box up my holiday décor next week, the plaid will stay in place, an essential part of the wintery mix, until I decorate for spring. Want to add a punch of plaid to your winter scape? Here are 10 perfect spots: 
1. Accent Chairs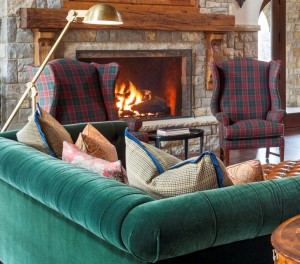 My friends Beth and Mike built their country manor home on a grand scale, filling it with one breathtaking space after another. To cozy up their lofty living room, pictured above, we turned to plaid. The large stone fireplace is warm and inviting thanks to the twin plaid wing back chairs that straddle the hearth.  One of the beauties of plaid is that it comes in so many styles and colors you'll easily find the ones that slip effortlessly into your décor, whether you want something soft and muted, or big and bold, like the chairs above.  If you want to experiment with pattern in your room, try covering one or two accent chairs, like we did here, to spice up the space but not engulf it.
2. Seat Cushions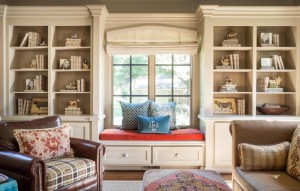 When I help folks decorate cozy rooms like a den or study, I usually suggest including a piece of leather furniture because it's so rich and classic. But during the winter, leather seats can feel a bit cool to the fanny. So I like to slipcover the seat cushion in a warm fabric like plaid.  That's exactly what we did in my friend Anne's study, pictured above. In the spring, she can just slip it off.
3. Sofas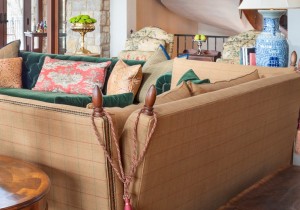 Today's plaid patterns are fresh and new, the ideal mix of preppy and old school. I love the rich but subtle plaid Beth and Mike picked for this high back sofa with split ridge sides. It provides the perfect visual pause between this pair of green velvet Chesterfield sofas.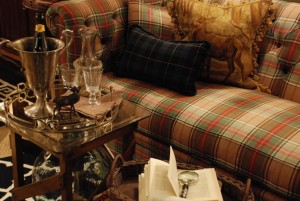 If you have plaid fever, it doesn't get any better than this. If you select a sofa covered in a big, bold pattern, balance it out by using more muted tones on your other pieces. Otherwise, the space will make you dizzy!
4. Accent Pillows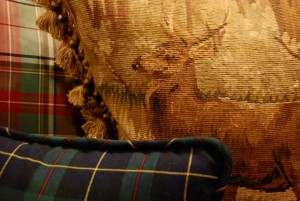 Pillows are the perfect way to get the warmth and charm of plaid without making a big commitment. Pick up a pillow or two that will pull out the colors in your furniture. Or find a fabric that harmonizes yet introduces new color and pattern to the room.
If you want more bang for your buck, have some accent pillows custom made for you that feature a winter-weight plaid on one side and a lighter weight summer fabric, like ticking or a floral, on the other side. Just flip the pillow over when the season changes, and your furniture is reborn.
5. Curtains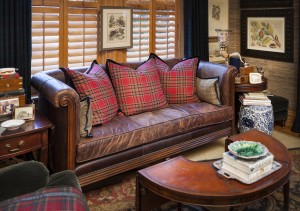 After years of covering my living room and study windows with simple wooden shutters, I decided to finish out my window treatments by adding drapery panels. I thought long and hard about my fabric choice because I wanted something that brought a new voice to the room, yet was quiet enough I would not grow tired of it. I picked a rich plaid for my study, and I adore how the curtains turned out.
6. Bench Cushions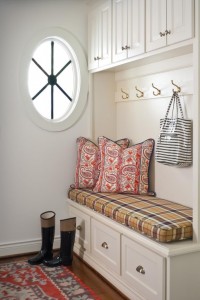 Plaid is gaining popularity with newlyweds and young families, and they are working it into their décor in inventive ways. Anne added this cute-as-a-button cushion to the bench seat in her mud room, giving the family nerve center a punch of prep. Have a bench in your kitchen nook or dining room? In your entry? At the foot of your bed? Have a simple cushion made to fit it, and cover it in plaid.
7. Outdoor Furniture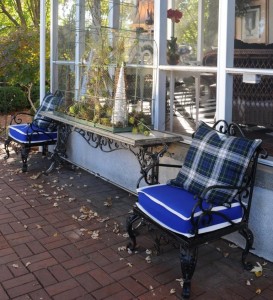 When it was time to redo my tired outdoor cushions this summer, I picked a vivid cobalt blue fabric and edged it in citrine. I gave this summery, splashy combo a winter makeover by adding plaid pillows. The bright colors in the pattern tie in the electric blue, but still feel warm and cozy.
8. Throw Blankets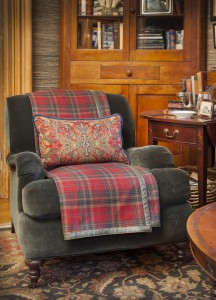 Since my old house is drafty, I keep throw blankets in every room so I stay snug as I drink my morning coffee. Even if my house was warmer, I'd still want to add throw blankets because they look so amazing over the back or arm of a chair. This brilliant blanket pops against the deep green velvet chair in my study.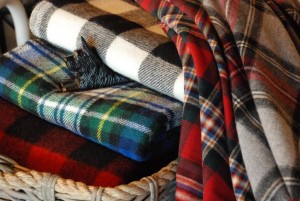 The plaid throw blankets at Nell Hill's have been a hot seller this season.
9. Bedding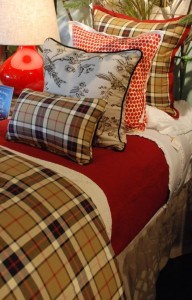 One of the best ways to warm up your bedding ensemble for winter is to work in some plaid pillows or duvet. Bedding can be expensive, so you want to pick pieces that will stand the test of time. Nothing does so better than classic plaid.
10. Accents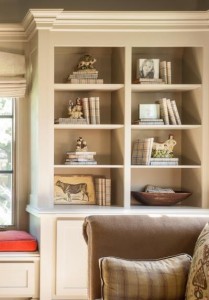 Fabric isn't the only way to add plaid to your décor. Check out the bookcase in Anne's study. She's wrapped the books in this gorgeous plaid paper and used them as an intriguing design feature in her bookcase displays. We have featured this fun trick for several years at Nell Hill's, and everyone loves it. The paper adds texture and color to the tableaux. And if you get tired of the look, just unwrap.
Next Week … I'll share my decorating New Year's resolution for 2014.