Tired of that same-old same-old mantel display? Ready to give your fireplace mantel a fresh look for fall? At Nell Hill's, we love to inspire customers to mix their own decorating treasures with killer seasonal accents to give their mantels a dynamic new look. We have created three beautiful fall mantel treatments to get your creative juices flowing. 
Before: The Bare Bones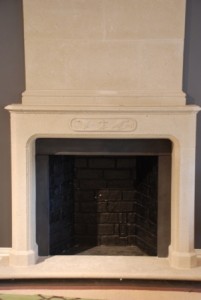 Here's our blank canvas, the stripped down fireplace in the Abbey Steps room at Nell Hill's Briarcliff.  This lovely stone fireplace surround is just itching for the colors, textures and icons of fall.
Look 1: A Frolicking Fall Hunt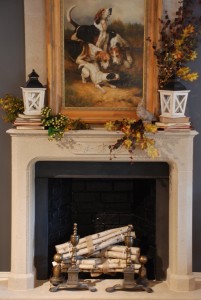 Maybe I should have been born in England a few centuries ago because I love, love, love British hunting imagery and always look for inventive ways I can weave them into my interior designs. This richly layered mantel succeeds in celebrating fall while also imparting the thrill of the hunt.   Here's a step-by-step look at how we created this design: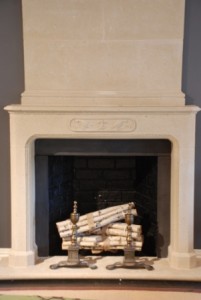 What's a fall hearth without a cheery fire? We started our display with bundles a white birch logs. Don't set a match to these beauties – position them for your display, then swap them out for firewood when you're ready to light your fire.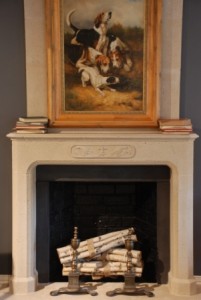 To establish the theme of this mantel display, we picked some big statement art. Dan and I used to have a beagle, so my heart swelled up when I saw this whimsical painting, which I think accurately captures the unbridled energy and goofy sense of humor of this passel of hunting hounds.  With the painting in place, we started to build our display using tattered old vanilla colored books as risers on either side of the mantel.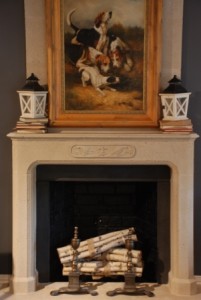 Next we topped the piles of books with twin white wooden lanterns. This line of lanterns is a perennial favorite of mine because they are so fresh and clean, and amazingly versatile for decorating. We have carried them at Nell Hill's for several years, in a variety of sizes, and they just fly out the door. While I use mine in my decorating year round, they are a perfect pick for fall.
If you're not a fan of lanterns, you could use any number of decorative pieces instead. How about matching ginger jars, pillar candlesticks or concrete finials? Use your imagination!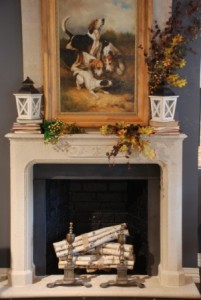 With the basic structure of the design in place, it's time to bring on the fall.  We used a variety of fall picks and sprays on this mantel, tucking them in behind the lanterns and books. For a more dramatic overall display, let your faux foliage climb up toward the ceiling. If the branches won't stay up by themselves, use a fallen stick as a support, first securing it to the wall. The secret to getting a richly layered look with your greenery is to intertwine several pieces and twist the stems so they look organic, not freshly plucked from a box.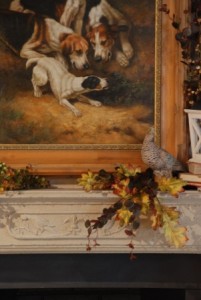 For a playful finishing touch, we put a pheasant figurine right at the foot of the pack of dogs, who look as though they are about to leap off the canvas to chase the bird. You just can't beat whimsy!
Look 2: Golden Age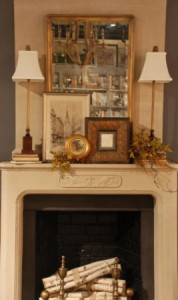 This lovely mantel is stately and intricate, yet surprisingly clean. You won't believe how simple it was to construct. Here's how we did it: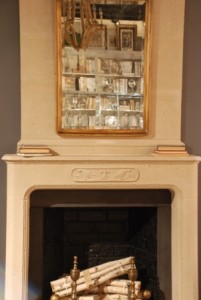 Remember that stack of aged, creamy vanilla books we used as risers in the first mantel? Well, they're back again in this lovely arrangement. Books make great risers because they add texture and monochromatic color. This time they are stacked neatly on either side of a gorgeous mirror framed in gold. Love this mirror!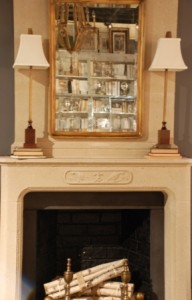 Brass is in again, and I'm thrilled. I really like its warm, soft glow. It offers the perfect tone for fall and holiday decorating, when you want soft luster and subtle shine. These statuesque matching lamps, which reach so high, introduce lots of drama to our display and act as perfect book ends, holding everything together.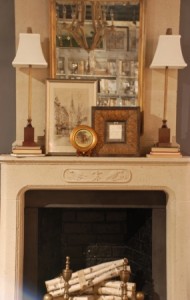 Layering artwork is a great way to decorate a mantel. For a visually arresting display in minutes, just overlap a few pieces of artwork in dissimilar shapes. Notice how each piece we picked is unique, yet works perfectly with the others to create a unified effect?
This mantel display is so neutral you could leave it up all year long, just switching out a bit of greenery to freshen it up for each season. To tweak it for fall, we simply tucked in a few pretty autumn picks. How easy was that? In seconds, we added lots of texture, color and interest.
Look 3: English Men's Club
Fall lends itself well to masculine displays, rich in menswear fabrics and accents in yummy shades of brown, red and green. Our third mantel display is a lighter, brighter take on a traditional English men's club look, with a masculine bent that is equally appealing to the fairer sex. These armless chairs, upholstered in a traditional plaid, set the tone. I really like the playful pillows, don't you?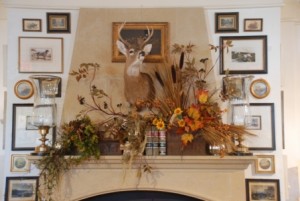 Instead of featuring one large piece of artwork above the mantel, we hung a small hunting trophy then topped it with a smaller piece of framed artwork. It's not the kind of arrangement you see over a lot of mantels, is it? That's why it's a perfect pick for Nell Hill's: we love to catch people by surprise.
This asymmetrical arrangement uses a wild assortment of fall foliage. I like it when the branches climb and twist about, just like they do in nature, stretching toward the ceiling and cascading over the edge of the mantel. The pair of hurricane lamps on either side of the mantel provides a great visual boundary, hemming in the intricate tableau.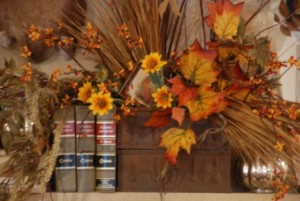 If you look closely, you can see that the florals are anchored in a stack of beautiful iron planters, finished in a weathered patina that adds to the natural beauty of the grouping. The books underscore the traditional ambiance of the display and interject a bit of color.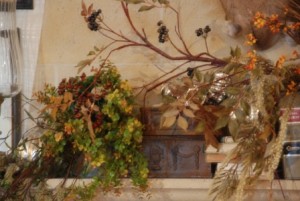 Even though the display is asymmetrical, it is balanced. For example, the stack of iron planters on the left side of the mantel adds visual weight to offset the stack on the right side. There is a lot going on in this display, so we wanted to break up the layers with a bit of sparkle. A few mercury glass pumpkins did just the trick. It's a tiny addition but has a big impact.
Next week …I'll show you how to create three unique fall looks using three of my favorite fall decorating tools. You'll be inspired!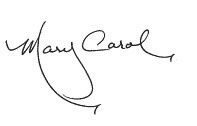 P.S. Don't miss a bit of Nell Hill's news – stay up to date on my favorite finds, new arrivals at the stores and all our special events by checking the Nell Hill's Facebook page every day. You don't have to have a Facebook page yourself to look in on the fun, but if you're already on Facebook, "like" us today!