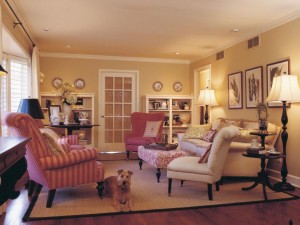 Isn't it fun to flip through the pages of decorating magazines and books and dream about how you would decorate your home if money was no object? I've got great news for you. Good design doesn't have to be expensive. You can transform your home into a sanctuary that makes your heart skip a beat even if you have a limited budget. The secret is knowing where to splurge and where to cheat to get the most from every dollar. 
Three Places to Make an Investment
1. The Room's Focal Point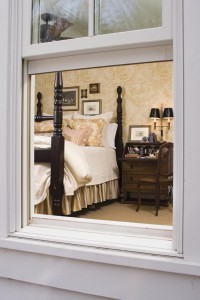 I've learned that when the focal point of a room is arresting, the rest of the room looks better just by association. So this is the spot where you want to invest your decorating dollars. If you're not quite sure where the room's focal point is, think about where your eyes go, and rest, when you walk in to the space. That's your focal point.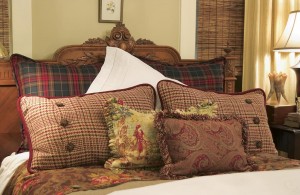 If you're decorating a bedroom, most often the focal point will be the bed. If so, invest in a bedframe that makes a statement. Then dress it in a bedding ensemble that sets the color palette and style for the rest of the room. I've found that there is nothing like custom bedding that includes a mix of patterns, styles and finishes to give a bedroom a truly regal feel.
With the budget dollars you have left, finish off the room with less expensive pieces that complement your bed. Do you have any furniture languishing in out-of-the-way places in your home that you could move to your bedroom, like a little ladies writing desk to use as a bed stand? Is there artwork gathering dust in your storage room or hung in a low-visibility spot in your home? Try hanging it in your bedroom to give it a new lease on life. Sometimes just moving your furnishings about your home, re-imagining their placement and usage, will allow you to transform a space without spending a dime.
2. Items that Bring You Bliss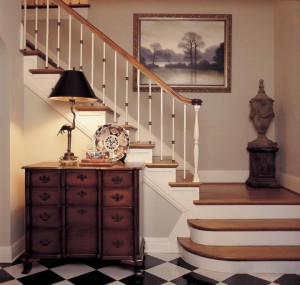 A good friend of mine is absolutely crazy for fine art and would love to fill her home with original paintings from all the artists she admires. However, there's that sticky detail of budget: She can't afford to. So, she has come up with a great plan to pursue her passion for paintings while also staying true to her budget. As she has slowly redecorated each room in her older home, she's picked a piece of artwork to serve as the new room's highlight. Then, she's been thrifty with all her other design decisions in the space. The photo above is of her re-decorated foyer, and that great piece of artwork hanging on the landing is her investment piece. Since it ate up most of her budget, she filled in the landing space with an inexpensive garden statue, which looks fabulous with the painting and cost her next to nothing.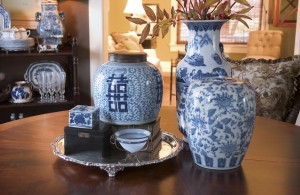 When you're dreaming of how to decorate your space, what kinds of pieces get you goosey? An antique armoire? A super stylish sofa? A prized piece of antique Asian pottery? Make your investment there. Every time you enter the room, it's all you'll see, and you'll be as giddy as a kid that you get to have this treasure in your home.
3. Pieces that Don't Have a Good Low-Cost Substitute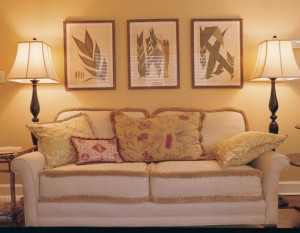 I love to save money on home décor. When I go to the home furnishings markets to buy for Nell Hill's, I'm always looking for a bargain. But I've found that when it comes to some furnishings for your home, there are no cheap substitutes. For example, I firmly believe that you get what you pay for when it comes to upholstered furniture. When you invest in a sofa or chair with a well-made frame and cushions, covered with a high-quality fabric, it will look great for years to come.  In contrast, if you get a  piece that is badly made with low-quality materials and substandard textiles, it may look OK for a bit, but it won't be long before the seats look squished, the frame sags and the fabric wears. So when people come to Nell Hill's for upholstered furnishings, I urge them to get the highest quality their budget will allow. They never regret it.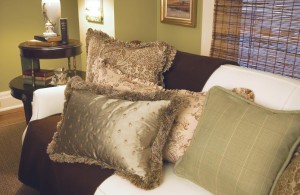 Something amazing about high quality upholstered furniture is that it sets the tone for everything else in the room. You can pair an exquisite sofa with a ho-hum side table, and the table ends up looking marvelous just by its association with the sofa. It's kind of magic, but it works.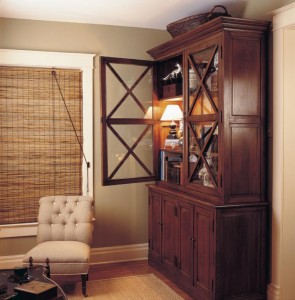 Another piece of furniture that I think it well worth the investment is a large wooden chest, like a bookcase or hutch. These big, bold beauties make average rooms arresting because they are so dramatic. I'll be blogging about how to decorate with wooden chests soon!
Three Places You Can Cheat
1. Get Creative with Artwork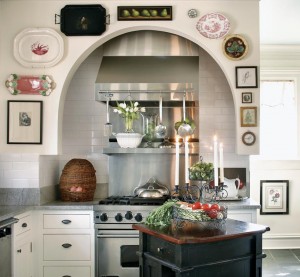 I've learned two important things about artwork. First, it is the most effective way to give your redecorated room that finished feel. I just don't think rooms are "done" unless they feature art that tells the visitor a bit about the home's inhabitants. Second, you can cover your walls with great artwork without spending hardly anything. I have lots of things on my walls that didn't cost much but mean the world to me, like family mementos, pretty dishes and prints.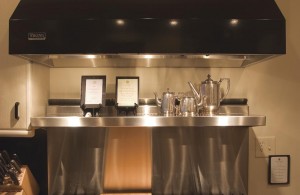 There are so many ways you can infuse your home with interesting art without spending much when you use your creativity.  For example, the photo above features one of my friend's ingenious ideas. She and her husband attended lots of formal dinners for work, and she always admired the lovely menu cards that would be placed at their tables. So she collected her favorites and slipped them into inexpensive frames from the hobby store. They look amazing perched on this shelf above her stove, a great conversation starter when she has guests.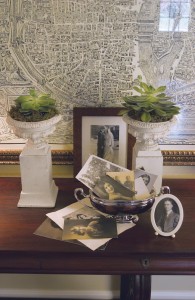 I bet you have a treasure-trove of photos you could use in your decorating. Here, a friend of mine spiced up her sofa table with framed photos of her ancestors. I love how she tossed unframed photos into a silver server, where they are just begging to be looked through. I have framed lots of snapshots of my family and worked them into my decor, and every time I pass by them they remind me of the wonderful people I share my life with. What do you have that you could put on your walls?
2. Re-purpose Old Furniture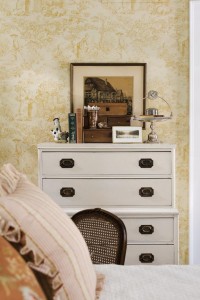 I am not crafty, so I'm always amazed by the things my friends and customers do to give old furniture new life, literally turning trash into treasures. Do you have old pieces of furniture you can remake and use in your rooms to add style and character? Maybe a chair that's covered in an outdated fabric that you can reupholster? An old dresser that you can brighten with a coat of paint, like turquoise or coral or emerald? A bookcase you can zip up by lining the back with fun fabric or paper?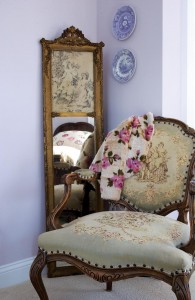 If not, scout for interesting pieces at flea markets, tag sales or even by the curb on large-trash day. When a friend of mine decided to decorate her daughters' rooms, she committed herself to using mostly vintage furnishings that she could buy for a song then remake into chic pieces of art. She scored big when she found this lovely needlepoint chair and mirror.
3. Accent with Inexpensive Accessories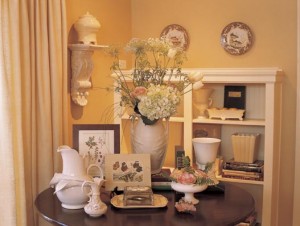 When it comes to accessorizing rooms, our favorite approach at Nell Hill's is to mix one or two higher quality pieces in with fun little inexpensive surprises. Try anchoring a display around a fine accessory, like an antique pitcher or small sculpture. Then, fill in with cheater pieces, like faux ferns in a pot, a decorative plate propped in an easel or a fun bowl filled with moss balls.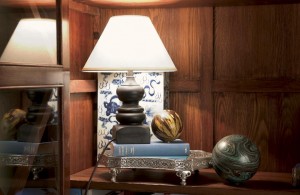 Dotting my home with trendy, inexpensive accents is my favorite place to cheat.  This spring, you'll probably find low-cost brightly colored pottery tucked in here and there in my living room, and a cluster of bargain-priced glass vases at the center of my dining room table. Treating yourself to low-cost accents allows you to pep up your rooms without a guilty conscious. These are not the pieces you're going to pass down to your grandkids, but they are sure fun for now!
Next Week … Now that you know where you want to invest and where you want to cheat, I'll give you a quick guide on how to pick lamps, artwork and tables that give you the most for your decorating budget.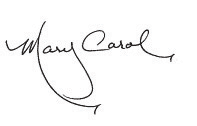 P.S. We just started pinning on Pinterest — come see my boards!