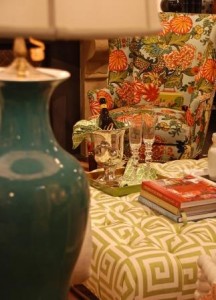 Everywhere you turn at Nell Hill's right now, you'll be greeted by color: rich, powerful, saturated palettes that will make you want to dance. As we do every January, we've been busy re-envisioning each gallery in both stores, experimenting with a host of new hues, adding in pops through wall paint, vibrant textiles, sizzling accents and arresting artwork. I have to tell you, I'm loving what I'm seeing.
How comfortable are you decorating with color? I'm always surprised by how many of my friends and customers are nervous about selecting and decorating with bold colors. They question their ability to tell how much color is too little or too much. Or, they aren't quite sure how to bring new color schemes into their exiting décor.  I agree – decorating with strong colors can be intimidating. That's why I always take one of two foolproof approaches when I interject powerful pigments into a room.  
1. If you use a strong color on the walls, use neutrals in the room.
I am crazy about bold, strong paint colors and included a wide assortment of them in my Mary Carol Artisan Paint line. While everyone has their color quotient – the level of color that feels just right for them – I think these statement wall colors look their best when they are balanced with plenty of neutral furnishings, artwork and accents. Here are some tips on how to decorate a room to bring out the best in my top wall color picks for the year:
Shuttered Window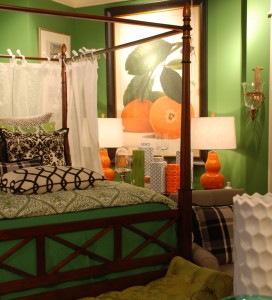 Every year, Pantone, the company that's the renowned authority on color, picks its color of the year. For 2013, it's emerald. I was thrilled to hear this, because I've been a huge fan of this soothing yet vibrant tone forever and added it to my paint line several years ago. The above gallery at Nell Hill's Briarcliff is painted Shuttered Window, a brilliant color that revives the senses like a picnic in a meadow or a walk in the woods, without the bugs. This room is a hallmark to luxurious saturated color, with the emerald tone of the walls echoed in the bedding, accents and artwork. We were going for a playful look, so we added a second strong accent color, a zippy citrus tone. Then we balanced out the space with plenty of neutral black and white.
We had fun with the display on the side table, starting with this larger-than-life botanical artwork that features an orange that's so tantalizing it makes me want to peel one for myself. The matching orange lamps and cluster of orange pottery vases pulls together to perfectly finish the scene.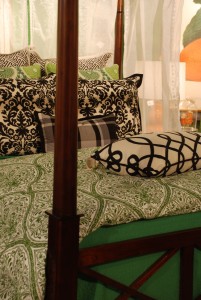 Just like Mother Nature does, I mix lots of different tones of green together when I decorate, so the presentation feels more evolved, less matchy-matchy. Since we have a bold color on the wall, we balanced the room by using lots of black and white in our bedding, crisp and clean neutrals that tone things down a bit.
Here's another idea: My friend Julie just painted her kitchen walls Shuttered Window. To balance the strong wall color, she painted her cabinets all white. Then, she dressed her windows with  black and white ticking drapery panels. Lovely!
Twilight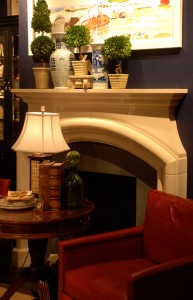 I've had a lifelong love affair with the color blue, but my undying devotion is reserved for navy. In this gallery at Nell Hill's Briarcliff, we took this dramatic wall color (Twilight, from my Mary Carol Artisan Paint line) in a more traditional direction, pairing it with classic furnishings and finishings. The creamy stone fireplace surround and wooden furnishings balance out the dark color of the walls, which seem to just drop away, creating a moody backdrop for the room.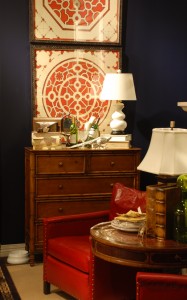 Can it get any better than navy and red? Red is back, and in this room, it adds some heat. I am crazy about this red leather chair because it's simultaneously modern and traditional. The strong, dark tones in the room are broken up by the white lamp and stunning artwork. Again, notice how the dark walls seem to melt into the background, creating drama without dominating the space?
Peony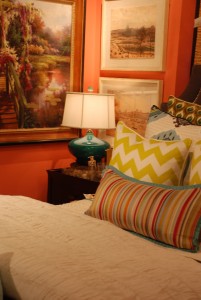 People must have thought I'd lost my marbles when I added Peony to my custom paint line. This effervescent coral color is not ashamed of itself, that's for sure. But when we painted some galleries at Nell Hill's in Peony, people couldn't take their eyes off it. This totally hip hue adds fresh, new energy to a space, yet when it's paired with neutral furnishings and accents it recedes, spotlighting everything else in the room.
In the Nell Hill's Briarcliff gallery pictured above, we went bold by weaving Peony in with a rainbow of colors. The creamy white duvet and white lamp shade balance them all, as does the artwork.
Here's another idea: A friend of mine was tired of the drab green walls in her living room, so I urged her to keep the wall color but paint the ceiling in Peony. We finished the room with cream colored furnishing and a gallery of modern art. Oh my goodness, it looks beautiful!
Abbey Steps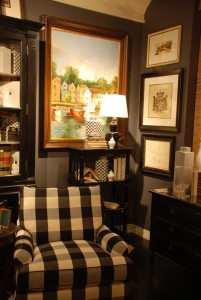 Deep, dark charcoal gray is really big right now, and my paint color Abbey Steps is one of our biggest sellers. This dramatic, moody color looks amazing paired with Farm House White and Garrity Cream, providing a startling light-dark contrast. Dark colors like Abbey Steps call for light colored furniture, like a white, light yellow or dove gray sofa. Dress up the sofa with an assortment of tone-on-tone pillows filled with touchable texture. Or, toss in a few pops of bright color, like marigold, turquoise or emerald. You'll also want to dress the walls in lots of light colored artwork, especially framed pieces that feature a generous amount of matting.
In the room above, we balanced our stormy gray walls with furniture upholstered in crisp, clean black and white plaid and lots of light colored artwork. Doesn't this make the most snuggly little nook? You can't beat a color like Abbey Steps if you want a room that makes a statement.
2. If you use a neutral color on the wall, use strong colors in the room.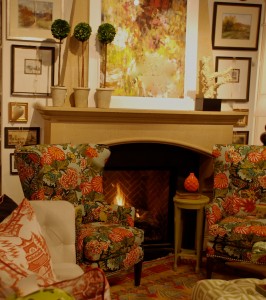 You can saturate your spaces with color without ever picking up a paintbrush. The trick is to layer up the tones through your furnishings, floor coverings, artwork and accents. Introducing color through your décor is a great way to wade in if you're not sure what your color quotient is yet. Start by adding one pop of color, maybe through a brightly colored lamp or a side chair upholstered in a floral or geometric print. Then live in the room for a few weeks and see how it feels to you. If you find yourself yearning for more color, add another piece. Rest. Then repeat until you've achieved your perfect blend.
If you know you want to take things up a notch, cover several pieces of furniture in bold fabrics that include a variety of patterns and colors. Work in solid colored accents that pluck out a few of the colors featured in your fabric. If your walls are covered in a soft neutral like white, cream, light yellow or light blue, they will balance the bold statement you're making through your furniture and accents.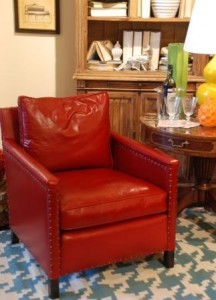 All it took was a brightly colored chair to add zest to this room at Nell Hill's Briarcliff. But for extra fun, we mixed in a few more arresting colors through this darling blue and white hound's tooth area rug, yellow lamp and green vase.
Next Week … When shopping for furniture and accents for your home, sometimes you can get a great look without spending much. Other times, it's worth the investment. I'll share some tips on when to scrimp and when to splurge to make your rooms look their best.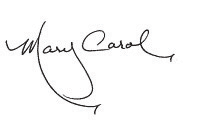 P.S. Don't forget – our special order upholstered furnishings sale is going on right now at Nell Hill's Briarcliff. All our custom upholstered pieces are 20% off!