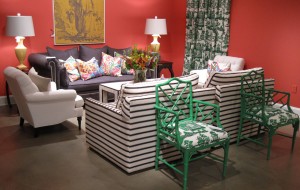 Dan and I just got back from attending the huge High Point Market, the largest furnishings industry trade show in the world, and I am still sky high. As we sprinted around the 10-million-square-feet of showrooms, packed with more than 2,000 exhibitors, I was absolutely dazzled by all the wonderful new furniture and accents I saw. High Point is the market where the world's best designers launch their new looks and lines, so it's the Mecca for trend spotting. Here are my top five favorites for the season.
Top Trend #1: It's All About Color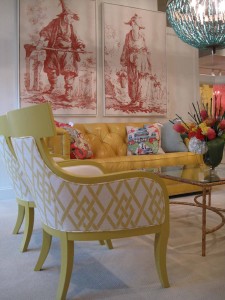 If someone had told me 10 years ago that I'd be ordering bright yellow chairs at market to sell at Nell Hill's, I'd have told them they were crazy. Guess what? We have two on order! That's how turned on I am to the bright, lively and energizing colors that are so hot right now.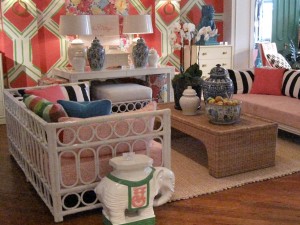 As you walked in the doors of the High Point Market this year, the color slammed you in the face, and it felt good! My juices were flowing as I saw yellow, orange, turquoise and apple green played out in upholstery fabric, accents, artwork and floor coverings. We began filling the Nell Hill's stores with this zippy palette back in January, so it was fun to see the same look echoed at High Point.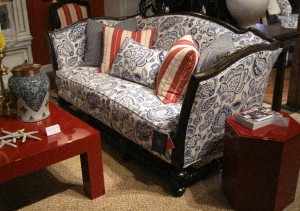 I think I'm so crazy about color right now because it is helping us all breathe new life into our homes – and our lives – after the recent economic downturn. So many customers were coming to our stores yearning for ways to freshen up their décor and give them a bounce in their steps. While bright color definitely isn't for everyone, it seems to be grabbing the hearts of lots of folks right now.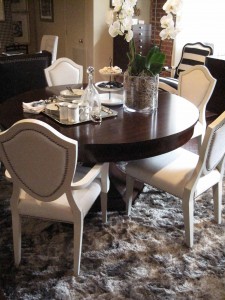 The key to decorating with all this color isn't to completely saturate a room in bright hues. You need to balance the attention-grabbing pieces by using lots of neutrals. I really liked the white dining chairs in the snapshot above because this contemporary group could be paired with the brightest brights and serve as their anchor. At market, they were also showing lots of charcoal gray and light gray used as a neutral.
Top Trend #2: Lacquered Tables Add High End Design to Everyday Rooms
Lacquered accent tables, with their mod, shiny finish, are the darling once again of high-end designers. Everywhere we turned, we saw these cool contemporary tables made from bold colors, like stop-sign red and apple green. The red coffee table in the snapshot above is marvelous paired with these too-cute-for-words sofas upholstered in a fresh floral.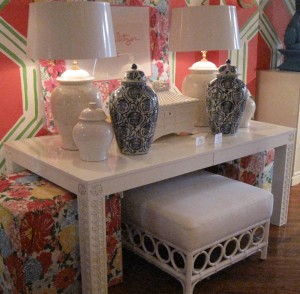 Even though the furnishings in my home are very traditional, after seeing the chic lacquered tables at market this year, I want to mix in a piece or two to give my spaces a crisper, cleaner look. Maybe a little side table? I really liked the lacquered desk in the snapshot above.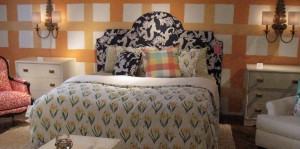 While I love these retro tables in bright colors, I think white is one of my favorite treatments because it is subtle enough to be worked into a wide variety of homes. I fell hard for these white lacquered bedroom dressers. They are understated, but still fun and funky.
Top Trend #3: Lamps Are Getting Even Beefier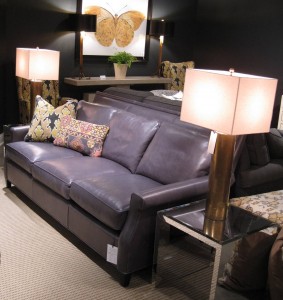 For the past few years, lamps have been getting bigger and bigger, and, in my opinion, better and better. But this year at market, the lamps were the biggest I've seen them. These knockout lamps are no longer content to sit in the background. Now they are a focal point in a well appointed room. Not only does this larger scale appeal to my sense of design, but I like it because the bigger, brighter lamps are more functional. If I put one next to my favorite reading chair, I could actually see the words on the page without grabbing my reading glasses!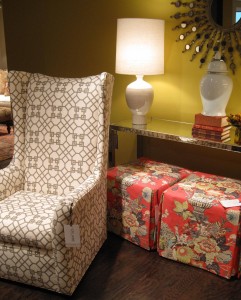 While I enjoy the wide variety of shapes and styles in lamps today, the plain, simple ceramic lamps are one of my perennial favorites. I like their clean lines and how seamlessly they fit into a room. At market they were showing bigger, fatter ceramic lamps in a variety of colors, from bright and bold to more muted tones. I like the white one pictured in the snapshot above because it will work with any palette or style.
Top Trend #4: Artwork Is Making a Statement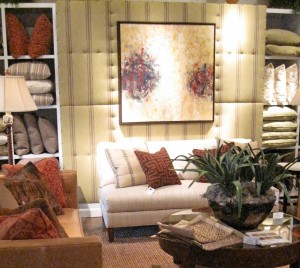 Artwork is the number one selling item at Nell Hill's, so I'm always on the lookout for fabulous new finds to fill our customers' walls. This year's market provided me with plenty of jaw-dropping pieces! In keeping with the overall trend toward color and big, bold statements, designers were showing artwork that was strong enough to stand alone for those who want a gallery that features fewer pieces.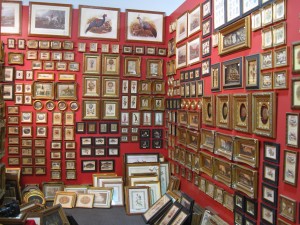 I found lots and lots of watercolor landscapes I can't wait to make available to Nell Hill's customers. So much of the artwork was by new artists and offered a refreshingly different perspective. I love this out-of- the-box thinking.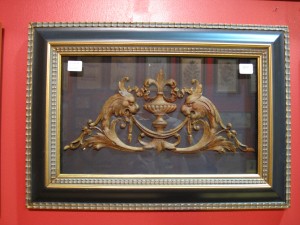 I fell for some of the more unique pieces that were framed in novel ways. I like this three dimensional architectural piece. I can see it as a great addition to a home gallery filled with a mix of artwork.
Top Trend #5: Rugs Are Demanding Attention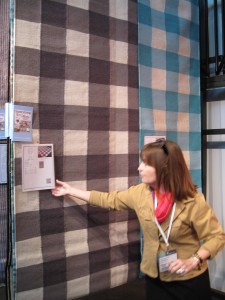 The trend toward area rugs featuring bold geometric patterns is showing no signs of slowing down. In fact, designers are offering more and more wonderful rugs that have strong patterns, like Ikat, lattice, chevron, modern florals and stripes.
I ordered a lot of inexpensive flat-weave area rugs because I think these cuties are a great way to bring a splash of color and pattern into a room. One of our favorite tricks at Nell Hill's is to use a larger sisal rug as a base layer in a room, then top it with a smaller 5×8 flat-weave rug turned at an angle in the midst of the furniture grouping. You get the feel of a larger rug, but at a fraction of the cost.
While it's fun to spot trends and work some of the new looks into your décor, remember that the key to successfully decorating the spaces in your home is to stay true to yourself. Not every trend works for every person in every style home. If you love what the designers are showing, go for it. But first ask yourself, "What's my style?" "What's my palette?" "What type of furnishings do I like best?" Don't ever, ever purchase a piece of furniture or accent just because you think it's "in." Only bring in pieces that you absolutely love.
Next Week … One of our favorite furniture makers, CR Laine, knocked it out of the ballpark at market this year, showing some of the freshest, most innovative upholstered furnishings I've ever seen. I caught up with one of the CR Laine designers and asked her to share her decorating secrets with us. Come back next week to find out what she said!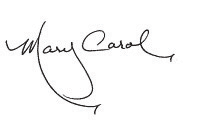 P.S. Don't miss a bit of Nell Hill's news – stay up to date on my favorite finds, new arrivals at the stores and all our special events by checking the Nell Hill's Facebook page every day. You don't have to have a Facebook page yourself to look in on the fun, but if you're already on Facebook, "like" us today!