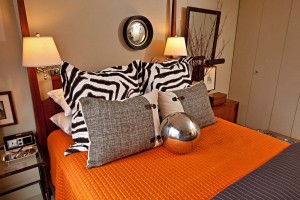 After a long day at work, there is no piece of furniture in my entire home that I love more than my bed. Even though we spend a lot of our lives snuggled up in bed, too often I see people relegate selecting a beautiful bed frame to the bottom of their decorating to-do list. The focal point of your bedroom, your bed should not only be comfortable and inviting, it should be a visual treat. Transform your bedroom today with a bed frame that is lovely and stylish. Here's how.
When you're shopping for a bed frame, it's easy to get overwhelmed. There are so many different styles and shapes and finishes, how do you know which one is right for you? When you answer these four questions, finding the perfect match is a lot easier.
1. What style of bed do you want?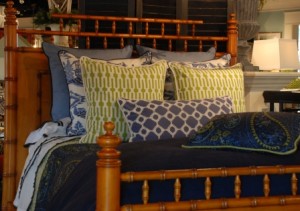 Your bed will set the tone for your entire bedroom, so think this question through very carefully. Do you want the room to have a traditional look? Contemporary? Or transitional – an interesting blend of both? Not sure? Look at the style you've already established in the rest of your home. Is it French country? Minimalist modern? Tuscan? You probably don't want your bedroom to depart too much from the style you've set house-wide so that the rooms will flow seamlessly into one another. Once you know what look you want in your bedroom, you can safely eliminate a lot of bed frames, making your search much more manageable.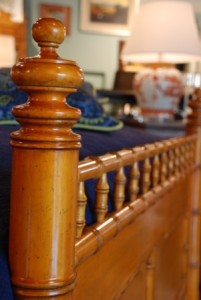 Also, consider scale. How much room do you have in your bedroom? What other pieces of furniture must also fit in the room and what is their scale? If you have a larger room with taller ceilings, you could pull off a large-scale, statement bed, like a fabulous four-poster or canopy. But if your space is cozy, perhaps you'd be happier with an iron bed frame that adds texture but not a lot of visual bulk.
2.  What kind of feel do you want to create in your bedroom?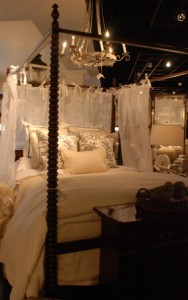 I think having a strong emotional attachment to your bedroom is a must. Remember – this space should be your private sanctuary, the place where you can go to be restored and refreshed. To do so, your bedroom needs to feed your senses, not just give you a place to crash for the night. Do you want a room that's serene, appointed in whisper-soft colors and subtle textures? Or, is your ideal bedroom one that gives you a boost, filled with energy-giving color and pattern? The bed frame will be foundational in creating the atmosphere you're hoping for.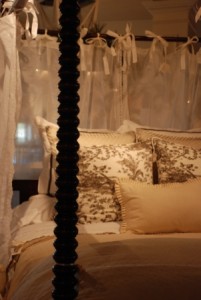 If you're not sure what look is just right for your room, flip through decorating books and magazines and see which bedrooms make your heart race. Once you've found several you love, determine what they all have in common. That's your look!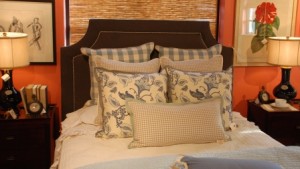 At Nell Hill's Briarcliff, our customers seem to love it all right now, and we are selling lots of bed frames in a wide array of styles. But recently, we've seen a steady climb in the number of customers who are going crazy for upholstered headboards. Any why not? These fashion-forward bed frames are both stylish and versatile. I think they are a perfect pick for someone who likes to watch TV or read in bed because the padded headboard works just like a sofa, giving you a soft place to lean back on. If your bedroom is filled with lots of wooden pieces, from dressers to bed side tables, an upholstered headboard helps break up the sea of hard surfaces and feels luxurious.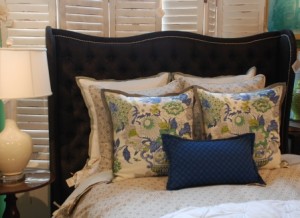 Purchasing a custom upholstered headboard at Nell Hill's is a lot like selecting a custom sofa. You get to choose exactly what you want! First you get to decide whether you want a footboard and headboard, or just a headboard. Then, you get to pick the size and shape of the headboard. Should it be high or low? Do you want one that curves in at the sides, like a winged back chair, or one that is straight? Should it be tufted? How do you want it finished – corded or with a nail-head trim?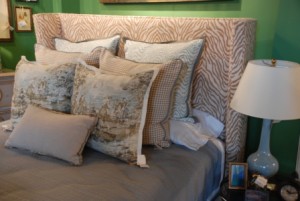 Once you come up with just the right frame, you get to pick your own fabric. Do you want to go with a timeless neutral, like a cream or gray? Or, do you want to walk on the wild side and opt for something with texture and pattern, like this amazing camel and cream zebra print?
3. What is your budget?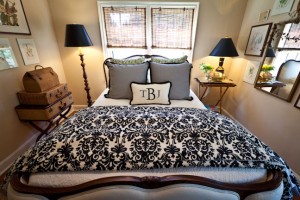 My recommendation is to go for the most luxurious and high quality bed frame your budget will allow. When you purchase well-made pieces that will last for years, and select a timeless style you won't grow tired of, you will save money in the long run. Thankfully, you don't always have to spend a lot to get a sensational bed frame. Consider refurbishing an antique bed. Or, check into some of the wonderful iron beds we sell at Nell Hill's. They are affordable and classic. I've had an iron bed in my bedroom for years and absolutely love it.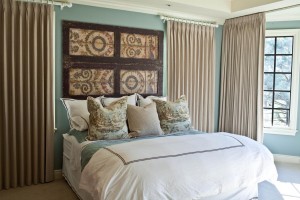 Another way to get a dramatic look on a shoestring budget is to be creative with your headboard. Instead of buying a bed frame with a decorative headboard and footboard, get an inexpensive metal frame to hold your mattress and box springs. Then, place something dramatic in the spot that would be occupied by a headboard. In the photo above, my friend Anne took a pair of matching wooden panels she found at Nell Hill's and hung them above her bed. Inexpensive yet eye-catching, the panels look sensational and will work well until she's ready to invest in a statement bed frame. You can achieve a similar effect by standing a folding screen at the head of your bed or hanging a dramatic piece of artwork.
4. How will you finish the bed with bedding?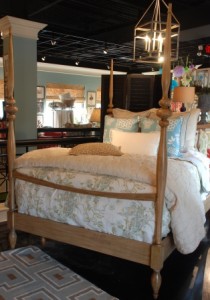 Remember your bed frame is just the base of your bed design. You are going to finish it with your bedding ensemble. So you need to pick a bed frame that will support the finished bed design you want to achieve. For example, if you know you want to have lots of pillows on your bed, be sure to get a headboard that can support them. If you don't want many pillows, pick a headboard that is visually interesting enough to stand undressed.
If you don't want to use a dust ruffle, get a bed frame that either conceals the box springs or doesn't require one. Personally, I love the look of dust ruffles and have one on my bed, but they are definitely not for everyone. I can't tell you how many times my husband has accidentally stepped on the dust ruffle and torn it. And if you have a pet that likes to sleep under your bed, chances are you'll end up with dingy marks on the ruffle from the pet sliding underneath it. If the sides of your bed frame don't cover your box springs, and you don't want a dust ruffle, you need to check out the beautiful box springs covers we're selling at Nell Hill's. These wonderful mate lassie covers not only hide the mattress, they bring in a bit of color.
Next Week … Once you have the perfect bed, you'll need the right night stands to put next to it. I'll show you some great options next week.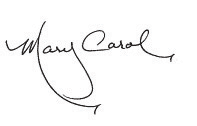 P.S. Only three more weeks until my Holiday Open House! You can't miss this huge Nell Hill's event, which will be held on Nov. 2, 10-4, and Nov. 3, 10-1. My home will be magnificently dressed for the season  and open for free tours. Nell Hill's Atchison and Garrity's will be filled with this year's hottest holiday decorating decor. (The store hours are 9-5 on both days of the Holiday Open House.) I can't wait to see you there!