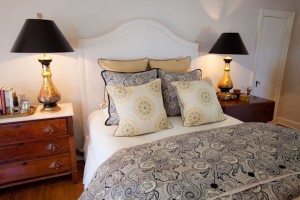 You probably don't think of your humble night stand, snuggled up against your bed, covered with bedtime essentials, as a key contributor to the overall design of your bedroom. But this often overlooked piece of bedroom furniture can easily win an Oscar for best supporting actor in your bedroom when you use a little creativity in picking the right piece and dressing it up in style. Here are three of my favorite night stand looks:
Look One: A Petite Writing Desk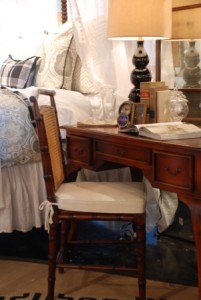 One of the biggest mistakes I see people make when selecting a night stand is to opt for pieces that are too small for their beds. For the grouping to look balanced, it's essential to get a night stand that matches the scale of your bed. If you have a huge king sized bed, make sure you pair it with a larger table that can hold its own. If you have a standard-height bed, any table you pick must be at least 28" to 31" tall or it will be too short for you to reach while you are in bed.
A great solution is to use a small writing desk as a night stand. That's what I did in my guest room. I have a lovely old ladies' writing desk, complete with pigeonhole shelves, that I slid into the small space between the bed and the wall. A little antique or reproduction desk is a perfect pick in a small bedroom, where you don't have a lot of room and need to get the most out of each piece of furniture you use. Just slide in a small chair and your bed table becomes an instant work station. Top it with a mirror and you have a vanity where you can do your makeup or hair.
In the snapshot above, taken at Nell Hill's Braircliff, we paired a wooden spool bed with a wooden desk and pulled up a chair accented with a cane back. Many of us have a great deal of wooden furniture in our bedrooms, so it's important to break up those hard surfaces with some soft textiles. To do so here, we covered the bed in a lush bedding ensemble that includes bed drapes and a romantic white cotton bed skirt. Then, we put a soft seat cushion on the desk chair to make it more inviting. We finished off the area by putting a standing screen made of distressed glass behind the desk, making the grouping feel more interconnected and intimate.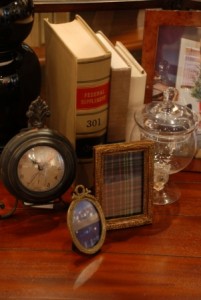 Since night stands are working pieces that must be able to hold bedtime essentials like a reading lamp, a glass of water and a stack of books, we need to focus on functionality when dressing them up. But that doesn't mean they can't be visually stunning! In this night stand display at Nell Hill's Briarcliff, we used a beefy black ceramic lamp as a bookend to keep our lineup of books in place. Instead of using a big and clunky digital clock, we opted for an old-fashioned alarm clock that is loaded with charm. This sprinkling of frames is ideal for family snapshots. What better place to put pictures of those you hold most dear than the first place you see in the morning?
Look Two: A Small Pedestal Table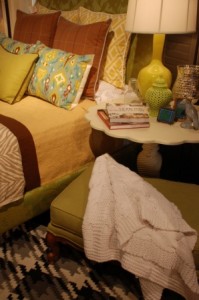 I like to mix things up when I decorate, using pieces of furniture in unexpected places. While I enjoy a clean, tailored look in a room, I have to admit that a space filled with mismatched furniture, that looks as though it has evolved over time, is one of my favorite approaches. Maybe that's why I'm crazy about the grouping in the snapshot above, from Nell Hill's Braircliff.
We took a contemporary upholstered head board, covered in a rich green fabric, and gave it even more pizzazz with an inventive bedding ensemble that weaves together dissimilar patterns like geometric prints, an animal print and a traditional plaid. To further add to the eclectic nature of the grouping, we used a darling shabby chic style table as a bed side table, then topped it with a hip, contemporary, celadon lamp. Love it! The upholstered ottoman pulled up by the table makes a great spot to sit and pull on your slippers in the morning. I really like how the louvered screen looks behind the white table — the dark wood provides a great backdrop for the light colored table.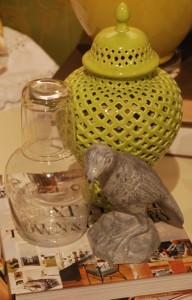 Nature mixes up shades of green and yellow, so why shouldn't you? The traditional temple jar gets a modern makeover here and gives us a chance to zip up the bedside display with a splash of celadon.  When you build displays, try blending old and new icons together like we did here, mixing together the modern pottery and the old fashioned water jar and glass.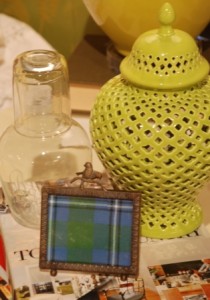 Here's a quick variation on this display. We swapped out the bird figurine for an adorable picture frame. Fill it with a picture of someone you love!
Look Three: A Short Chest of Drawers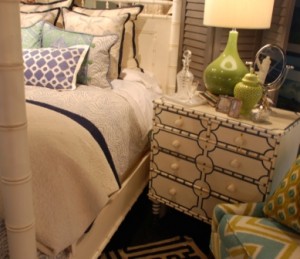 When space is limited in your bedroom, every piece of furniture needs to pull its weight, including the bedside table. So, why not use a chest of drawers next to your bed? You can fill the drawers with clothes and leave the top open to hold your reading lamp and other necessities. Chests are usually big enough to match the scale of most beds, so you probably won't have to worry about the grouping looking disproportionate. And, a chest gives you lots of tabletop space, so you can easily include a few more non-essential decorative pieces in your bedside display.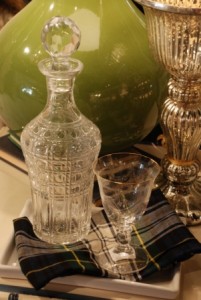 Instead of using a boring old plastic water bottle next to your bed, why not pour your bedtime drink of water into a cut glass decanter and drink it from a lovely antique glass? You can pick up one-of-a-kind glasses like these at antique stores or get a gorgeous reproduction for less at Nell Hill's. When you have assembled the pieces for a beautiful drinks station, place everything on a tray, like we did here. There is something magical about a tray – everything placed on top looks a bit regal. Little touches like these will take your daily routine from ho-hum to indulgent.
Next Week … It's time to cozy up your bed for the cold winter months. Next week, I'll have pictures of the winter season's hottest looks in bedding.
P.S. Just two more weeks until my Holiday Open House! I can't wait to greet you at the door of my historic home in Atchison, which will be dressed in lavish, lush layers for the winter holidays. My home will be open for free tours on Friday, Nov. 2, 10-4, and Saturday, Nov. 3, 10-1. Nell Hill's Atchison and Garrity's will be open 9-5 both days and will be packed full of holiday décor. Don't miss the biggest Nell Hill's event of the year!