One of my favorite rites of fall is to watch the leaves on the trees around my home turn amber, persimmon and ruby. Another is to see the bedding ensembles at Nell Hill's Briarcliff transform from summer into wintery works of art. Our textile design team fearlessly mixes patterns, colors and textures to create collections that are so arresting you'll never want to get out of bed. If your bedding is getting a bit frayed, or if you're ready for a new look, why not remake your bed this winter? Here are a few of my favorite looks for the season.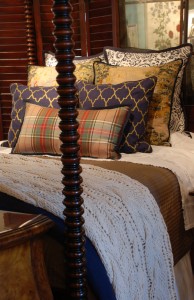 You don't have to be Scottish to feel a kinship with this drop-dead-gorgeous bed, complete with a tartan plaid duvet and pillows. While it is timeless and traditional, highlighting one of my favorite toile patterns and two different plaids, the bedding is anything but stuck in the past. Our designers kept it fresh by tucking in contemporary geometric Euro shams.
One of our go-to designs when dressing a bed is to include four rows of pillows, starting with a pair of matching Euro pillows in the back then descending in size until we finish off with a smaller rectangle accent pillow. Each set of pillows adds a distinctive element to the group, yet complements the overall design.
There is a lot going on in this grouping, but thanks to a repeated color scheme of blue, white and tobacco, the diverse patterns in the fabrics are lively, not overwhelming.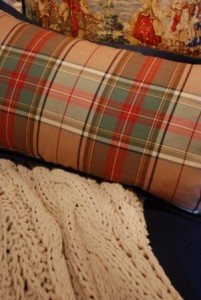 When we build our bedding ensembles at Nell Hill's, we don't just decorate the head of the bed – we make the foot sensational as well. Here, we added a royal blue quilt at the bottom of the bed to pull out the blue from the pillows and break up the plane of plaid in the duvet. We finished with a cable knit throw on top, just waiting for a Sunday afternoon nap.
This richly dressed bed is exploding with wonderful patterns. I think this diverse mix of tartan plaid, paisley, toile and floral fabric looks divine together. Even though each fabric has a lot of personality, they work well together because they toggle around the same color palette of brown, cream, cranberry and sage. Another trick to pairing bold patterns is to repeat the patterns throughout, like we did with the plaid and floral.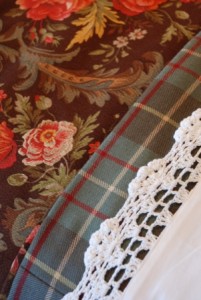 When dressing your bed, get the most luxurious sheets your budget will allow. My favorites are white cotton sheets with an impossibly high tread count, trimmed in lace. Look how delicate these beautiful sheets look against our winter bedding ensemble. Irresistible!
Orange is still hot, hot, hot in the decorating world. On this bed, we combined pops of bright pumpkin with fabrics that feature deeper, richer tones of brown, tan, rust and red to create a bedding ensemble that's a bit more sophisticated. One of our favorite approaches when we design custom bedding at Nell Hill's is to wed contemporary fabrics with time-tested traditional fabrics. We achieved a great balance on this bed by blending an animal print, flame stitch, plaid and bold floral. The more modern tan quilt balances the high octane pillow grouping on top of the bed. When you have custom bedding made, you can also feature unique finishes, like the matching covered buttons on our reversible duvet. It's really a treat to have bedding made just for you, to celebrate your style and create a singular look in your bedroom.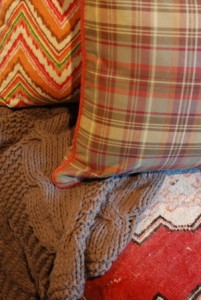 We further enhanced the look of our warm-as-toast bed by sliding a gorgeous ottoman at the foot. These one-of-a-kind ottomans are upholstered in rugs and are a showpiece in and of themselves. They are the perfect place to sit while you dress or to place bed linens, like this soft cable knit throw and spare pillows.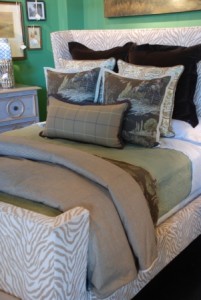 I just had to show you an ensemble created to accent one of our fabulous upholstered bed frame. This beautiful bed is covered in a muted zebra pattern in faun and cream. In typical Nell Hill's fashion, we did a study in contrasts by accessorizing the contemporary bed with traditional fabrics. We went for a quiet palette here since the bed is so bold, zeroing in on soft and subtle shades of brown, taupe and cream.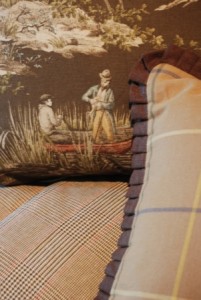 I'm a huge fan of using menswear fabrics in bedding because it looks so classic and sophisticated. We tossed an intriguing toile pattern in with our glen plaid duvet and tattersall pillow.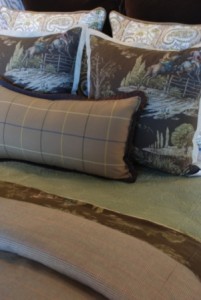 In this close-up shot, you can see our four-layer approach to bedded bliss: Brown velvet Euro squares in back, a pair of paisley Euro squares next, crazy cute toil Euros to finish, and a tattersall rectangle pillow to accent.
Next Week … It's almost time again to decorate your home for the holidays! Next week, I'll share my secret for staging knock-out displays.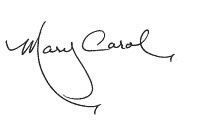 P.S. Are you coming to my Holiday Open House this weekend? I hope so! I'll be greeting guests for free tours of my historic home in Atchison on Friday, 10-4, and Saturday, 10-1. Nell Hill's Atchison and Garrity's will be open both days 9-5, and both stores will be packed with all the decorating goodies you'll need to replicate the designs you'll see showcased in my house.