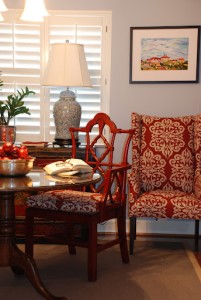 At Nell Hill's, we love to help people decorate in a manner that celebrates their style and brings them joy every time they walk in the door, no matter how many individuals call the space home. So we were thrilled when the Pi Beta Phi sorority at the University of Kansas allowed us to work with them on redecorating their chapter house. Our goal was to preserve the storied tradition of the sorority, which has been on campus at KU since 1883, yet update the chapter house so it better reflects the tastes of the young co-eds who live there today. Come see what we came up with!
When Diane, a Pi Beta Phi alumna and member of the KU chapter's house corporation board, told me the Pi Phi's wanted to redecorate their house and needed our help, I was ecstatic. In addition to helping individuals decorate their interior spaces, we also do interior design work for large living groups, corporations and even hotels. It's an exciting challenge to be able to take their vision and bring it to life through carefully chosen furnishings, textiles, artwork and accents. Since Diane is loaded with talent and knew the girls best, she took charge of this redo, which included the chapter house's main living area and an upstairs study room.
As with any redecorating project, whether it's a home for one or dozens, the first step toward a successful design is to first answer a few key questions: How will the space be used?  What style or feel should the space evoke? What existing pieces of furniture, artwork or textiles will stay, and what will go?  What's the budget? You have to know where you're going before you start the journey.
A grand entrance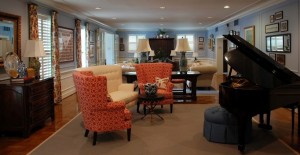 Since the rooms we were redecorating were the first that guests would see when they entered the house, Diane knew the space needed to pack a powerful punch. She wanted something that was elegant and grand, yet warm and welcoming. She nailed it with this beautiful vista, don't you think?
A place to entertain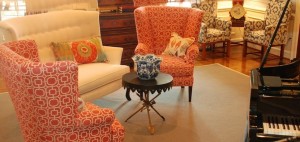 The key to decorating large rooms is to use furnishings to create several smaller, more intimate areas. At any given time, this bustling home is filled with dozens of girls and their guests, so it was essential to visually divide the room into several seating areas to accommodate them all. Diane decided to make the first area formal and have the subsequent galleries become increasingly more casual. This drop-dead gorgeous settee and set of winged back chairs face the grand piano, ready for a concert. I really like how Diane selected traditional furniture styles, then gave each piece a fresh take by covering it with updated fabrics. The tufted ottoman slid under the piano offers an extra seat in a pinch or a table for a study group.
Not wanting to let one inch of this big room go to waste, Diane created a little seating area in an empty corner behind the piano. The upholstery fabric is a nod to the sorority's colors of wine and silver blue.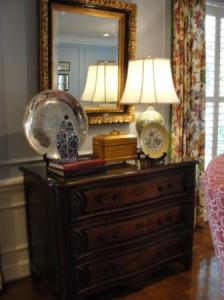 Diane refused to "child proof" the girls' space, knowing that if the room was beautiful and elegant and a source of pride, the girls would take good care of it. This delightful chest of drawers, and every other tabletop, is tastefully appointed with pottery, books and ceramic lamps.
A place to talk
After a long day on campus, the women of Pi Beta Phi need a place to put up their feet up and talk with friends. So Diane made the middle section of the large room into a conversation area, placing two identical sofas opposite one another. These Chesterfield sofas are one of our biggest sellers at Nell Hill's because they look so stately, yet are incredibly comfortable. They are covered in a light but durable nubby herringbone fabric that serves as a blank canvas for the dynamite custom pillows that spice up the room. The floral fabric matches the drapes, and the cute monogrammed pillow shows this space was custom designed.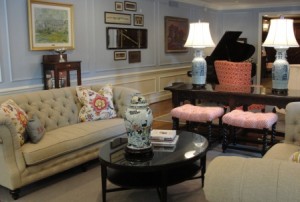 A great way to create visual dividers in larger rooms is to use tables, which act sort of like walls, and area rugs, which define the sitting area. Since seating was key in this room, Diane covered two cute benches in a complementary coral fabric and tucked them up against the sofa table.
A place to watch TV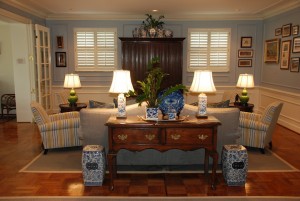 The last furniture grouping is a spot for the girls and their visitors to watch TV. Notice how Diane once again used a sofa table to define the space. On the opposite wall, a gorgeous cabinet hides the TV from view so the electronics don't detract from the elegance of the room. Don't let the space on top of tall cabinets go to waste – use it to hold clusters of accents. The blue and white pottery is a perfect pick because the pieces are large enough in scale to not get lost up high.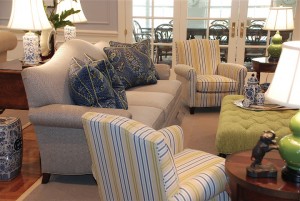 The goal of this area was comfort, so Diane picked a cushy camelback sofa and two well-padded chairs with arms the perfect height for throwing your legs over. The colors blend wonderfully with those in the other sections, yet are different enough to make this space unique.
A place to study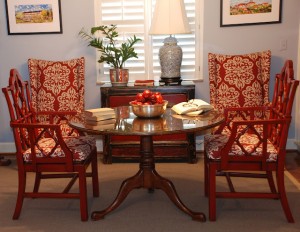 One of the smaller rooms that branches off of the main gallery serves as a library. But who says a library needs to be stuffy? With its enchanting, color saturated chairs and vibrant water color paintings of the KU campus, this room is infused with energy.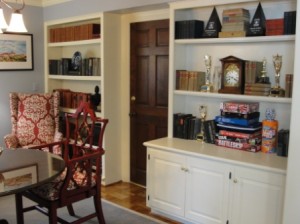 In addition to showcasing some of the awards bestowed upon the women of Pi Beta Phi, the library's built in bookcases now hold games, too.
A tribute to tradition
A room isn't finished without great artwork. And the archive of fabulous old photos and documents at the Pi Beta Phi house gave Diane lots to work with. Historical treasures, like the 1886 composite photo of the house's earliest members, hang harmoniously next to more current artwork.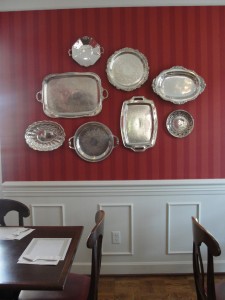 Diane even found a way to display the sorority's collection of silver trays, gifts from graduating classes through the years, by hanging them on the walls of the dining room.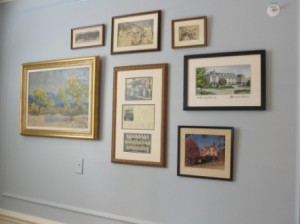 Including such historical pieces in the montages of artwork that fill the walls gives the sorority's current members a sense of pride and connection to the women that came before them.
Girlie touches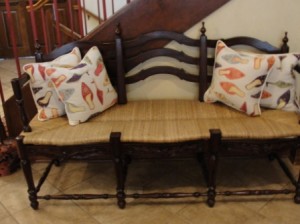 With the goal of creating a classically beautiful yet updated space for today's Pi Beta Phi's, Diane couldn't resist finishing off with a few playful touches. This bench in the foyer is dressed up with pillows featuring shoes and more shoes.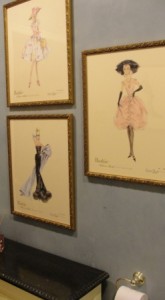 The walls of the main floor powder room sport prints of vintage Barbies.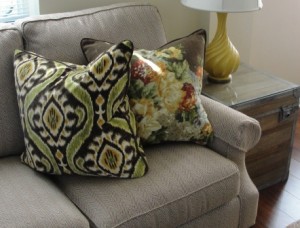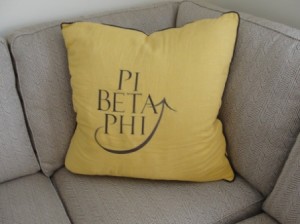 The upstairs TV room includes fresh pillows covered in fabrics selected by the girls themselves. The personalization of the pillows makes them even more special.
Next Week … Today's bed frames are more beautiful than ever before. Come see what's new.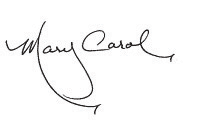 P.S. I want to invite you to my annual Holiday Open House, November 2nd and 3rd! My historic home and garden will be dressed in holiday finery, and Nell Hill's Atchison and Garrity's will be filled with the hottest holiday decorating decor. The stores will be open 9-5 both days, and my house will be open for free tours on Friday, 10 to 4, and Saturday, 10-1. I can't wait to see you there!
Don't miss a bit of Nell Hill's news – stay up to date on my favorite finds, new arrivals at the stores and all our special events by checking the Nell Hill's Facebook page every day. You don't have to have a Facebook page yourself to look in on the fun, but if you're already on Facebook, "like" us today!