When you grow up in Atchison, cited as one of the most haunted towns in Kansas, you just can't help but love Halloween. I enjoy celebrating this spooky silly holiday by brewing up some tricks and treats in my home décor. Whether you want to add just a hint of haunt to your home or do a full macabre makeover, here are some tips for creating a singular and stylish Halloween look this year.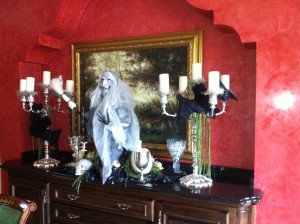 When I think Halloween, I think of my friend Twila, who does it up big. She teams up with Chery, one of the designers at Nell Hill's, and the two of them have a ball as they make over Twila's house. Every year, they come up with completely new creations, giggling and cheering as they go through Twila's treasure trove of Halloween decorations, which she has collected through the years. Once her home is decorated to perfection, Twila hosts parties and gatherings, inviting her friends to share in the fun.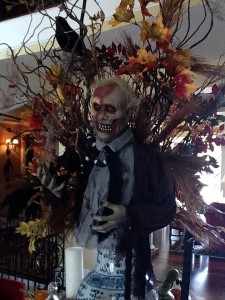 Twila likes to weave Halloween decorations into her existing fall décor. For example, she tricked up this bouquet on her entry table by plopping a ghoul in the center. Talk about unexpected! What tools to you have that could take on a sinister cast if placed in the right setting? How about some tarnished silver candlesticks, lanterns or iron urns?
Hunt through your home for additional props. The fedora jauntily perched on this skeleton's head was a perfect last-minute addition – pulled out of one of Twila's closets on a whim. I think it makes the whole display. I've found that when you set your creativity free and play around with your displays a bit, you come up with masterpieces.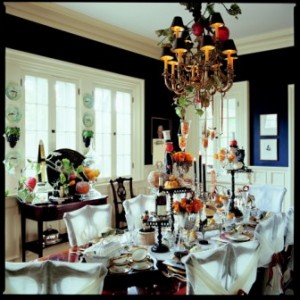 When you decorate for Halloween, don't do over the whole house – that's overkill. Instead add some powerful punches in a few key places. In my home, that includes my dining room. In years past, for my Fall Open Houses, we've gone to town in my dining room. The table in the photo above is a tribute to playful pumpkins. Pumpkin vines twist through the chandelier and along the buffet. Gothic looking risers hold containers of mini pumpkins. And a pumpkin-headed figurine looks down upon the dinner guests.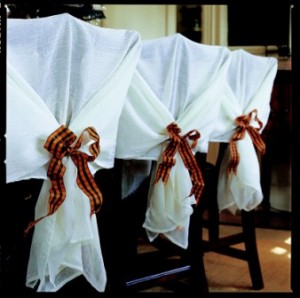 Try this trick if you want a huge Halloween impact with little effort: Shroud each of your dining room chairs in a yard or so of scrim fabric, then tie them up in back with Halloween ribbon.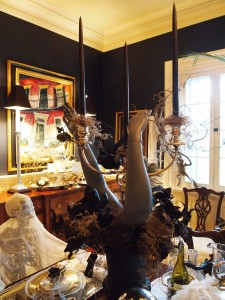 Scrim, an inexpensive, gauzy cotton fabric, is one of my favorite tricks for Halloween decorating. I've used it to drape over creepy heads and plastic skeletons to make them look like specters. And I've shredded it and hung it from twisting sticks mounted around my dining room windows. In the photo above, taken at one of my Fall Open Houses, we set my table for an elegant dinner party for ghosts.  Tendrils of scrim cobwebs dangled from the chandelier. The table's disconcerting centerpiece included black iron urns holding legs and arms – mannequin parts we spray painted black.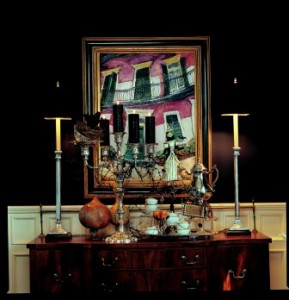 My dining room buffet is always an important stage for my seasonal displays, so on Halloween it echoes the look I've created on my dining table. Twists of honeysuckle vine give the tableau the feeling of fall, as do the gourds, dusted with glitter. I topped the candelabra with black pillar candles, reserving one of the arms as a resting place for a blackbird figurine.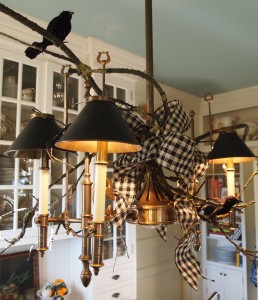 Another key spot to dress up for Halloween is a chandelier. I was going for a more whimsical Halloween look in my kitchen one year, so I secured some twigs to the chandelier in our breakfast nook. Add some blackbird figurines and a black-and-white check ribbon and you have a simple but fetching treatment in minutes.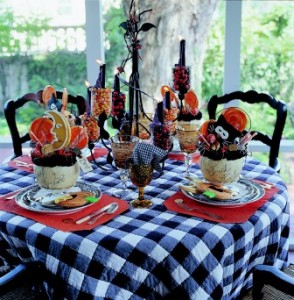 In addition to decorating my front door, my exterior Halloween display usually includes my screened porch. Here, we set the table on my patio for a kid-friendly Halloween party, using a black and white quilt for a tablecloth.
Next Week … When Nell Hill's was given the opportunity to redecorate the Pi Beta Phi chapter house at the University of Kansas, we jumped at the challenge. Come see how we celebrated the heritage of this storied sorority while giving the girls a fresh, fun living environment they are proud to call home.
P.S. Don't miss a bit of Nell Hill's news – stay up to date on my favorite finds, new arrivals at the stores and all our special events by checking the Nell Hill's Facebook page every day. You don't have to have a Facebook page yourself to look in on the fun, but if you're already on Facebook, "like" us today!