As the seasons change, I can't wait to refresh the look of the displays on my coffee table. Through the years, my coffee table bliss has changed. Years ago, when Kelly was really young, I put so much stuff on the coffee table in our study that Kelly and Dan complained they couldn't see the TV over it. Every night, they took everything off the coffee table. In the morning, I'd see my carefully constructed tableau on the floor, and I would load it all back up. We went on like this for years!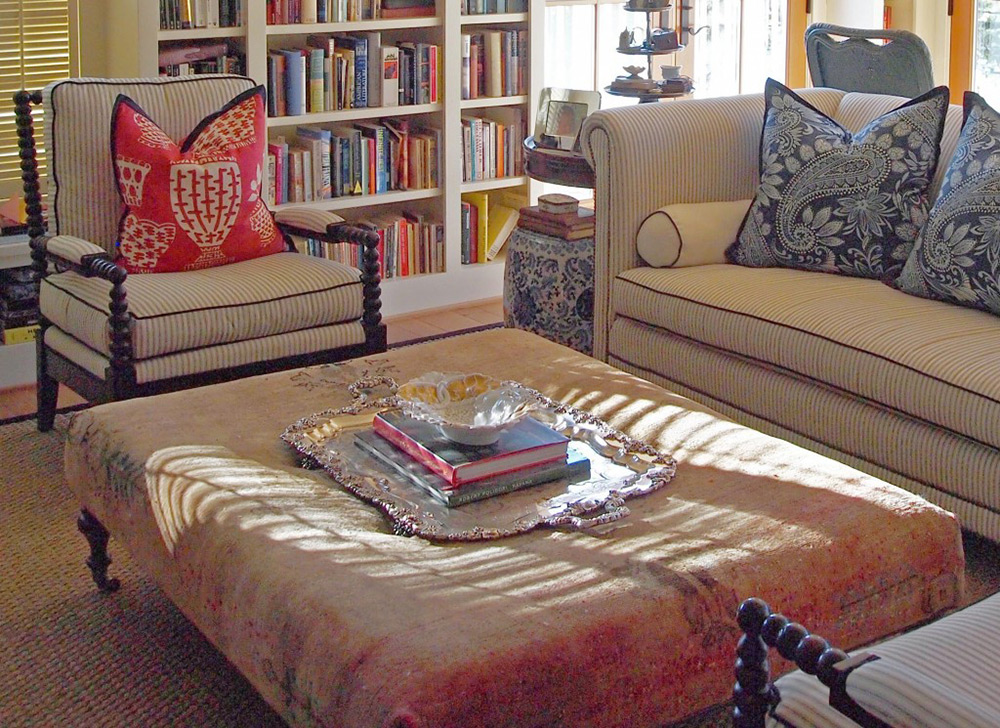 Today, my style is simpler, cleaner and, to Dan's relief, lower profile. Ready to create a lovely summer display on your coffee table? Here's how to use my six go-to design tools to create beautiful displays like these:
Trays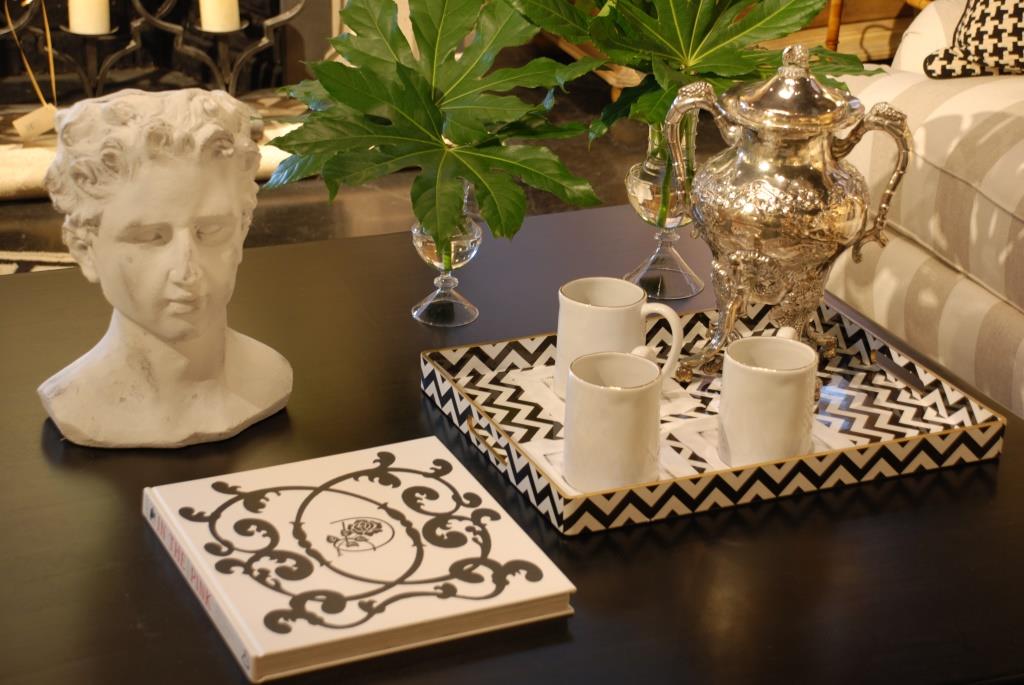 I always start coffee table designs on a tray. Trays are magical in their ability to ground a display, pulling together disparate elements into one cohesive look. Trays come in so many shapes, sizes and styles, you'll easily find one that looks sensational on your coffee table. I'm crazy about these inexpensive trays we're carrying at Nell Hill's. Chevron is still big, big, big, and I like how the geometric design and bold black and white palette contrast with the more traditional elements on this table, like the stone bust and silver urn.
Books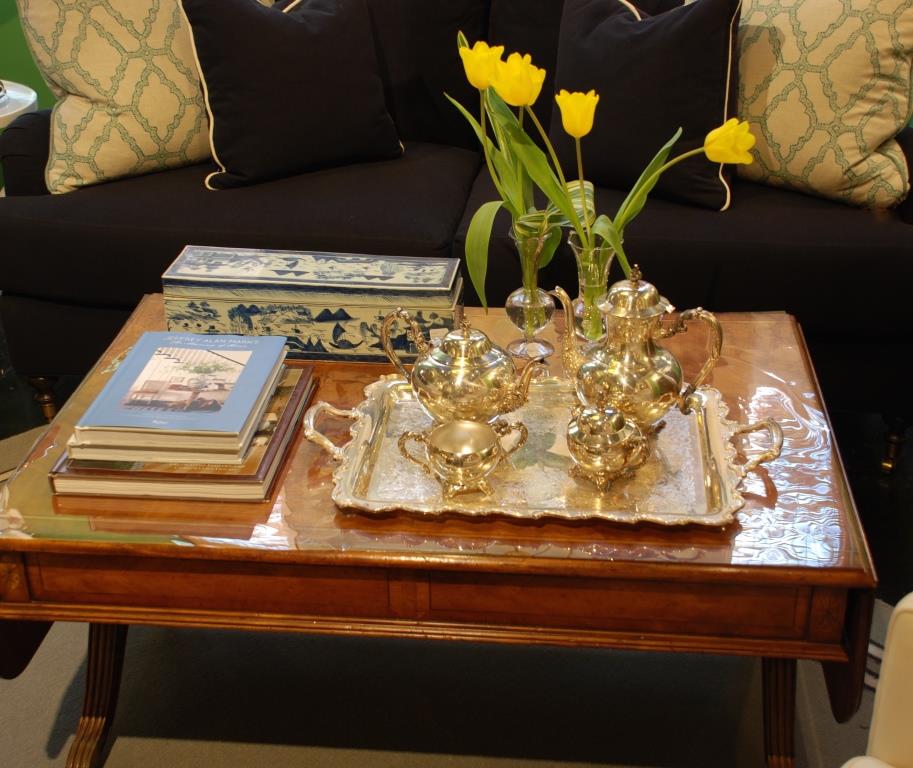 I started using books in my designs out of necessity – Dan has so many, I had to find a place to put them! But even if he wasn't addicted to books, I would buy them just to use on my coffee table. They make marvelous risers, topped with a beautiful bowl or mix of pottery.
Boxes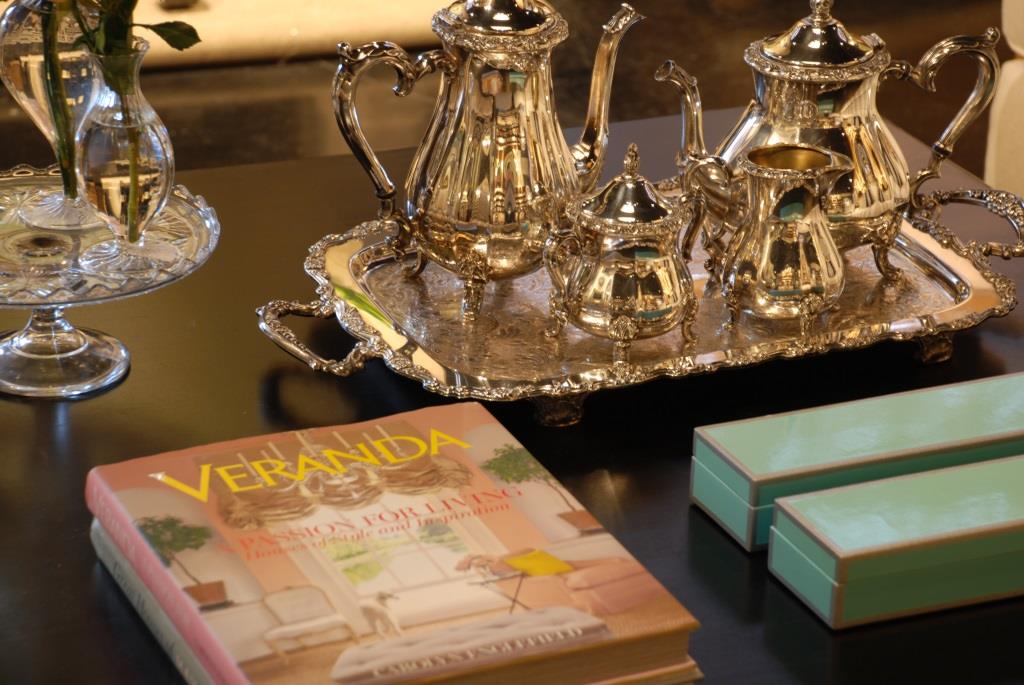 I began collecting decorative boxes years ago, when I was given a tin box my grandmother Nell play with as a child, amusing herself as she bumped along in a covered wagon, when my family came to help settle the Kansas frontier. I like to poke different sized, shaped and styled boxes into displays all over my house, but I think they are especially wonderful in coffee table displays. Here, a pair of painted blue boxes adds a touch of color to this motif.
Treasures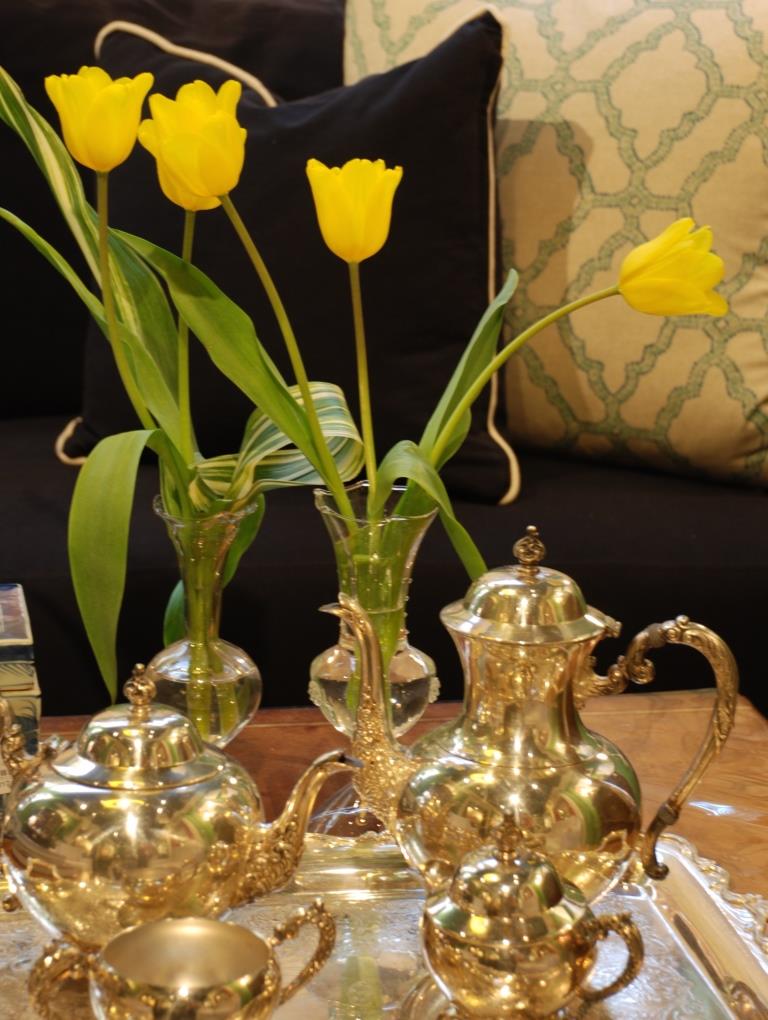 Whenever you design displays in your home, always try to work in a piece or two that is near and dear to your heart. It could be a favorite figurine, a gift from a friend or a family heirloom. Dan and I inherited a few beautiful silver pieces from his mother, and they have always played a key role in my tabletop tableaus. I feel like Mimi is still with us every time I seem them, and that makes my day.
Flower Vases
I think I'm adding a new addiction to my life: flower vases. I can't help myself! They look fabulous in all kinds of display, from the mantel to the coffee table. Aren't these numbered glass vases sensational? They meet my most important criteria: they have a narrow mouth, which makes floral arranging super easy. Insert a few blooms from the garden, and, poof, you're done. We filled these cuties with a mixture of fresh leaves, curling some under to make them more interesting.
Pottery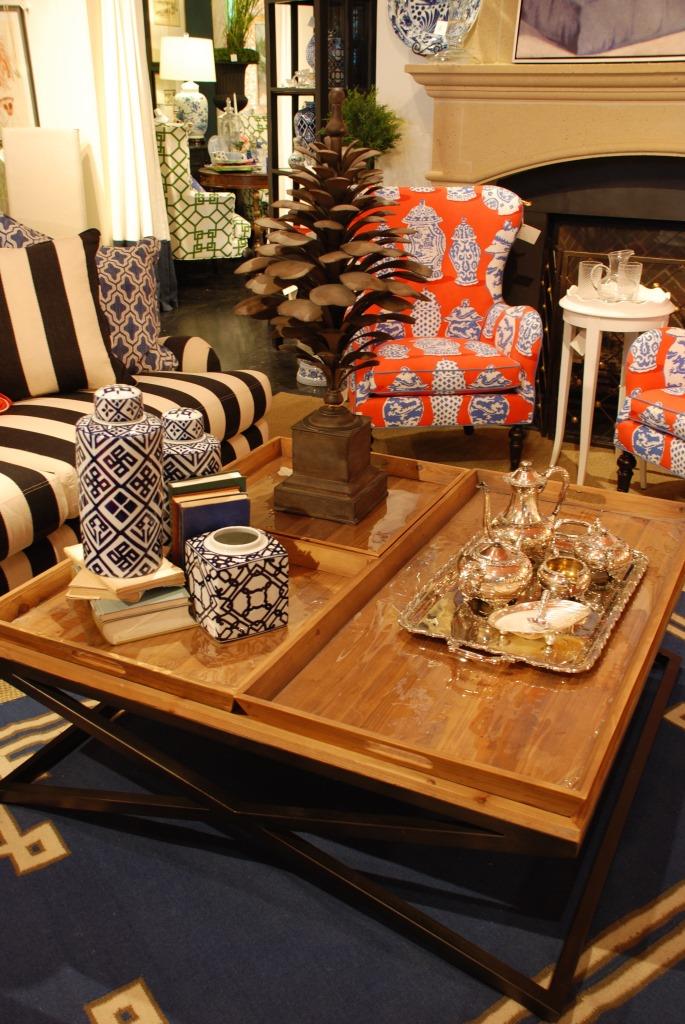 If you want accents that give you a big bang for your buck, pottery is a must-have. Every time I go to market, I'm delighted by the newest pottery pieces. Pottery comes in so many sizes and shapes, colors and textures, and it's shockingly affordable. That means you can pick up a piece or two each season to bring in the newest colors and patterns, keeping your interior spaces fresh and fun. On this inspiration display, we put two of the pieces to work as bookends. The tall jar gives our display some nice height.
Next Week … I've just returned from a getaway to France with my siblings and dear friends. I can't wait to share all that I learned!