My home has long been a part of the Ottoman Empire. I was conquered years ago when I starting dreaming of all the ways I could use these small but mighty pieces of furniture in my home to add style and function.  Here are the top 3 ways you can use an ottoman to enhance your interior spaces: 
1. A Coffee Table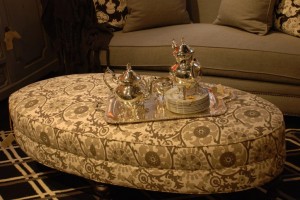 Want to ground a conversation area? Place an upholstered coffee table at the center. Ottomans are a very fetching hub for furniture groupings, from a sectional to a circle of four club chairs.  Since ottomans come in just about every shape, size and style, the sky is the limit. We even carry one at Nell Hill's that is composed of two large half circles.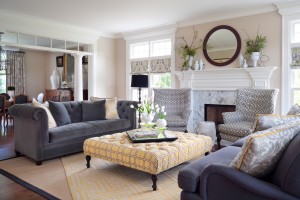 As I've worked with home owners to warm up their large, high ceilinged rooms, I've found that an ottoman is a perfect pick. We like to work a 54 inch ottoman into the furniture design, centering it in front of the fireplace. Somehow, this last touch of textile just radiates warmth and changes the mood of the space. These soft sided coffee tables are ideal for families and grandparents because little ones can't conk their heads on them.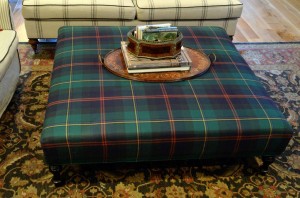 Coffee table ottomans are an ideal place to experiment with bolder fabrics, like large-scaled patterns and strong colors – statement textiles you might not want on a piece as large as a sofa or chair. This picture is of the ottoman in the cozy TV room in my home. I am crazy about plaid, so I went big with this statement tartan. You could use a contemporary or transitional fabric on an ottoman to instantly give a space a bright new look without the cost of buying a new sofa or chair. If you get tired of the fabric, no problem. It only takes a few yards to reupholster an ottoman.
A few years ago I discovered these absolutely amazing ottomans that are upholstered with antique and vintage rugs. I fell in love! The photo above is of the antique rug ottoman in my upstairs family room. I love it dearly because it's a bit worn but has a great story to tell of a life well lived, just like me!
2.Extra Seating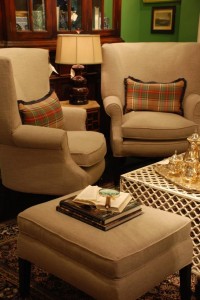 Every once in a while, we need an extra seat or two in our homes. An ottoman is the perfect pick. When we design furniture groupings at Nell Hill's, we often include an ottoman or bench that can be pulled up to seat guests. When they are not in use they can be stored in front of the fireplace, under a console table or under a window.
When you slide an ottoman under a console table, like we did here at Nell Hill's, it also fills in that empty space between the long, thin legs of these graceful tables. We layer up the top of these unique tables with lamps and accessories, but if there is nothing underneath them, they can appear top heavy and out of balance. The ottoman solves this design dilemma.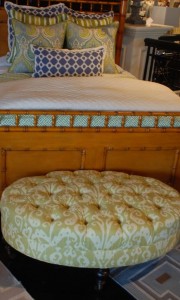 I love ottomans standing guard at the end of a bed, a perfect place to put all the accent pillows from your bed at night or to sit while you put on your shoes in the morning. We also have customers who like to put ottomans in their larger bathrooms or closet spaces to sit on while dressing.
3. Turn a Chair into a Recliner
When I finally sit down at the end of a long day, I gotta have someplace to put up my feet. That's why you'll also see ottomans used in the traditional way in my home, as foot stools. With your feet up and comfy, you can squish back into the chair and really relax.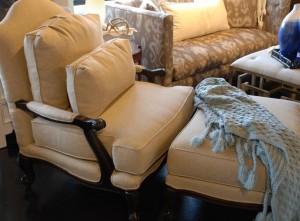 I'm a fan of ottomans that match the style and upholstery fabric of the chair they accompany, and of those that look completely different from their partner chair. I like them nestled up next to the foot of a chair, or centered between two chairs so you can use one with a buddy. And I like them sitting next to a chair when they are not in use, acting as a side table. It's all good, so experiment until you get a look you love.
Next Week … I really like to mix colors in interior spaces to create an interesting story in the room. Next week, I'll show you how to use two of my color crushes: turquoise and coral.